Is Terraria cross platform? Terraria is a popular game and many people like to play it with friends. In this case, the crossplay feature is important. This post from MiniTool Partition Wizard tells you the Terraria cross platform development information and how to enable this feature.
Is Terraria Cross Platform?
Terraria is a 2D action-adventure sandbox game featuring exploration, crafting, building, painting, and combat with a variety of creatures. It was first released for Windows on May 16, 2011, and was later ported to macOS, Linux, iOS, Android, Nintendo Switch, PlayStation 5/4/3/Vita, Xbox One/360, Wii U, 3DS, Fire OS, and Stadia.
Although the game has been released several years, it develops very slowly on the crossplay. Does Terraria have crossplay? Yes, it has, but there are some limits. Currently, the Terraria cross platform feature is only available on PC and mobile devices.
It means that only players on Windows, macOS, Linux, iOS, and Android can play Terraria together.
Is Terraria cross platform Xbox PC?
No. currently, if you are playing the game on a PC, you can't join up with friends playing on an Xbox console.
Is Terraria cross platform Xbox PS4?
No. Xbox and PS gamers have to play Terraria separately.
Tips:
Terraria crossplay is also available on PS4 and PS5 because PS5 is currently running the Terraria PS4 version. As for other consoles (PS3, PS Vista, Xbox 360, and Xbox One), you and your friends need to have the same console. 
Is Terraria crossplay? Now, you can have the answer.
How to Enable Terraria Cross Platform
If you want to enable Terraria Cross Platform between Android and iOS, or between PS4 and PS5, the way is very simple. You just need to utilize the "Multiplayer" option in-game. As for the detailed steps, refer to the Terraria Mobile 1.3 Multiplayer Setup Guide.
If you want to enable the Terraria cross platform between a PC and a mobile device, you need to use TShock, an enhanced Terraria server type, and the plugin called Crossplay. Here is the guide:
Step 1: Download TShock from GitHub and extract the file. You will see the following files.
Step 2: Download the Crossplay plugin from GitHub. Move the Crossplay.dll file to the ServerPlugins folder. Then, run the TerrariaServer.exe file to start TShock. This will open a black window.
Tips:
Running TShock requires 2GB free RAM, and Microsoft .NET Framework 4.5 (on Windows) or Mono 4+ (on Linux/BSD/UNIX derivatives).
Step 3: Set up TShock.
Enter a number to select a world you want to start the server with. You can select a new world each time you start the server, or generate one if you want.
Select your desired server port. The default Terraria server port is 7777.
When the server starts, you'll see a message that says "To setup the server, join the game and type /setup [number code]." Take note of the number code for future use.
Launch Terraria and log in to your server.
Once inside the game, type the setup code noted down before.
Type "/user add [username] [password] owner" to create an owner account. Replace username and password with your desired username and password, without brackets.
Log in to your server by using "/login [username] [password]".
Type "/setup" to finish the setup.
Tips:
Remember your account name and password, as you will need to enter them every time you log in to your server.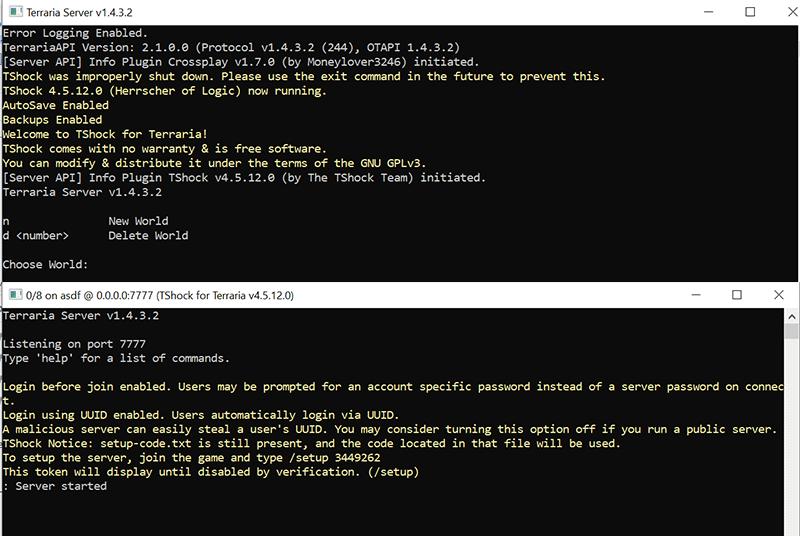 Bottom line
Are you interested in MiniTool Partition Wizard? This software can help you clone the system, manage disks better, and recover data. If you have this need, you can download it from the official website.