Is Steam Safe?
Steam is a video game digital distribution service and an online web-based and mobile digital storefront by Valve. It offers digital rights management (DRM), server hosting, video streaming, and social networking services.
It also provides the user with installation and automatic updating of games, and community features such as friends lists and groups, cloud storage, and in-game voice and chat functionality.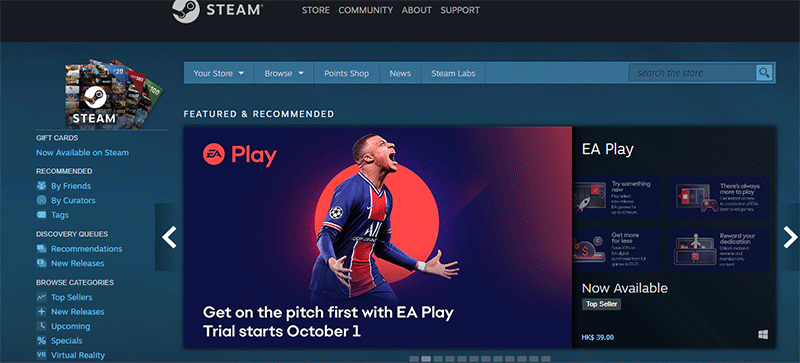 Is Steam safe? If you mean computer security, Steam is a safe program and it's not a virus. An in general, it will not trigger your antivirus programs. If your antivirus program pops up warning about Steam, you should check whether you visit some unsafe websites and the PC is infected with viruses or malwares.
But sometimes, the antivirus program may block some components of the games. If necessary, you should allow them though your firewall and antivirus program.
Is It Safe to Buy Games from Steam?
Steam is a major website (like Amazon, eBay, etc.) and it will use industry-standard security measures to protect your information. For example,
Steam uses HTTPS to secure purchases: The information that you sent to Steam for your purchase, including your credit card info, is encrypted via modern HTTPS encryption. No one and read these information, except for you and Steam. But there's always a level of risk of information exposure. That's something you have to accept when buying online.
Steam lets you buy with PayPal or gift cards: If you don't want to enter your credit card details on the Steam, you can buy games through other ways: using PayPal to buy games without ever providing your details to Steam; or purchasing physical Steam gift cards at stores like GameStop, Walmart, or drugstores.
Instead of worrying about the safety of Steam, it is better to worry about whether you can protect the safety of your Steam account. If your Steam account isn't properly secured, it will be much easier for someone to break into it and get your information.
Fortunately, Steam offers Steam Guard, a security feature to keep your account for your use only. To log in Steam, you should do two steps: entering your username and password, and then entering a code from your email or Steam mobile app.
Is Steam Safe for Kids?
Most contents on Steam are safe to kids, but there are some unsafe or unhealthy contents. Therefore, Steam requires users to be at least 13 years old to use the product, especially for the platform's communication features such as open chat and community forums, Common Sense Media, etc.
In addition, while there are thousands of family-friendly games available on the platform, many of the games on Steam feature graphic violence, swearing, or sexy stuff. To solve this problem, Steam offers a sophisticated set of parental controls called Family View that gives parents full control over what their kids have access to on the platform. For example:
Parents can choose whether kids can play any game or only games they've approved and added to the Family Game Library.
Parents can control whether kids have access to the Steam store, community-generated content, chat, forums, or online profiles.
Parents can also set the account preferences to restrict titles that feature frequent violence, gore, nudity, or sexual content and to warn about mature user-generated content.
In a word, whether Steam is safe depends on what security aspect you mean and how you use this program.