Intel's SSD Toolbox is a drive management program for Windows users to maintain, monitor, and optimize Intel SSDs. However, Intel's SSD Toolbox has reached end of life, and a new tool named Intel Memory and Storage Tool is introduced as its substitute.
Intel's SSD Toolbox Review
Intel's SSD Toolbox, or Intel Solid-State Drive Toolbox, is drive management software and is used by a large number of Windows users, especially those who are using Intel SSD (Solid-State Drive). As the primary maintenance program for Intel SSDs, it helps users to effectively maintain and monitor the SSD's status, competing with other disk manager software in the market.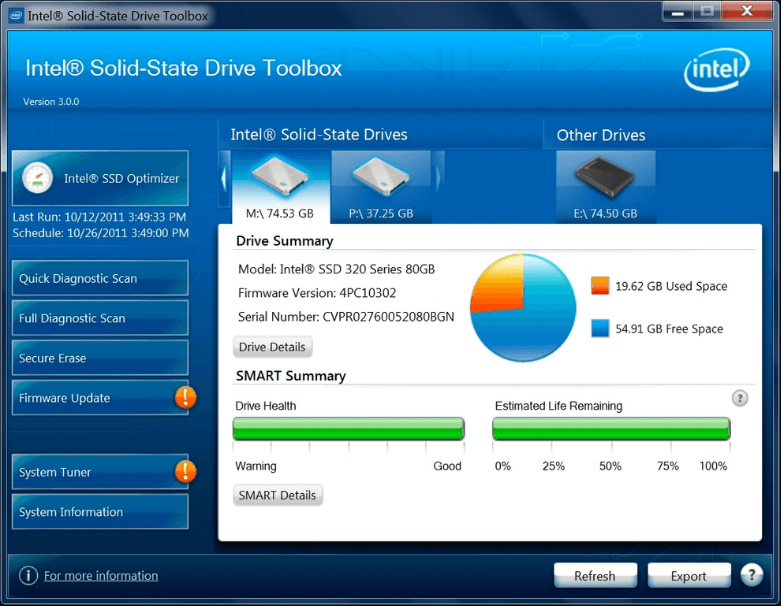 The Intel's SSD Toolbox can scan for all your available drives installed on your Windows computer, including Intel SSDs, non-Intel SSDs, and hard disk drives (HDDs). It allows you to view the detailed information of the current drive and export them as a csv files for future usage. Besides, it is also a great tool to diagnose problems and erase data for SSD drives.
See also: SSD VS HDD: What's Difference? Which One Should You Use in PC?
More importantly, Intel consistently releases firmware updates to fix possible issues, improve reliability, and enhance performance for their SSDs. And the Intel Solid-State Drive Toolbox can detect available updates automatically and notify you by displaying an exclamation icon next to the Firmware Update button.
Intel's SSD Toolbox End of Life, New Tool Introduced
Intel has announced the Solid-State Drive Toolbox end of life in the downloading page, stating that no additional updates for it will be released after September 2020. Besides, Intel recommends users to employ the Intel Memory and Storage Tool (Intel MAS) as its alternative.

Why is this Intel utility obsolete? In fact, the Intel's SSD Toolbox does a good job to maintain and optimize the consumer SSDs, but it lacks of the ability to update firmware on its enterprise SSDs. While the recommended tool supports firmware update for both consumer and enterprise SSDs.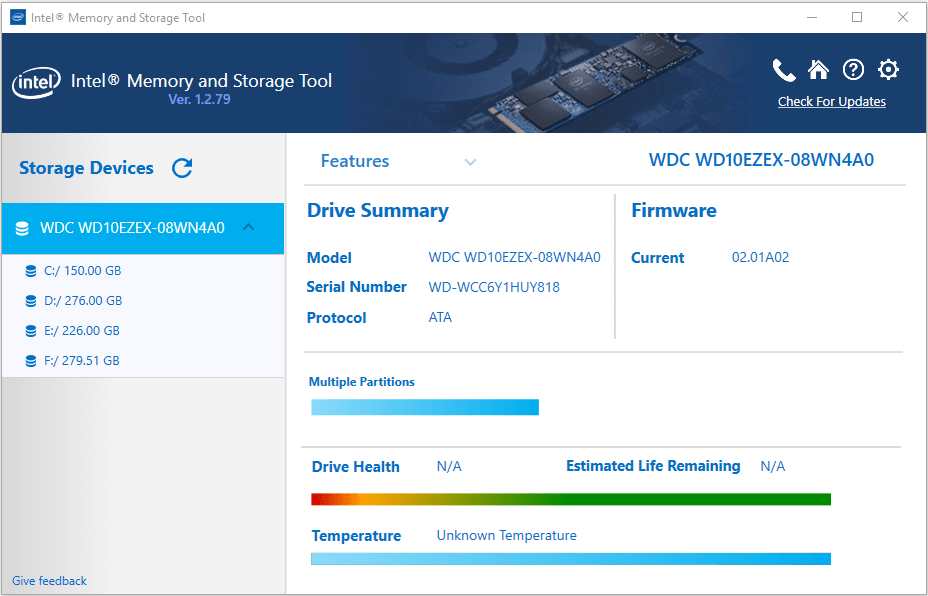 As you can see in the above screenshot, the Intel Memory and Storage Tool has a different interface (Graphical User Interface). Similarly, it can also allow you to view current drive information, perform firmware updates, and run full diagnostic scans.
Actually, this utility contains the same functionality and features as the obsoleted Intel's SSD Toolbox. The major difference is that this new tool adds firmware update support for Datacenter drives – you can use the Intel MAS to update firmware for PCle/NVMe- and SATA-based Client and Datacenter Intel SSD.
Apart from the Intel SSD Toolbox, this recommended tool also combines the functionality and support of other tools including Intel Datacenter Tool and Intel SSD Pro Admin Tool. Therefore, there's no doubt that you can better monitor and manage your Intel SSDs health with it.
All in all, Intel's Solid-State Drive Toolbox has reached its end of support by September 2020, and you are unable to use this old tool for your new firmware updates. To fill the gap, you are strongly recommended to migrate another Intel drive management software – Intel Memory and Storage Tool as soon as possible.