Both IMG and ISO are file formats used for image files. However, ISO file formats are supported by more software. Therefore, sometimes, you may need to convert IMG to ISO. This post from MiniTool Partition Wizard offers you 3 ways to complete that job.
Why Convert IMG to ISO
Both IMG and ISO are archive formats used for creating image files to package the contents of the entire storage device. Those files with .img or .iso file extensions are called image files. Actually, those image files are similar to zip files to some extent.
All of them make a specific series of files into a single file in a certain format to facilitate users to download and use. If you open an image file on Windows, you can see the image file usually contains several files.
ISO can only archive storage media that use ISO9660 and UDF file systems (CDs or DVDs). Unlike ISO, IMG can archive not only optical disk, but also disks (usually refer to Floppy Disk or Diskette).
However, ISO is more popular and many burning programs will not recognize IMG files. Therefore, sometimes, you may need to convert IMG to ISO first. To do that, you can refer to the following methods.
Method 1. Convert IMG to ISO by Changing File Extension
IMG is based on the ISO format, adding the ability to archive storage media using other file systems. Therefore, IMG is backward compatible with ISO. When you archive CDs or DVDs, the contents produced by using IMG and ISO are the same.
In this case, the IMG file structure is identical to the ISO file and you can convert the IMG to ISO by changing the file extension. Here is the guide:
Step 1: Make sure you can see the extension of the IMG file.
Open File Explorer.
Click File at the left upper corner.
Click Change folder and search options.
In the new window, skip to View
Uncheck Hide extensions for known file types.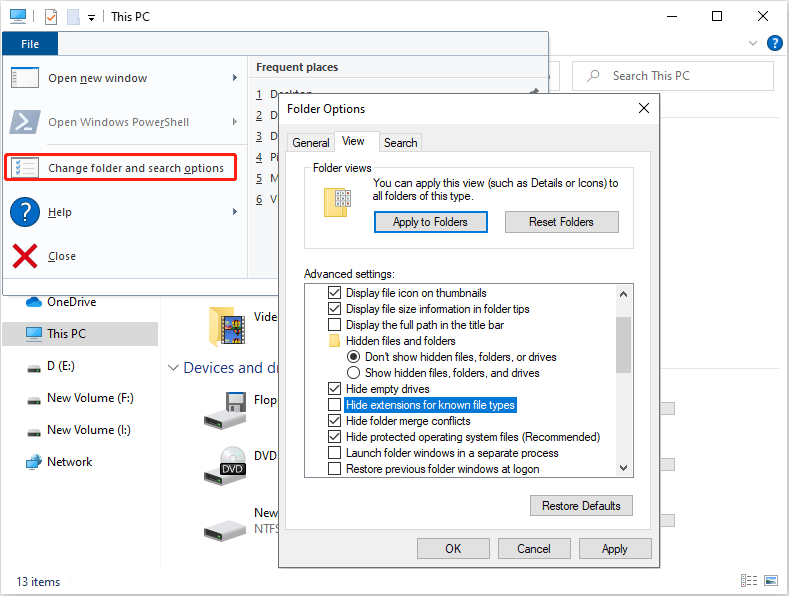 Step 2: Now, change the IMG file' extension name from ".img" to ".iso".
Method 2. Convert IMG to ISO by Third-Party Software
In most cases, the first method will not work. For convenience, you can use third-party software to convert IMG to ISO. There are many such programs. Here list some of them:
IMG to ISO. It is a free small software utility using Microsoft's Virtual Hard Disk (VHD) technology. You need to run it with administrator rights in compatibility mode in Windows Vista/7.
OSFMount. It's also free. In addition, it offers regular updates and supports 64-bit Windows 7 SP1, 8, 10, & Server 2008 & 2012.
PowerISO. It's a free program supporting most image file formats and operating system versions.
Method 3. Convert IMG to ISO by Virtual CD-ROM Software
In general, through the above ways, you can convert IMG to ISO easily. But some people also offer other ideas about how to convert IMG to ISO. Please open the IMG file with a virtual CD-ROM program, making it a virtual CD-ROM. Then, please use burning software to copy the contents on the virtual CD. In this way, you can convert the IMG to ISO.