Huawei MateBook 13 has a narrow-bezel display, Intel Whiskey Lake processors on the inside, and a beautiful aluminum alloy and metal unibody finish. It looks to trump even Apple's new 2018 MacBook Air. Don't miss this MateBook 13 in 2019.
When it comes to Huawei (Chinese electronics giant), most people will firstly think of intriguing high-end phones like the Mate 8 and Nexus 6P instead of computer. Now, that's about to change.
Following in the footsteps of Microsoft, Apple, and Samsung, Huawei has introduced its first-ever 2-in-1 laptop with Windows 10 at the Mobile World Congress (MWC) 2016, and it's called the MateBook. It's a slick 12-inch tablet that comes with a keyboard case, has really good battery life, and a great display.
After several years of development, Huawei releases MateBook 13, MateBook X Pro, MateBook X, MateBook E, and MateBook D to cater to different preferences.
Here, we take the MateBook 13, a new offering for 2019 which sits in between the ultra-slim MateBook X and the more budget-friendly MateBook D for example to show its excellent features.
Standout Features of Huawei MateBook
Generally speaking, Huawei MateBook 13 is the MacBook killer Windows fans always wanted.
1.Price and availability
The MateBook 13 is available on Amazon, Newegg and other online stores in the US on January 29, with wider retail availability come February.
The entry-grade version with a Core i5 processor and 256GB storage will cost $999.
The high-end version with an i7, 512GB storage, and discrete graphics in the form of Nvidia's MX150 will cost $1,299.
Both of them contain the same 13-inch, 2,160 x 1,440 touchscreen display with that screenier (a word) 3:2 aspect ratio and 8GB of LPDDR3 memory as well as the fingerprint reader.
2.Design and display
Huawei MateBook 13 come in two colors: Space Gray and Mystic Silver.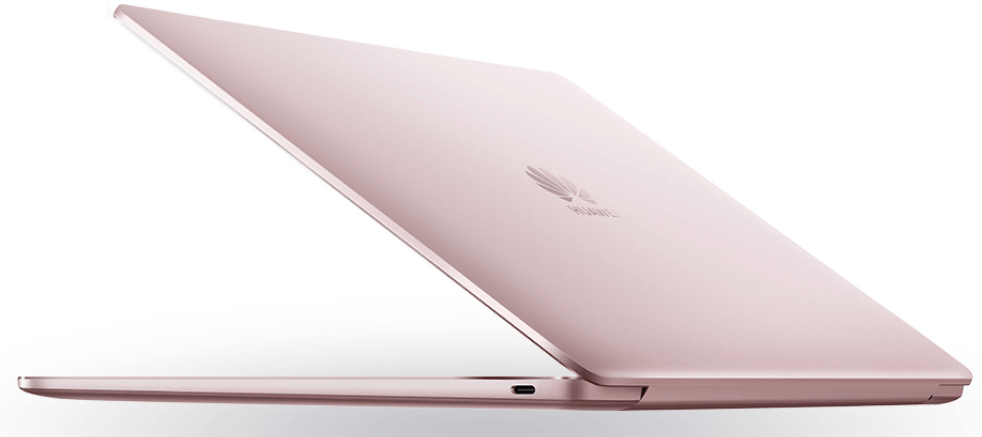 It measures just 0.59 inches (15mm) thin and weighs a mere 2.82 pounds (1.28kg).
The 13in, 2160 x 1440 touchscreen display is in the same 3:2 aspect ratio Huawei's favored for a few years. The 3:2 aspect ratio is more suitable for reading and document processing.
It is an amazing laptop that contains a full-fat Intel mobile processor and two USB-C 3.1 ports along with a headphone jack.
Besides, you will be surprised by its keyboard and touchpad, with plenty of key travel at 1.2mm and the punchy, forceful feedback that you need to type fast.
In a word, Huawei MateBook 13 is an excellently-designed laptop with an equally excellent display.
3.Performance
When choosing laptops, you need to pay attention to the processor.
Huawei MateBook 13 requires fans or liquid methods to be cooled rather than M or Y Series versions of those processors since it runs on 8th-generation Intel Core processors that are full-fat.
In other words, Huawei uses its updated Shark Fin 2.0 fan to cool system. Compared with off-the-shelf laptop fans with a central location in the machine to separate heat between the CPU and GPU, Huawei MateBook 13 keeps the system 25% cooler.
Therefore, you had better choose MateBook 13 instead of these laptops with these aforementioned fanless processors, like the MacBook Air of 2018.
4.Specs
Windows 10
13-inch 3:2 (2160 x 1440) touchscreen display
8th Generation Intel Quad Core i5 or i7 processor
Intel UHD Graphics 620 or Nvidia GeForce MX150
8GB RAM
256GB or 512GB SSD
8 WHr battery (built-in)
2x USB-C 3.1
1x 3.5mm headphone jack
1MP webcam
Full size, backlit chiclet keyboard
Windows Hello compliant fingerprint reader
9mm x 286mm x 211mm
3kg
Users' Opinions of Huawei MateBook
Recently, more and more users are talking about Huawei MateBook. Different people have different options. Here, some comments on the Huawei's first-ever Windows device are shown.
Brett Howse, AnandTech editor, wrote, "it's great to see a new entrance into the PC space, and Huawei has designed what looks to be a pretty nice tablet for their first attempt. The Surface Pro is definitely the inspiration for the MateBook, and that's not a bad thing, but the keyboard has been improved a lot of the latest tablet from Microsoft, and the MateBook type cover appears to mimic the prior generation here."
However, he also pointed out that the keyboard has backlit keys with 1.5mm of travel, but the actual keys themselves are very much like the Surface Pro 3 keyboard rather than the much improved Surface Pro 4 design.
Although Huawei MateBook 13 has so many features, its battery life still has something to prove. Huawei promises the inbuilt 42 watt-hour battery on the MateBook 13 can support 10 hours of video playback.
There's another disadvantage that Huawei MateBook 13 comes with 2 USB-C ports, with the right port supporting DisplayPort and data transfert and the left port supporting data transfer and charging. Huawei does have to sacrifice a bit on ports, just like Apple.
Pros
Full Intel power
Discrete Nvidia graphics
Webcam now on top
Excellent value
Comfortable keyboard
Whiskey Lake processors bring high performance
Slim and light design
Lots of screen, less bezels
Affordable price
Cons
Relatively low RAM capacity
Low megapixel camera
Low quality webcam
Battery life is questionable
Verdict
Huawei MateBook 13 will be a benchmark laptop for 2019.
One Necessary Tool for Huawei MateBook
I guess some users can't wait to experience Huawei MateBook after seeing the above introduction. However, to help users perfectly run this 2-in-1 laptop with Windows 10, we'll introduce one necessary tool – MiniTool Partition Wizard.
Managing partitions is a piece of quite important work since it can keep computer or operating system running well.
Windows 10 built-in disk management tool has some basic functions to help to manage partitions. However, unfortunately, this tool has some limitations. For instance, it can only change the size of NTFS partition. (Here, you might be interested in this post: Two Ways to Extend Partition Windows 10 without Losing Data.)
Here, we recommend users to use third-party partition software like MiniTool Partition Wizard. This tool provides some excellent features including Migrate OS to SSD/HD Wizard, Copy Disk Wizard, Move/Resize Partition, Extend Partition, Delete Partition, and so on to help to easily and quickly manage Windows 10 partitions.
Video watch
MiniTool Partition Wizard, your best partition management software
Next, we will show 2 exceelnt features of MiniTool Partition Wizard below to help users know more information about this tool.
Copy Disk to Backup All Important Data
Download and install MiniTool Partition Wizard on your Huawei MateBook.
Launch it to get its main interface as follows.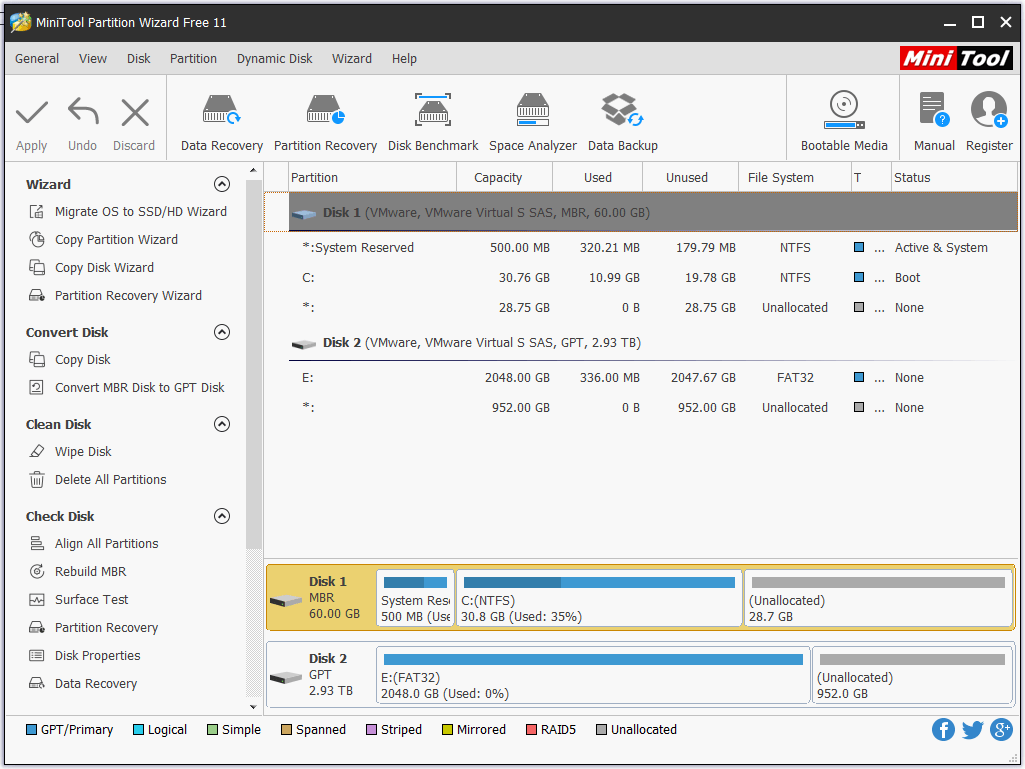 In the main interface, you can see all disks, partitions, and some basic features like Disk Benchmark, Data Recovery, Space Analyzer, etc. Here, to copy disk to backup all needed data, you need to click the target disk and then select "Copy Disk" from the left pane or select Copy option under the Disk.
Next, select the disk that will save the copy of the source disk as the target disk and then click "Next." 
The target disk should be large enough to hold all content on source disk, and users also need to backup all important data on this target disk in advance, because all its data will be deleted.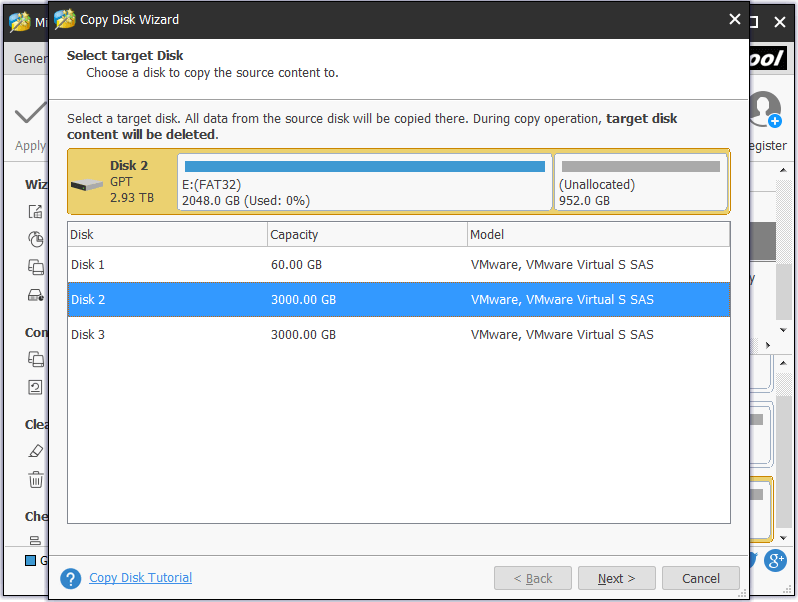 Choose a copying method to decide the layout of the target disk and then click the "Next" button.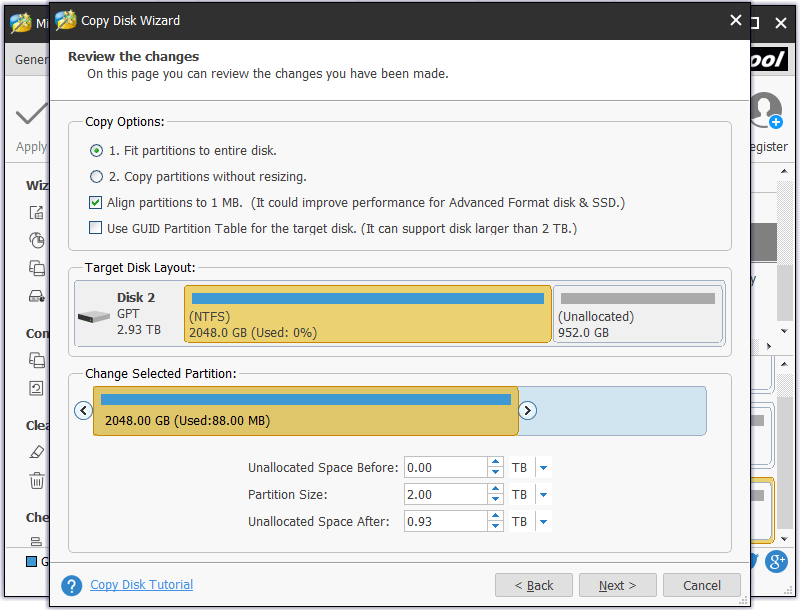 There are 3 copying methods in total.
If users choose the first one, all space on the target disk will be taken up.
By using the second method, all partitions will be copied to the target disk without changing their size. By choosing the third method, users are able to change the partition
Moreover, it is highly suggested that SSD and advanced format HDD users keep checking the option "Force to align partitions to 1MB". 
After that, click the "Finish" button to go back to the main interface, and then click the "Apply" button on the top left corner to apply all pending operations.
See! We can easily backup data via MiniTool Partition Wizard. Therefore, if our data are lost, we can quickly get them back. However, what if there is no backup?
In this situation, can we use this tool to recover lost data?
Of course, we can!
Recover Lost Data from Huawei MateBook
Windows 10 data loss caused by accidental deletion, partition formatting, computer virus invasion, and other factors happen more and more frequently, according to a survey.
In general, Windows 10 users don't need to worry too much about data loss. MiniTool Partition Wizard offers Data Recovery Feature to recover files from the logically damaged partition, formatted partition, and RAW partition.
The steps to recover lost data:
Step 1. Launch MinniTool Partition Wizard, and then select Data Recovery feature.
Step 2. Scan the drive containing lost data.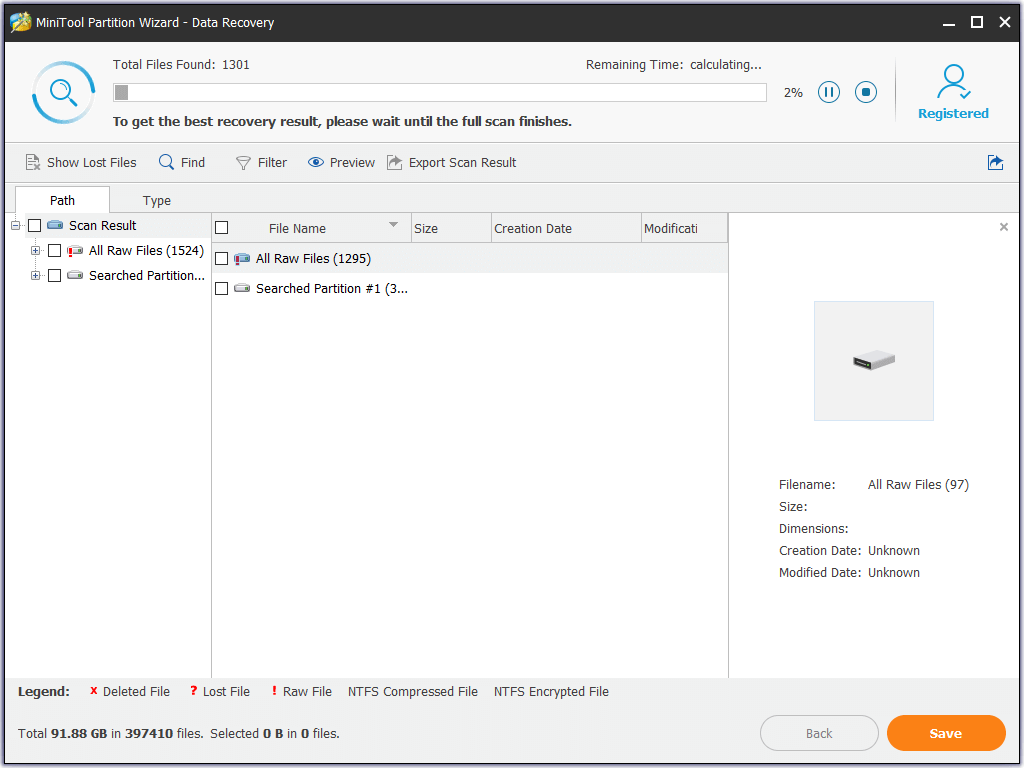 Step 3. Store all needed data in a safe place.
More details can be found in this post: How to Recover Lost Data from Hard Drives | MiniTool Partition Wizard Tutorial.
Bottom Line
Huawei MateBook is the MacBook killer Windows fans always wanted. Huawei MateBook with an Intel Core i5-8265U processor, 256GB SSD, and 8GB RAM will be available on January 29 at Amazon.
To perfectly use your Huawei MateBook, it is recommended to backup all data in case of any accidents.
Should you have any question on how to backup Huawei MateBook data or recover its lost data, please contact us via [email protected].
Like this post, share it with more people.