Can I Install Mods in GTA V?
Grand Theft Auto V is an action-adventure game developed by Rockstar North and published by Rockstar Games in 2013. Once it was released, it broke industry sales records and became the fastest-selling entertainment product in history, earning $800 million in its first day and $1 billion in its first three days.
It is also the second best-selling video game of all time with over 135 million copies shipped and one of the most financially successful entertainment products of all time, with about $6 billion in worldwide revenue.
This game is played from either a third-person or first-person perspective, and its world is navigated on foot and by vehicle. Players control the three lead protagonists throughout single-player and switch among them, both during and outside missions.
You can play this game online, which lets up to 30 players engage in a variety of different cooperative and competitive game modes. You can also play it offline, which lets you install various mods. But please note that once the mod is installed, you can't run the game online, unless the mod is uninstalled.
In addition, if you want to use mods in online mode, this is a cheating behavior and is forbidden by Rockstar. Once this behavior is found, your account will be banned.
How to Install GTA 5 Mods
If you have never installed mods before, you're probably wondering where to start and how to install GTA V mods on PC in the first place. This post will show you the general process:
Step 1: Install GTA V and start it once.
Step 2: Download and extract Scirpt Hook V. Drag the following files into the GTA V root folder (you can find GTA V root folder through right-clicking the game shortcut and choosing open file location).

Step 3: Download the latest Scirpt Hook V .NET and extract it. Drag the ScriptHookVDotNet.asi file into the GTA V root folder.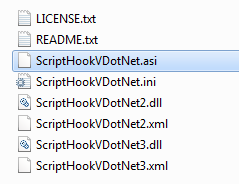 Step 4: Download and extract LUA Loader. Drag the following files into the GTA V root folder.

Step 5: Download and install OPEN IV. Open OPEN IV and go to Tools > ASI Manager. Install all tools listed in the ASI Manager. Go to Tools > Package Installer to install OpenIV Package. This will allow your game to read .oiv files.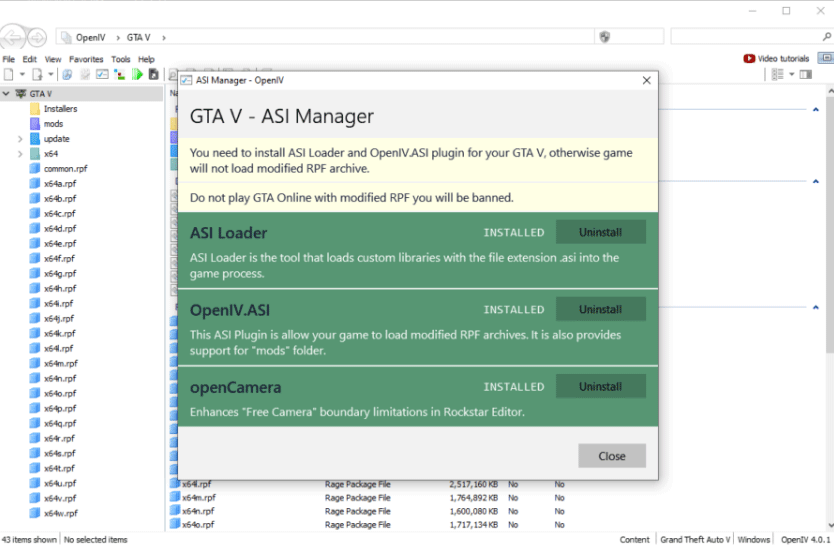 After all these tools are installed, you can then start to download and install mods. When installing these mods, you need to pay attention to the following things: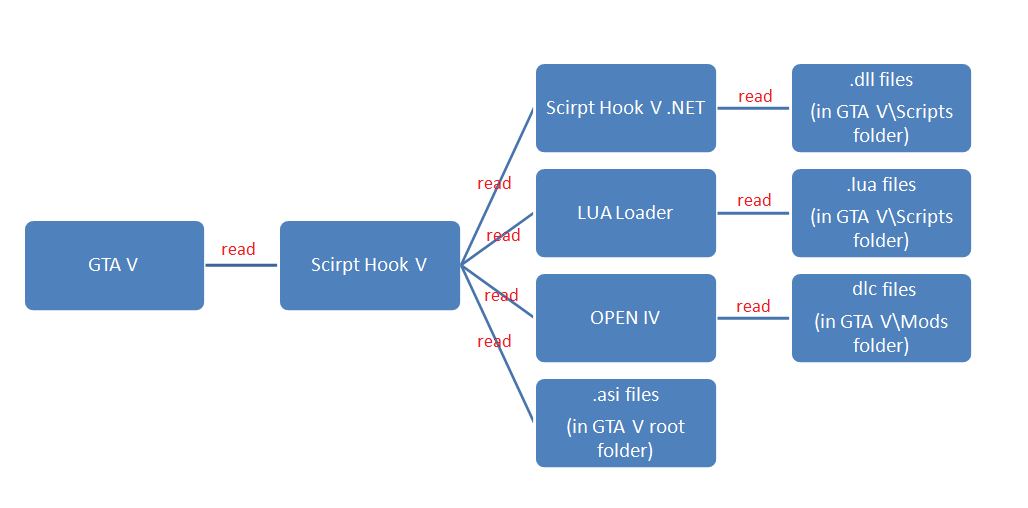 After you install OPEN IV, GTA V\mods folder will be created. Then, all the changes to the game are done here. Once the game has a problem, just delete the mod folder and the game will return to normal immediately, eliminating the trouble of re-downloading the game.
After updating the game, remember to update the update.rpf file under mods\update folder.
If dlc.rpf files are modified, calling them still needs to use ASI script with Script Hook V.