Can I get WiFi without an internet provider? Is there an effective temporary internet service? How to get WiFi without internet provider? Now, let's start exploring the answers together with MiniTool.
An internet service provider (ISP) is an important service that offers numerous services to access, participate, and use the Internet. However, sometimes, you may want to connect WiFi without an internet provider. For example, you won't pay much money for a regular ISP when you moved into a new place.
So, you may wonder some questions, such as "can I get WiFi without an internet provider", "how can I get internet without a provider", and so on. Don't worry. We will discuss these questions in detail.
Can I Get WiFi Without an Internet Provider
It is possible to connect to WiFi without internet providers? Of course, yes. There are multiple ways that can help you connect to WiFi without an internet provider. In the following part, you can access temporary WiFi via several temporary internet services and methods. Even though the WiFi that you get may not be high-speed, these methods are 100% legal and free.
How to Get WiFi Without Internet Provider
How to get internet without a provider? After analyzing extensive user reports and posts, we summarize the following 6 free and legal ways to get WiFi without an internet provider. You can choose one depending on your situation.
# 1. Mobile WiFi Hotspot
The first and simplest way how to get WiFi without internet provider is to use a mobile hotspot. This is because most people have smartphones with an LTE or 5G WiFi connection. If you have a hotspot mobile phone that has subscribed to an internet plan, then you can get WiFi connection on your laptop or desktop easily.
Of course, you should bear in mind some important principles before you set up a mobile hotspot on your computers.
This method is suitable for those who have an unlimited or cheap internet plan. If you have a small data cap or pay lots of money for your data, this may not be a good choice for you.
Set a data limit on your mobile phone and set your Windows 10/11 computer to metered connection and keep an eye on your leftover data.
Make sure to set up a password for your mobile hotspot in case other people suck up your data.
Keep the connection between your devices and power supply because a hotspot also consumes a lot of battery resources.
Check if your mobile data provider allows you to create a WiFi hotspot or charge a different rate when tethered.
# 2. Public WiFi
How can I get internet without a provider? The answer also depends on where you are. If you are in a shopping mall, library, and restaurant, there may be a lot of public WiFi hotspots around you, which provides you with an opportunity to access WiFi without an internet provider.
There are a few notes that you may need to know before joining a public VPN:
Logging on to a public WiFi network may have potential risks. For example, everyone else could see your browsing or other information, your fellow internet users may be infected, and more.
You can try installing a VPN like NordVPN to encrypt your data.
You can install a WiFi finder on your device to detect your nearby WiFi networks.
# 3. Tether Your Smartphone
If you just need occasional connections to the WiFi network on your laptop or desktop, then the simplest and fastest way is to tether your smartphone. Of course, tethering the smartphone also depends on the signal of your mobile phone carrier and if your provider support tethering o mobile hotspot.
Tips:
Make sure you set a new username and password on both Android and iOS to protect the security of your data.
Here's how to get internet without a provider through tethering an Android or iOS phone.
On Android Devices:
You can navigate to Settings > Network and Internet > Hotspot and Tethering > Wi-Fi Hotspot, and then toggle the slide of WiFi Hotspot to On.
On iOS Devices:
You can tether an iPhone by navigating to Settings > Personal Hotspot and sliding the toggle to On.
# 4. Use a WiFi USB Dongle
A WiFi USB dongle, also known as internet stick, is a small piece of device that enables you to connect to a port on other devices. It works like a version of mobile hotspots or temporary WiFi, but it is cheaper than a long-term mobile hotspot. To use the USB dongle, you just need to insert a standard SIM card and use its data connection.
# 5. Share Someone's Internet Provider
Sometimes there may be a chance that someone nearby you has a good WiFi connection to their computers. In this case, you can try negotiating with them and sharing their internet with you on Windows. This method may be difficult but worth having a try. To share a WiFi connection from Windows, you can follow the quick guide below:
Step 1. Press the Win + I keys to open the Settings window and select Network and Internet.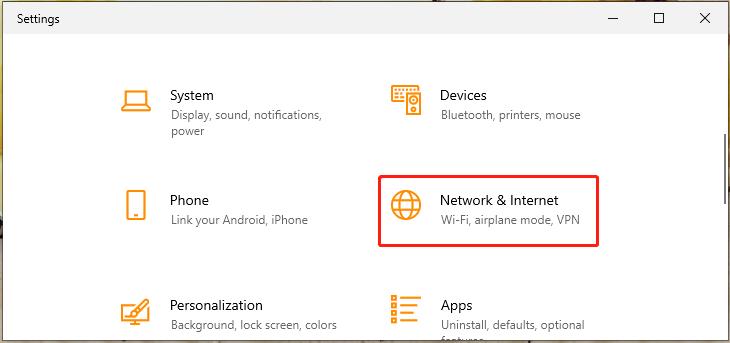 Step 2. Select Mobile Hotspot and choose the WiFi connection that you want to share from the drop-down menu, and toggle the slider to On.
# 6. Use Free Temporary Internet Services
As you might know, there are some internet service providers that offer free trial temporary WiFi service. These temporary internet services usually come with dial-up internet providers and a form of free hours (e.g. NetZero and Juno offer free hours).
However, sometimes you may be required to sign a deal to get the free trial. So, make sure that you have read the agreements in detail. Among them, FreePop should be the most popular one that actually offers free internet service. For the first month, you can get 10 GB of data free and up to 500 MB of data free for subsequent months.