As the prevalent game console, PlayStation boasts its shines. However, some PS4 users reported that their PS4 was stuck in Safe Mode and they had no idea. Considering this situation, MiniTool offers 4 ways on how to get PS4 out of Safe Mod
You may have ever tried using PS4 Safe Mode to fix PS4 problems, like PS4 not turning on. It is helpful to use this mode to fix some PS4 problems. But sad thing is that this mode also brings some troubles. One of the troubles is the PS4 Safe Mode loop.
Facing this problem, some PS4 users may become clumsy. But in this post, you can get 4 ways to get PS4 out of Safe Mode.
Way 1: Restart Your PlayStation 4
The first and easy way you can try is restarting your PS4. Note that this option won't damage the data saved on the game console.
To restart your PS4 to get it out of Safe Mode, you should complete:
Connecting a DS4 controller to the PS4 using a USB cable;
Selecting Restart PS4 in the Safe Mode menu to exit. 
Way 2: Check the Connected Cables
The second way on how to get PS4 out of Safe Mode is to check the connected cables if Way1 fails to work.
Failing to exit PS4 Safe Mode can be ascribed to the failing USB, power, or HDMI cable.
To check whether the case is the culprit to PS4 Safe Mode loop, you can try connecting USB/power/HDMI cables to other ports and wall sockets.
If one of the cables is broken or failing, please replace it. If not, try power cycling your game console:
Hold the PS4 power button to completely turn off the console;
Remove the power cable when the power light stops flashing and then leave the console for 10 minutes.
Reconnect the power cable and turn in on.
Way 3: Rebuild Corrupt Files
The corrupt files can also prevent your PS4 getting out of Safe Mode. Thus, you need to rebuild the corrupt files, but this process may take some time depending on the amount of data of the PS4 hard drive. (Are you bothered by the limited PS4 hard drive size? If yes, click the post to know what you can do when facing the issue)
This way is also quite easy because you just need to select Rebuild Database ON THE Safe Mode menu. This option will create a new database for your PS4 games and applications.
Way 4: Update Your PS4 System Software
Here comes the last way. Updating the PS4 system software may also be helpful in terms of how to get PS4 out of Safe Mode.
To do that, you should select Update System Software on Safe Mode menu and then select Update Using Internet. Then follow the on-screen instructions.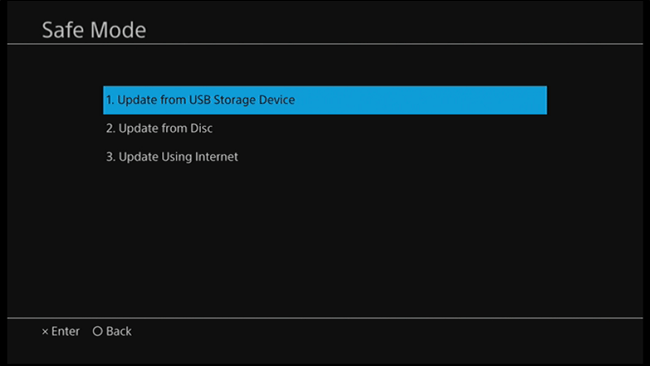 If the Update System Software option fails to help you get out of PS4 Safe Mode, please select Initialise PS4 (Reinstall System Software). Then you should also follow the on-screen instructions.
Now, this article comes to an end. Hope all the mentioned ways can help you get out of PS4 Safe Mode Loop effectively.