PS4 and PS5 are popular game consoles. For better gaming experiences, you might want to use AirPods while playing games. Can you connect AirPods to PS4 or PS5? How to connect AirPods to PS4 or PS5? MiniTool Partition Wizard provides a detailed tutorial here.
PS4 (short for PlayStation 4) and PS5 (short for PlayStation 5) are popular home video game consoles provided by Sony Interactive Entertainment. PS4 was released in November 2013. In November 2022, PS5 was released as the successor to PS4.
Compared with PS4, PS5 has improved a lot in performance. For example, PS5 has a built-in NVMe SSD, which makes it run faster. And the PS5 controller also provides a better gaming experience with adaptive triggers and haptic feedback. For more differences, you can refer to our previous post: PS4 vs PS5: What's the Difference and Which One to Select.
While playing the PS4 or PS5, you can use the controller headset or your TV as the audio output device. For a better gaming experience, you might want to use wireless headphones while playing a game. Can you connect wireless headphones such as AirPods to PS4 or PS5? Don't worry. Keep reading and you can figure it out.
Can You Connect AirPods to PS4 or PS5?
Unfortunately, either PS4 or PS5 doesn't allow you to connect wireless headphones through Bluetooth. To connect wireless headphones, you have to use a USB adaptor. You can click here to view the lists of supported wireless headsets for PS4 and PS5 from Sony.
AirPods are not included in the lists but you can connect AirPods to your PS4 or PS5 via a PS4 or PS5 wireless Bluetooth dongle. If you don't have a PS4 or PS5 wireless USB adapter for Bluetooth, you can buy one on the Internet. It costs $10 to $30.
Tip: Some USB Bluetooth dongle adapter doesn't support AirPods, so be careful when you buy one.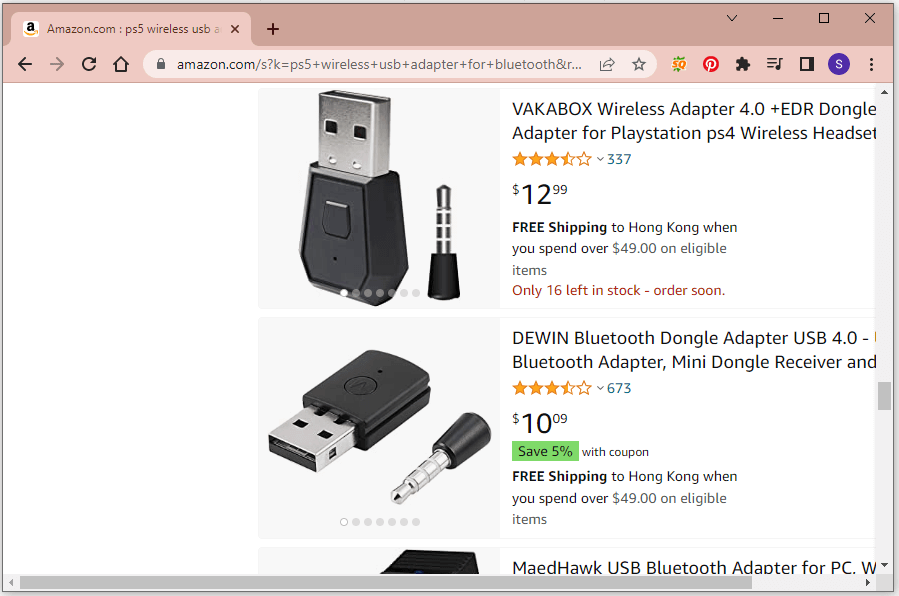 The USB adapter is usually made up of two parts. One is the USB receiver that needs to be plugged into your PS4 or PS5 console. The second is the single receiver (usually a 3.5-millimeter microphone) that needs to be connected to the headphone jack on your PlayStation controller.
How to Connect AirPods to PS4 or PS5
Now, let's see how to connect AirPods to PS5 or PS4. The steps are quite similar. Before the operation, prepare a PS4 or PS5 USB adapter for Bluetooth. Then you can follow the steps below.
Step 1: Turn on your PS4 or PS5 console.
Step 2: Plug the USB receiver into the USB port on your PS4 or PS5. The light on the receiver will flash blue slowly.
Step 3: Make sure your AirPods are on. Then press the Bluetooth button on the USB receiver to go to the pairing mode. Hold the button until the light flashes rapidly.
Step 4: Press the pairing button on the back of the AirPods case and hold until the light on the USB receiver stops flashing and remains constant. It indicates that you have paired them successfully.
Tip: If your AirPods don't pair with your PS4 or PS5 for the first time, you can repeat the above steps again.
Step 5: Plug the single receiver of your USB Bluetooth adapter into the headphone jack port on your PS4 or PS5 controller.
Step 6: Go to the home screen of your PS4 or PS5. Then select Settings > Devices > Audio Devices > Input Device and make sure the input device is set to Headset Connected to Controller.
Tip: On PS5, you need to go to Settings > Microphone > Input Device.
Step 7: Go back to the Audio Devices settings and select Output Device. Then set the output device to USB Headphones (USB Audio Device). In addition, you can set the output to the headphones to All audio instead of Chat Audio.
Tip: On PS5, it's in Settings > Sound > Audio Output.
After that, you can enjoy your games with AirPods on PS4 or PS5. You can also go to Audio Devices to adjust the volume of both microphone and headset to your preferred level.
If your PlayStation console is put into Safe Mode, you don't need to repair your AirPods again the next time.
That's all about how to connect AirPods to PS4 controller and PS5. Have a try now!