Do you have the problem "how do I reset my USB ports"? If yes, you come to the right place. You can find two ways to reset your USB ports from the post. After resetting, the problems related to USB ports should be resolved.
USB ports allow USB devices (like printers, scanners, mice, storage devices, etc.) to be connected. However, sometimes USB ports are not working or other related issues happen, and one of the solutions to these issues is to reset the USB ports. The question "how do I reset my USB ports" might be asked. Scroll down and you will know how to do that.
Tip:
What to do if the data loss happens because of USB ports not working? You can try
MiniTool Partition Wizard
that is a powerful data recovery utility.
Way 1: Reset Your USB Ports via Device Manager
You can reset your USB ports on Windows 10 through Device Manager. The tutorial is below.
Step 1: Open Device Manager. There are many ways to access Device Manager and the most simple way is below.
Right-click the Windows icon on the taskbar.
Select Device Manager from the list.
Step 2: On Device Manager, find Universal Serial Bus controllers and expand it.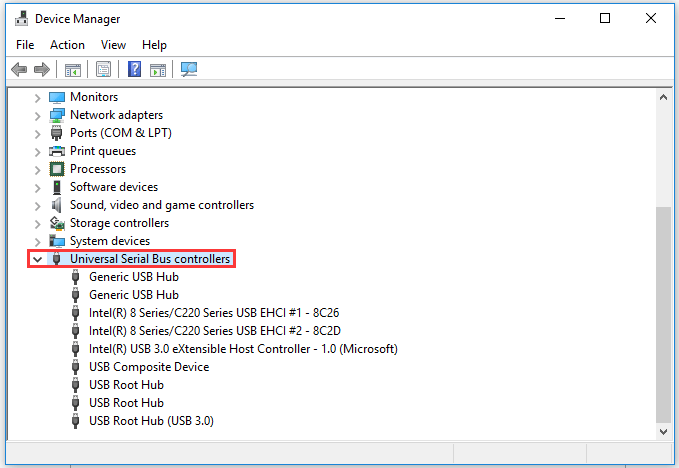 Step 3: You will see a list of the USB controller. Right-click one of the USB controllers and then click Uninstall device. Repeat this for all the USB controllers on the list.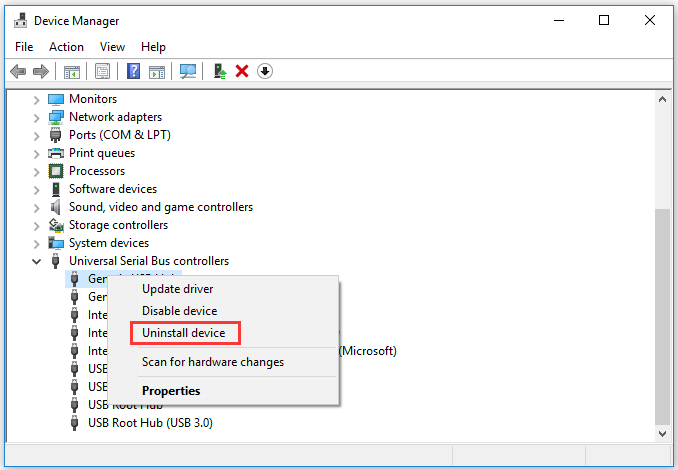 Step 4: Restart your computer. Windows will automatically scan the system and reinstall the uninstalled USB controllers, which resets your USB ports.
After resetting your USB ports, you can install a Brother printer through a USB cable.
Way 2: Reset Your USB Ports via Registry Editor
Alternatively, you can follow the tutorial below to reset your USB ports on Windows 10.
Step 1: Open Registry Editor.
Press Windows + R to call out the Run Command.
Input regedit and then hit Enter.
Step 2: Go to the path: HKEY_LOCAL_MACHINE à SYSTEM à CurrentControlSet à Services à USBSTOR.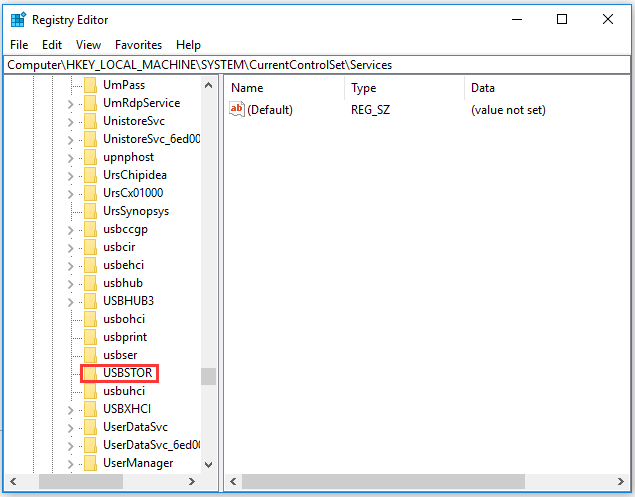 Step 3: Double-click Start in the right pane. Then, set the value data as 3. Finally, click OK to confirm and save the change.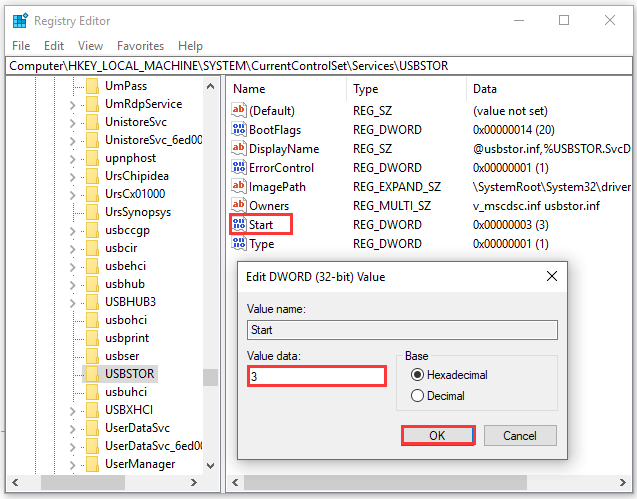 What You Might Be Interested in
Do USB ports go bad? Certainly, USB ports can go bad. The following situations can lead to USB port corruption or malfunction.
1. The environment is too humid.
USB ports are exposure to the air. Therefore, they are prone to rust when the environment is too humid, resulting in poor contact and slow down data transmission.
2. Use inferior USB extension cables.
The interface on the inferior USB extension cables usually unmatched with the USB ports, being either too loose or too tight.
Too loose will easily lead to poor contact and even fall off during use. Too tight is not conducive to plugging and unplugging and this easily results in scratches on the USB ports, which will cause rust.
3. Improperly connect and disconnect USB devices.
Improper connection or disconnection will not only cause the USB port to loosen but also damage the data in the USB devices like USB flash drive. When you plug a USB device and want to unplug it, the interval should be at least 5 seconds.
The End
Have you reset your USB ports by following one of the above ways? If you encounter some issues during the reset process, please leave the issues in the following comments and I will try to help you figure them out.