If you are a player of GTA 5, you might have encountered the game memory error during gameplay. In order to help users to fix the issue effectively, MiniTool Partition Wizard develops this tutorial where several solutions are listed. Hope you can benefit from this post.
The memory error is a common issue related to video games like GTA 5 (Grand Theft Auto V). Plenty players have reported GTA 5 out of game memory issue on the forum and are seeking for solutions.
According to the reports, this error comes up with an error message "Out of game memory. Please reboot and restart the game." and an error code ERR_MEM_EMBEDDEDALLOC_ALLOC. But in some other cases, the message and code might be different, such as ERR_MEM_MULTIALLOC_FREE – Game memory error. Please reboot and restart the game.

The GTA 5 game memory error commonly occurs while trying to launch the game on your computer. If you are struggling with this issue unfortunately, don't panic. Here are some methods that may help you out of trouble. Just work your way down the list.
Fix 1: Power Cycle Your Computer
As the error message prompts, you can try rebooting your computer and then launching the game again, which can resolve the game memory error in most cases. But if a simple restart doesn't help, perhaps you can power cycle your computer. In this way, your computer can remove any incorrect configurations and re-create all the temporary config files.
To power cycle, you need to:
Shut your computer down properly.
Remove the main power supply and disconnect any external peripherals like mouse and keyboard.
Press and hold the power button for about 30 seconds to flush out the static charge and excess power.
Reconnect the external devices and start your computer.
After that, try launching the game again and check if GTA 5 out of game memory issue is resolved.
Fix 2: Modify GTA 5 Command Line
GTA 5 comes with a command line text file which allows users to add commands to execute on the startup of game according to their preferences. It has been proven that a certain command line inside might prevent the game from launching properly and trigger the GTA 5 out of memory error.
To resolve the problem, you can follow the instructions below to remove the bad command line.
Step 1: Open File Explorer and go to the installation folder of your GTA 5.
Step 2: Locate the text document named commandline and double-click it to open it. If there are too many files, you can use File Explorer search feature to find the file quickly.
Step 3: Search for the command –ignoreDifferentVideoCard and remove it. Then, save the new text file and reboot your device.
After that, you can launch the game and check if the memory issue is resolved. If this error appears again or there's no such a command line, you can move on to the next solution.
Fix 3: Use Another DirectX Version
In some cases, players fail to launch GTA 5 due to the memory error when they are using DirectX 11, but they can open the game without any problems using DirectX 10. So, if you are using DirectX 11, don't hesitate change the DirectX version. Besides, the MSAA may also lead to certain problems and you need to disable it at the same time.
You just need to open the SETTINGS menu of GTA 5 and choose Graphics section. Click DirectX Version and choose DirectX 10. Then, set the value of MASS as Off to disable it.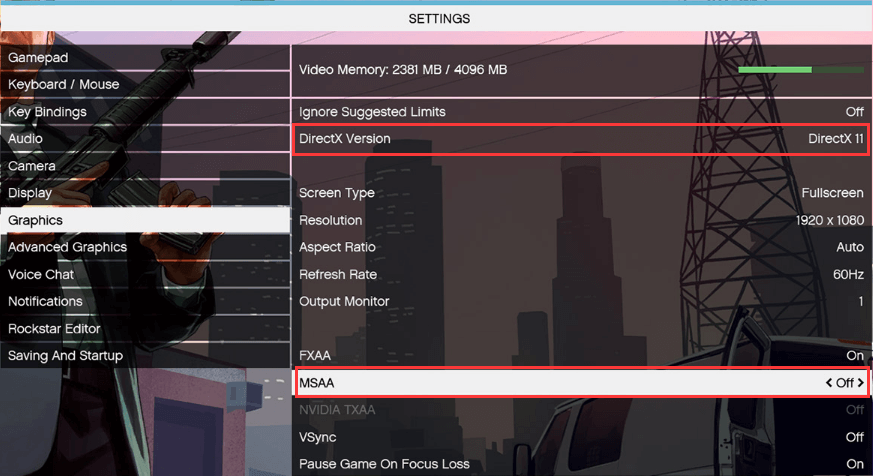 Once it's done, restart your computer and launch the game. Hopefully, the GTA 5 out of memory issue will disappear.
Fix 4: Update Your Graphics Driver
In addition, outdated or corrupted graphic driver could also a factor that causes GTA 5 out of game memory issue. Therefore, it might be helpful to update your graphics driver. You can make it in Device Manager.
Step 1: Right-click the Start button and choose Device Manager to open it.
Step 2: Expand the Display adapters category, right-click your graphics driver and choose Update driver.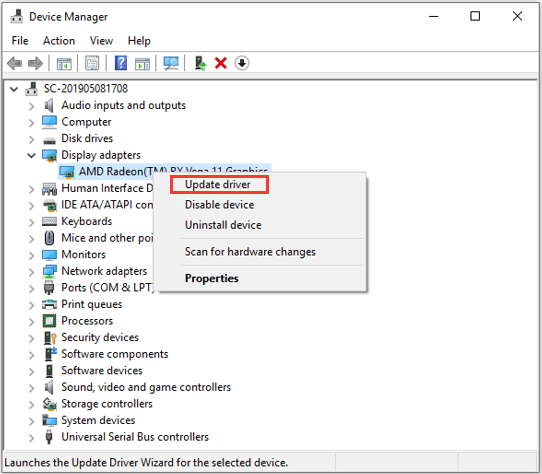 Step 3: Choose Search automatically for updated driver software option and then follow the instructions on the screen to install any available updates for your driver.
Alternatively, you can visit the manufacturer's website to download the latest updates and install them manually. You can also update your driver by reinstalling it or with a third-party program. To get more information about how to update graphics driver, you can check this tutorial: How to Update Graphics Card Drivers (NVIDIA/AMD/Intel)?
Fix 5: Reinstall GTA 5
If all the above methods fail to fix GTA 5 game memory error for you, perhaps the installation data of the game is corrupted and you need to reinstall it. Make sure you've backed up your game process and then go to uninstall both Grand Theft Auto V and Rockstar Games Social Club.
After that, restart your computer, download the latest version of the game from the official website, and install the game from this new package.