Recently, some game lovers report GTA 5 exited unexpectedly issue on the forum. This issue might occur when you are trying to start the game or during the gameplay. How to fix GTA 5 exited unexpectedly Steam issue? MiniTool Partition Wizard introduces several feasible solutions in this article.
Grand Theft Auto V, also known as GTA V or GTA 5, is an action-adventure game developed by Rockstar North and published by Rockstar Games. This game broke industry sales records and became the fastest-selling entertainment product in history, receiving widespread critical acclaim.
However, some errors have been reported with the game, and GTA 5 exited unexpectedly is one of the typical errors. This is really an annoying issue for game lovers, and the exited unexpectedly issue can also appear on other Rockstar games such as Red Dead Redemption 2.
When you encounter the issue, you will receive the following error message:
Grand Theft Auto V exited unexpectedly.
Please click Retry below to enter the game again, or click Safe Mode to launch the game with reduced graphics settings.
If you continue to have problems playing the game, please contact Rockstar Games Customer Service.
So, how to fix GTA 5 exited unexpectedly Steam issue? Just keep on your reading to get the solutions.
Fix 1: Launch GTA 5 As an Administrator
Most games require administrative privileges to run properly on computer and GTA V has no exceptions. If you don't grant administrative privileges to your GTA V, it is very likely to crash or exit during gameplay unexpectedly.
In this case, you should make sure you are running the game as administrator. Here's how to do it.
Step 1: Right-click the shortcut icon of the executable file of the game and choose Properties.
Step 2: Go to Compatibility tab and check Run this program as an administrator option.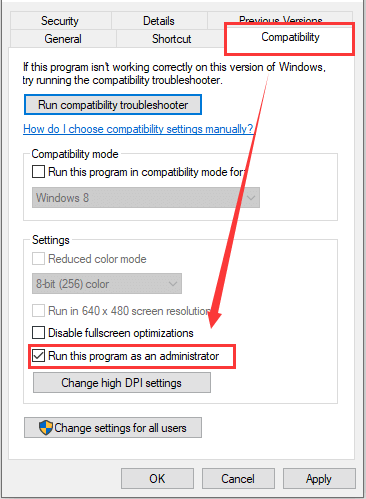 Step 3: Click Apply and OK to save changes.
Now, you can launch your game again to check if the issue has been removed.
Tip: You should also run your Steam client with administrator privilege when needed.
Fix 2: Verify Integrity of The Game Files
This is a common method to fix game errors in Steam client. This is a rather simple operation and you can make it following the steps below.
Step 1: Log into your Steam account and go to LIBRARY.
Step 2: Right-click your GTA 5 in the game list and choose Properties.
Step 3: Go to LOCAL FILES tab and click VERIFY INTEGRITY OF GAME FILES.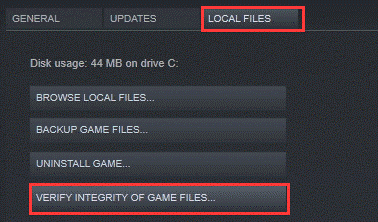 After the validation process is completed, restart the game and check if Grand Theft Auto 5 exited unexpectedly issue is removed.
If you are not using Steam or any game platform, you can also verify game files in Windows. To do that, just press Windows + R, input cmd and click OK to open Command Prompt. Then, input the following commands one by one and press Enter after each:
cd c:Program FilesRockstar GamesGrand Theft Auto V (replace the path with the actual storage directory of your game)
exe -verify
Fix 3: Update DirectX and Graphics Driver
The DirectX and graphics driver are essential for the normal running of your games. If they are outdated or corrupted, you might receive various problems while playing games, such as GTA V exited unexpectedly. So, it might be helpful to update your DirectX and graphics driver.
To update DirectX, you should visit Microsoft website to download the latest version of DirectX as per your Windows version. After installing it, restart your computer and check if the problem is fixed. For more detailed information, you can read this article.

To update graphics driver, you can refer to the following instructions.
Step 1: Right-click the Start button and choose Device Manager.
Step 2: Under Display adapters, right-click your graphics driver and choose Update driver.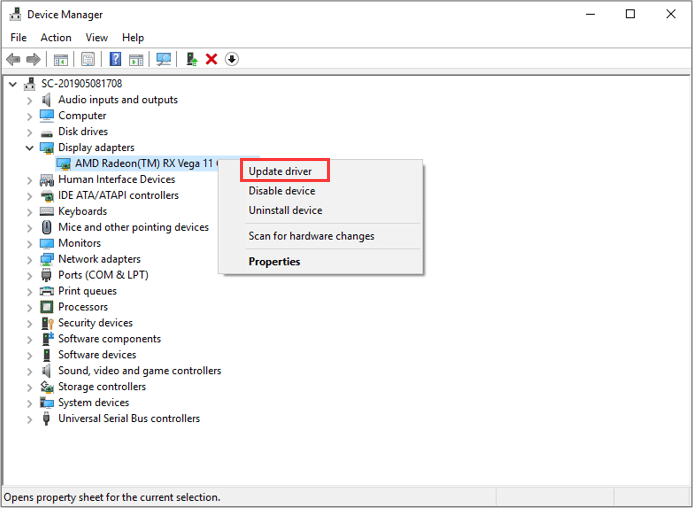 Step 3: Choose Search automatically for updated driver software option and then follow the onscreen information to complete the process.
After installing any available updates for the driver, reboot the system and check if GTA 5 exited unexpectedly issue disappears.
Fix 4: Reinstall GTA 5
Finally, you might need to reinstall the game if all above methods fail to fix Grand Theft Auto 5 exited unexpectedly for you. You can uninstall the game in Windows Settings or in your Steam client. Then, you'd better navigate to the storage directory of the game and delete all the game files to completely remove the game.
Once it's done, download the latest version of GTA 5 from the official website or from Steam and reinstall it on your computer. In this way, you should be able to play the game without any problems.