Summary :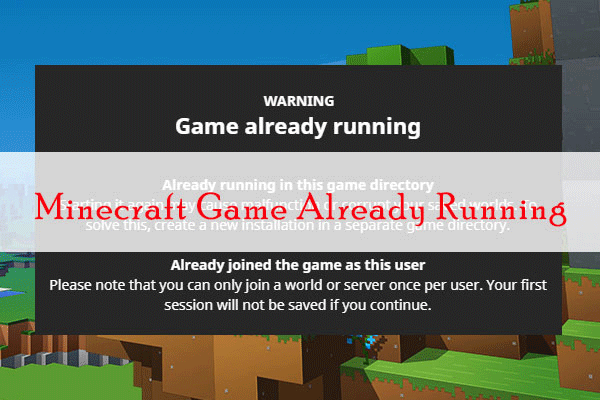 Some Minecraft players report that their game stopped working and a message prompted that the game is already running. The same problem also happens on Steam users. To solve the game already running issues, MiniTool Partition Wizard provides some fixes.
Some Minecraft are bothered by game already running warning. It happens when they are trying to play the game and it warns them that starting the game again may cause malfunction or corrupt the save worlds, which makes them annoyed. The similar error also occurs on Steam users. And the error massage is "failed to start game app already running".
To solve the issues, you can refer to the following solutions.
The Fix for Minecraft Game Already Running
According to the user, the Minecraft Launcher said that the game was already running while it wasn't. It seems that the Minecraft game already running issue happens because the Java processes are running in the background. Therefore, you can try opening Task Manager and killing all programs related to Java(TM) Platform SE Binary. The detailed steps are as follow.
Step 1: Right-click the task bar and select Task Manager or press Shift + Ctrl + Esc to open Task Manager quickly.
Step 2: Click More details if you can only view a few running programs.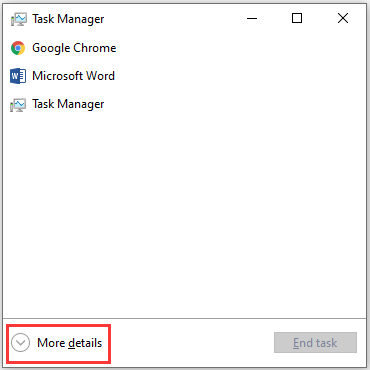 Step 3: Under Processes tab, select each process related to Java(TM) Platform SE Binary and click End task.
After that, you should close Task Manager and restart your Minecraft. Then check if it works properly without Minecraft game already running error message.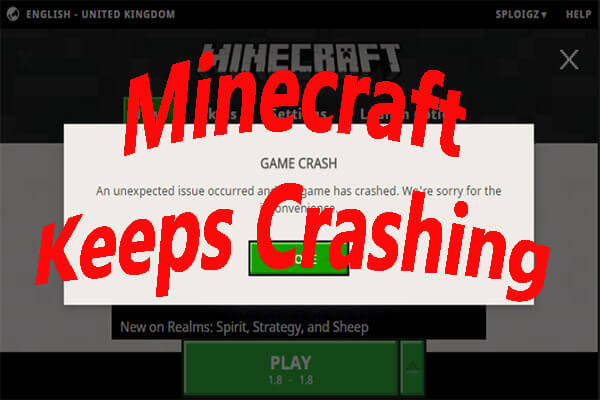 Have you encountered the problem that Minecraft keeps crashing? If you have, this post is what you need as it provides several solutions to the problem.
Fixes for Steam Game Already Running
Reasons for the error message "failed to start game app already running" on Steam are quite various and you may not know which one you are facing. But don't worry. You can try the following fixes one by one to troubleshoot the problem.
Fix 1: Restart Your PC
It is possible that you didn't restart your Steam client after updating or installing a new game, which might cause certain problems because some configurations couldn't be set properly. In this case, you can try rebooting your PC and running the game again. If this doesn't work, try the next solution.
Fix 2: Re-log in to Your Steam Account
Some users have fixed Steam game already running by logging the Steam account out and then logging back in. It's easy to operating and worth trying.
Step 1: Launch Steam client.
Step 2: Click the drop-down menu from the upper right corner and select Log out of account.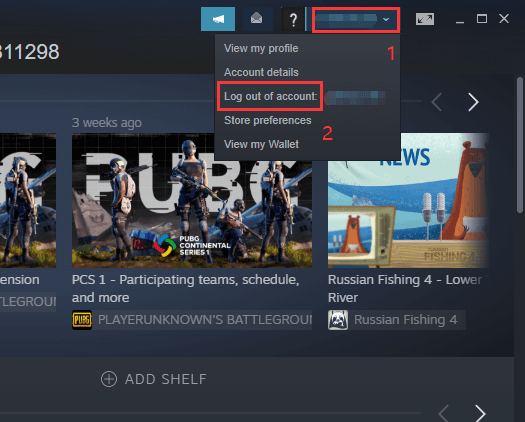 Step 3: In the pop-up login screen, input your account name and password. Then click LOGIN.
After logging in to your Steam account, you can launch the problematic game and check if it can be played now.
Fix 3: Verify the Integrity of Game Files
Most of the games in Steam are installed with huge files and they might be corrupted or missing during the download or update. That could be another reason why you receive failed to start game app already running error message.
To remove the error, you can use the built-in utility to verify the game files. Let's see how to do it.
Step 1: Open Steam client.
Step 2: Click LIBRARY tab to view your games. Then right-click the problematic game and select Properties.
Step 3: In the pop-up window, switch to LOCAL FILES tab. Then click VIRIFY INTEGRITY OF GAME FILES button.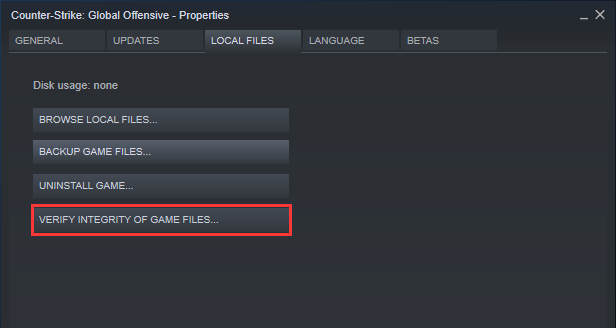 This might take some time and you need to wait patiently. Once it's done, restart Steam and launch your game. You should be able to play it without any errors.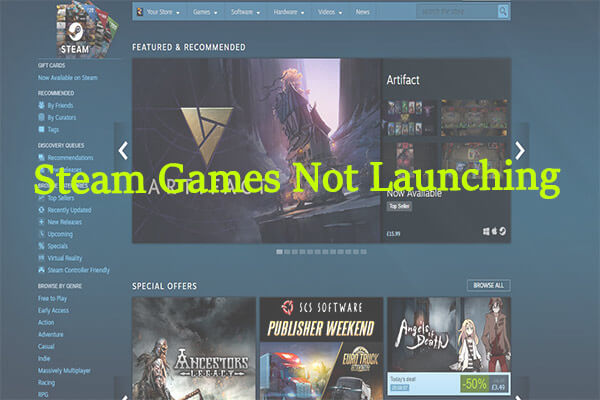 Are you experiencing Steam games not launching issue? Don't panic. Here are 4 methods you can take to get rid of Steam not launching games problem.