Adobe Photoshop is a powerful but paid program. If your budget is limited, you can try free Photoshop alternatives. This post from MiniTool Partition Wizard introduces 3 powerful and free raster graphics editors.
Adobe Photoshop is a raster graphics editor. It can edit and compose raster images in multiple layers and supports masks, alpha compositing, and several color models including RGB, CMYK, CIELAB, spot color, and duotone.
In addition to raster graphics, Photoshop has limited abilities to edit or render text and vector graphics (especially through clipping path for the latter), as well as 3D graphics and video.
Undoubtedly, Adobe Photoshop is a powerful and paid tool. However, some people may be just beginners and don't have enough budget. In this case, they may want to try free Photoshop alternatives. If you want to find the best Photoshop alternative, you can consider the following options.
Tip: At the time of writing, the following programs are totally free. They have no paid edition. In my mind, if a program has paid edition, it means that some features will be cut down in the free edition.
1. GIMP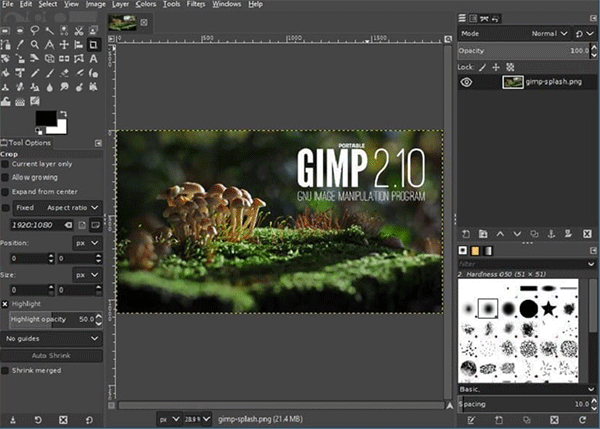 GIMP, short for GNU Image Manipulation Program, is a free and open-source bitmap image editor available on Linux, Windows, and macOS. It can be used for image photo retouching and editing, free drawing, resizing, cropping, photomontage, image format conversion, and other professional tasks. Many people use it as a free alternative to Photoshop.
Pros

It includes advanced features such as layer masks and filters.
It offers plenty of downloadable add-ons to fit your needs.
It supports a wide range of file formats, including MNG.

Cons

Complicated UI.
No Camera RAW filter.
No drawing capabilities.
2. Krita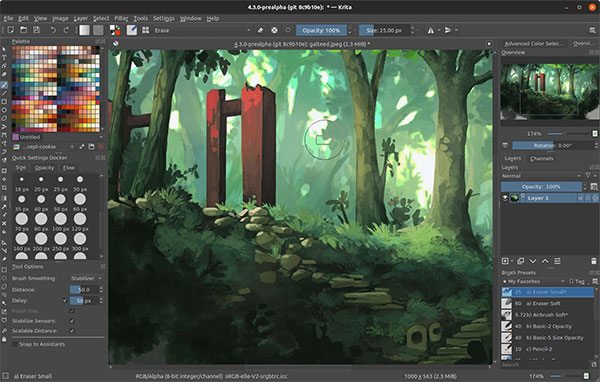 Krita is a free and open-source raster graphics editor designed primarily for digital painting and 2D animation. It features an OpenGL-accelerated canvas, color management support, an advanced brush engine, non-destructive layers and masks, group-based layer management, vector artwork support, etc.
This software runs on Windows, macOS, Linux, Android, and Chrome OS. Although it's geared toward illustrators and graphic designers and offers, it does support PSD files, so it's great for designers who often turn to Photoshop.
Pros

The interface is similar to Photoshop.
It supports most PSD.
It includes an advanced layer management system, making you be able to work on multiple projects at once.
It supports drawing tablets, making it ideal for digital painting and sketching.

Cons

No RAW filter.
No history toolbar.
3. Paint.NET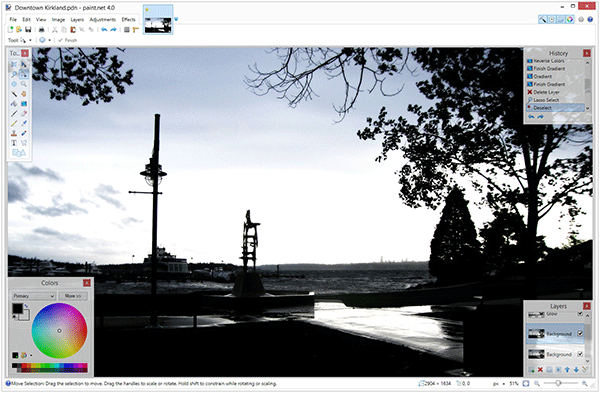 Paint.NET is a freeware raster graphics editor program for Microsoft Windows, developed on the .NET Framework. It includes basic tools that offer the ability to edit using layers, curves, and levels.
Because this software was originally created as an alternative to Microsoft Paint, it has limited tools and filters. But you can download free extensions to add more versatility.
Tip: This software has a classic version and a paid version. If you download this software from its original website, the version is classic. If you download it from Microsoft Store, you will get the paid version. But the functionality of the 2 versions is the same, except that the paid release has fully automatic updating.
Pros

It is simple for beginners to use.
Since it is used by a large number of people, there are plenty of forums, tutorials, and plugins to extend the software.

Cons

It has limited functionality and is only available for Windows.
It does not natively support PSD.
UI lacks a way to manage plugins.
No text correction after applying other effects.