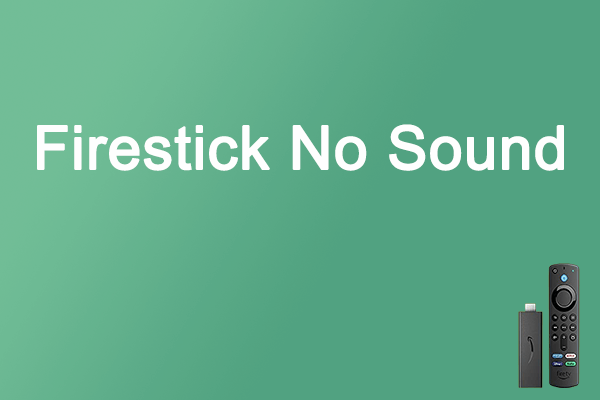 Amazon Firestick is one of the best streaming devices that can be used to transfer your traditional TV to a smart one. With Firestick, you are able to stream a wide range of TV shows, movies, and more. It's so wonderful and popular around the world. However, issues also exist while using this device. For instance, there might randomly be no sound on Firestick, which may trouble you a lot.
The "Firestick no sound" issue may be caused by multiple reasons, such as improper audio settings, incorrect cable connection, hardware problems, and so on. To solve this issue, this post summarizes several feasible solutions. You can have a try when your Firestick has no sound.
Solution 1: Restart Firestick
When facing the "Firestick no sound" issue, the first thing you should do is perform a restart for your Firestick. To do this, you can try unplugging your Firestick from the power source and then plugging it back after waiting for about one minute. Alternatively, you can follow the steps below.
Step 1: Open Settings on your Firestick and select My Fire TV.
Step 2: After that, hit Restart and then Restart again to confirm the operation.
Solution 2: Unmute Your Firestick and Turn Up the Volume
You may hear no sound from Firestick as well if you mute your Firestick accidentally. In this case, you should press the Mute button on your Firestick remote and then turn on the volume. By doing so, you may be able to receive the sound.
Solution 3: Modify Audio Settings
When there is no sound, you can also try making some changes to your audio settings to see if the error will be resolved.
Step 1: Open Settings on the Firestick and then go to Display & Sound > Audio.
Step 2: Select Surround Sound. Then you will see it is set to Best Available. Just change the current setting to Stereo.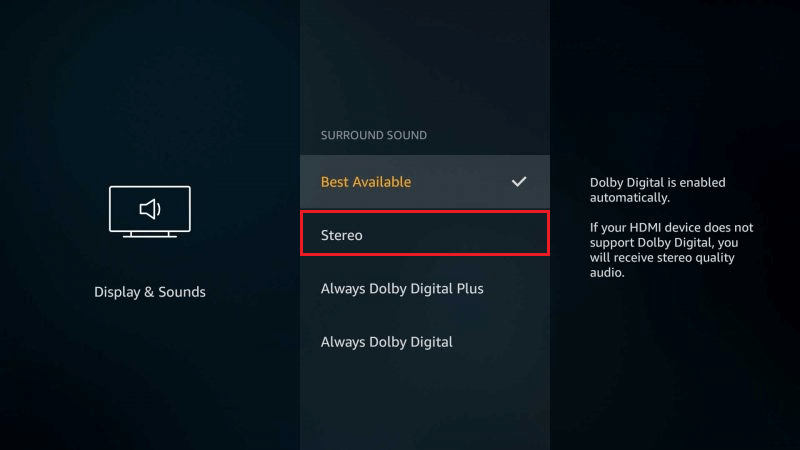 Solution 4: Check Your Cable Connection
Faulty cable connections may also lead to the "Firestick no sound" issue. Therefore, to avoid this issue, it's recommended that you check all the HDMI connections. If the HDMI is not connected properly or is loose, you need to unplug and then reconnect it to the right HDMI port. Additionally, make sure you connect the HDMI input to the Firestick.
Solution 5: Turn on AV Receiver
If you connect an AV Receiver to the device you are currently using with Firestick, you should make sure you turn on the receiver. Or, you will hear no sound from Firestick. To check if the audio receiver is powered on, you can see if there are any lights turning up. If not, you can press the Power button to turn it on.
Solution 6: Update Firestick
An outdated Firestick software may cause certain problems. Hence, when your Firestick has no sound, you can try solving this issue by updating Firestick too. To help you execute the operation, here's a step-by-step guide.
Step 1: Go to Settings on your Firestick and select My Fire TV.
Step 2: On the next screen, select About.
Step 3: After that, hit Install Update/Check for Updates. If any update is available, it will be downloaded automatically.
Step 4: Wait until the process is completed. Then go to check if the "no sound Firestick" issue is repaired.
Solution 7: Reset Firestick
If none of the above solutions works, you should try resetting the Firestick to see if the "Firestick no sound" issue can be removed. In this way, all the data on your Firestick will be deleted and the settings will be restored to the default.
Step 1: Go to Settings > My Fire TV on your Firestick.
Step 2: Select Reset to Factory Defaults. Then hit Reset on the prompted window to confirm this operation.
Step 3: Once the process ends, go to check if you can hear sound on Firestick.
When you are suffering from the "Firestick no sound" issue, you can try the above solutions to fix it. If you have any other great solutions to this issue, please share them with us in our comment part below.
If you are a Windows user and plan to manage your partitions and disks regularly, MiniTool Partition Wizard might be very helpful. To get more information on this professional partition manager, you can visit the official website.