Don't Update to Firefox 69.0.2 and Beta 70.0b11+
After updating to version 69.0.2, any files I try to download fail with no error. In the download panel it just says Failed and the retry button does nothing… I'm just at a loss right now, and I really don't want to switch to any other browser. — www.reddit.com
After upgrading to Firefox's latest stable version released last Thursday, many people reported on Reddit that they are unable to download files with Firefox. On October 4, this issue was described on Mozilla's bug tracker, saying that all web downloads are failing when using Firefox on Windows 10.
Following these reports and the bug tracker issue, Mozilla published a support page where it advises Windows 10 users to avoid updating their Firefox installation to 6.9.0.2 for the time being.
In that page, Mozilla says "There is a known issue in Firefox 69.0.2 and Beta 70.0b11+ that causes downloads to fail in Windows 10 when you have parental controls or content restrictions on… If you haven't already updated to 69.0.2, please avoid doing so until we've shipped a fix."
At the same time, Mozilla also says in an update to the Firefox 69.0.2 changelog that downloading files from the Internet may not work for Windows 10 users who have the Parental Controls feature turned on and are part of a family group.
How to Solve This Bug
Mozilla Platform Engineer Matt Howell says "A patch to the parental controls service that makes it return that downloads are allowed instead of throwing seems to fix the problem…That would require a new release; I'm not sure what our current hotfix capabilities are, but I would guess that anything we could do to fix this would fall outside of them."
While Mozilla can use hotfixes to patch some browser issues, it seems that this one might have to wait to get fixed as part of future releases in the Firefox stable and beta channels.
Fortunately, if you have already installed the impacted Firefox versions, you can take the following two measures to solve this issue right now, although a patched version is not yet available in the Stable or Beta channels.
Fix 1. Downgrade Firefox
Downgrading to a previous stable version that is not affected by this bug (69.0.1 or 68.0.2) might do the trick according to some user reports. To do that, you should download and reinstall the old version of Firefox.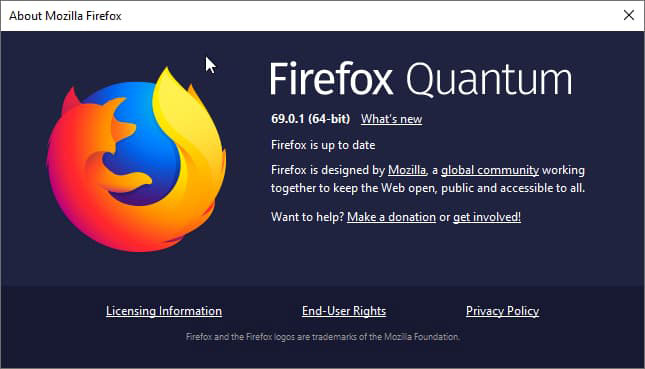 Fix 2. Remove members from a family group to turn off content restrictions
Step 1: Go to family.microsoft.com.
Step 2: Sign in with your Microsoft account. Please note that removing a member from your family group needs an adult account that can give consent.
To remove a child: scroll down and select Manage my child's profile info, select the child, select Remove consent for this child's account, and confirm. Then, go back to your family's page, and under the child's name, select More options > Remove from family, and confirm.
To remove a child because they're now an adult, or if an adult account has been misclassified as a child account: verify the account.
To remove an adult: under that person's name, select More options > Remove from family, and confirm.
To leave the family group if you're the only adult in the family: remove all children first, then find your name, select Leave family, and confirm. You must be over the statutory age to remove yourself.
If you're incorrectly listed as a child when you're an adult: see How to change a birthdate on a Microsoft account.