A lot of users are confused about the Epson Event Manager software. In this post, MiniTool will introduce the definition of the software. It also provides a full Epson Event Manager download/install guide on Windows and Mac.
Epson is a well-known electronics company as well as one of the largest manufacturers of computer printers and imaging-related equipment. This company has numerous products, including scanners, laptops, desktops, video projectors, watches, etc.
In addition, the company also released many specific apps and drivers to optimize their products, such as Epson printer drivers, Epson Scanner driver software, Epson ES-400 scanner, and the one discussed here.
What Is Epson Event Manager
What is the Epson Event Manager software used for? It is a free scanning program that can take advantage of all Epson products and make your scanning works quicker. With this utility, you can unlock all Epson scanners/printers and their hidden features easily.
In addition, this software can be used to do many other works such as check file type/initial size/resolution/target folder, scan to email, check as PDF, check to PC, etc. Now, the latest version of Epson Event Manager Software 3.11.53 has been released for both Windows and Mac.
Epson Event Manager Download & Install for Windows 10/11
The Epson Event Manager software is available for Windows 10/11 (32-bit and 64-bit) and allows you to access the advanced scanning options freely. Let's see how to get Epson Event Manager downloaded/installed.
Note:
To use Epson Event Manager on your computer, you need to install specific drivers first according to your products. You can visit the official Epson Support page, enter your product name or model, and download/install the drivers.
Step 1. Open your web browser, and then type https://www.epsoneventmanager.org/ in the URL search bar and hit Enter to visit the official Epson Event Manager software download page.
Step 2. Scroll down and click on Download for Windows and select a location to save the package.
Step 3. Once downloaded, double-click the EEM_31153.exe file and select Yes.  
Step 4. Wait for the Epson Event Manager installation to start and click on Next.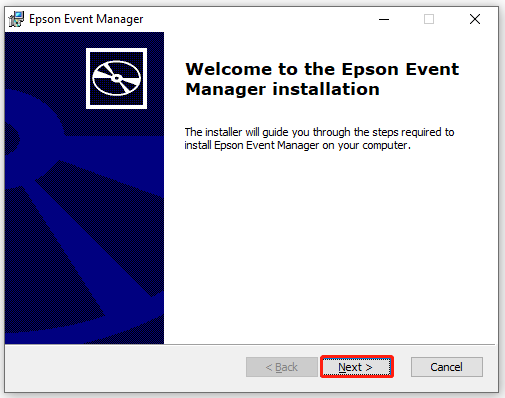 Step 5. Tick the checkbox beside I accept the terms in the License Agreement and click on Next.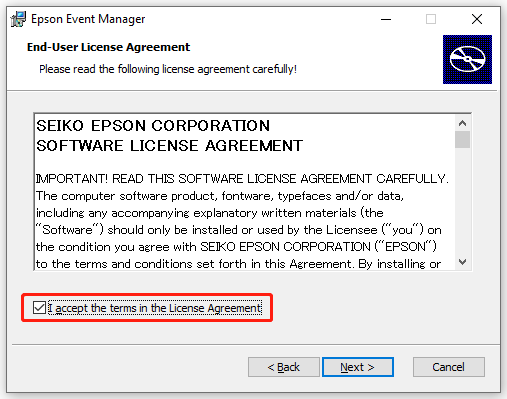 Step 6. Once the Epson Event Manager installation is completed, click on Finish to exit the window.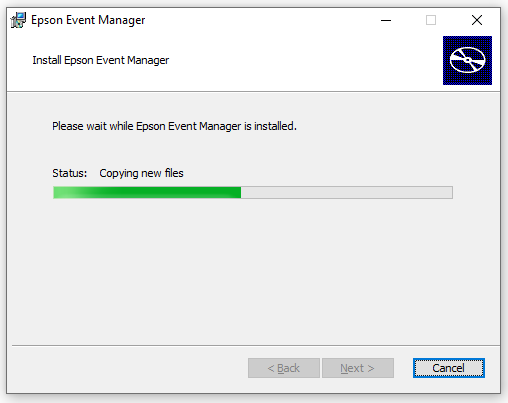 If you want to uninstall Epson Event Manager from Windows 10/11 someday due to low disk space, you can open the Settings app, select Apps > Apps & Features, locate Epson Event Manager, and click Uninstall. Then, confirm the operation by clicking Uninstall/Remove.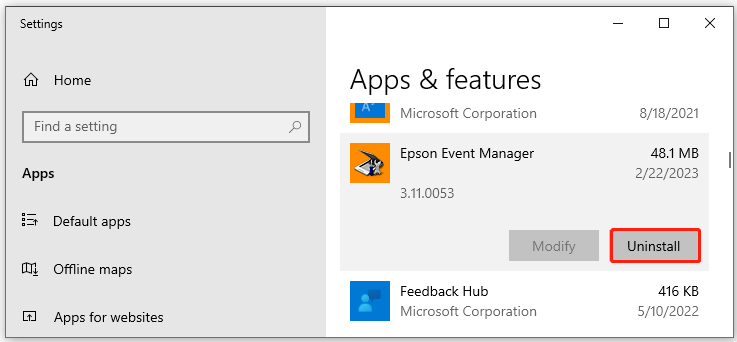 Epson Event Manager Download & Install for Mac
Can you get Epson Event Manager software for Mac? Of course, yes. You can get Epson Event Manager software downloaded/installed for Mac. To do this work, you just need to visit the official website again as we explained above, click on Download for Mac, double-click the DMG file and select Yes, and follow the on-screen instructions to complete the installation.

Further Reading: If you can't download Epson Event Manager on Windows 10/11 due to hard drive issues, don't worry. MiniTool Partition Wizard can help you fix it easily by analyzing disk space, repairing disk errors, extending partitions, upgrading to a larger hard drive, etc.