Are you searching for a screenshot tool for Windows 10/11? ShareX is worth having a try. If you are unclear about the program, don't worry. This post of MiniTool introduces the definition/main benefits in detail and provides a full ShareX download/Install guide.
What Is ShareX
ShareX is a free and open-source screen recorder that allows you to capture or record any area of your screen and share it in various image forms. It was designed for Microsoft Windows and published under the GNU General Public License. With this tool, you can capture full-screen or partial-screen easily and even record animated GIF videos easily.
The captured screenshots can be exported as various file types such as images, texts, JSON, email attachments, etc. In addition, the captures can be automatically exported to a printer, and even to the clipboard so that you can upload them to a remote host via the generated URL.
In a nutshell, the ShareX screen recorder has many benefits. Here we summarize them as follows:
Free and open-source
Lightweight, safe, and free of advertisements
Various methods of capturing screens
Advanced screen capture, screen recorder, and file-sharing tool
Various customized tasks after capturing, including adding effects, annotating, watermarking, printing, and uploading.
Supports over 80 different image, text, and file hosting services
Supports many sharing services and URL shortening
Unlimited customizable workflows with hotkey-specific settings
Can You Download ShareX for Free
Is it free to download ShareX? Of course, the answer is "Yes". You can download the ShareX screen recording tool and install it on Windows freely. The latest version of ShareX 15.0.0 has been released on January 18, 2023. To enjoy newly added features, you can get the last version from its official website.
ShareX Download & Install for Windows 10/11
Now, the ShareX screen recorder is available on Microsoft Store and Steam. If you want to screenshot your gaming process, you can get Share X downloaded from the Steam Store. In addition, you can download the source code of the software on GitHub.
Here's how to get ShareX downloaded/installed on Windows 10/11 PCs.
Step 1. Click here to open the official Share X download page., expand the latest version of the ShareX 15.0.0 category and click on the Download icon. If you to use the software without installing it, you can download the ShareX portable version which is larger than the set.exe version.
Tips:
Alternatively, you can open Microsoft Store, search for ShareX in the box, and click on Get to start downloading and installing the software on Windows 10/11.

Step 2. Once downloaded, double-click the setup.exe file and click on Yes to run the installation file.
Step 3. Select the I accept the agreement option and click on Next.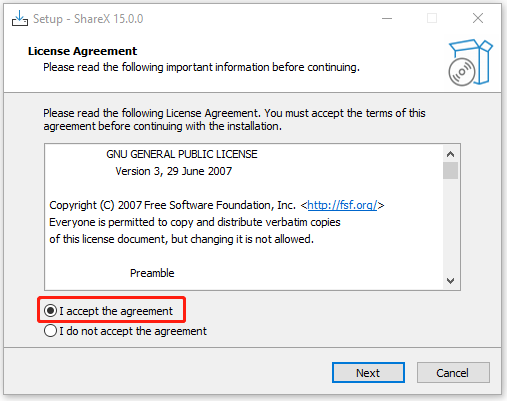 Step 4. Select a location to save the ShareX installation folder and click on Next.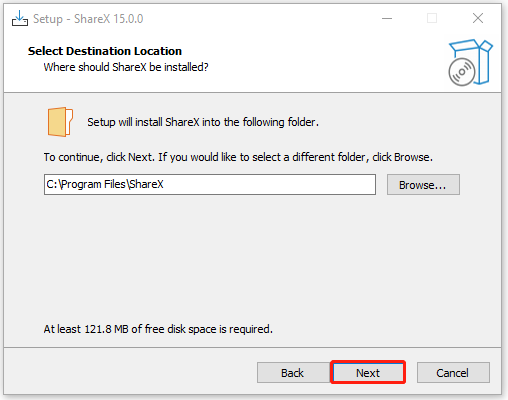 Step 5. Tick the checkbox next to the additional shortcuts that you want to create and click on Next.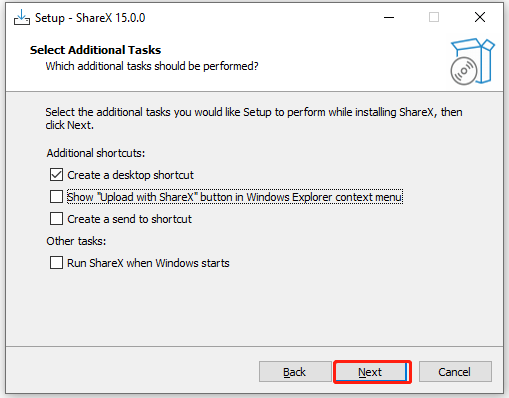 Step 6. Click on Install to begin installing ShareX on your PC. Once installed, click on Finish to launch the software.
Tips:
If you want to uninstall ShareX someday, you can go to Settings > Apps > Apps & Features, locate FileZilla, and click Uninstall. Then, confirm this operation by clicking Uninstall.
Further Reading: If you can't install ShareX for Windows 10/11 due to insufficient disk space, don't worry. MiniTool Partition Wizard can help you fix it easily by analyzing disk space, extending partitions, upgrading to a larger hard drive, etc.
MiniTool Partition Wizard FreeClick to Download100%Clean & Safe