Have you encountered the Discord 502 Bad Gateway while you are using Discord? In this post, MiniTool Partition Wizard provides you with 6 ways to solve the Discord 502 Bad Gateway error. Try them one by one.
Discord is a free voice and text chat tool for gamers. It enables users to share audio, video and text with their friends while playing games. However, many users have encountered the Discord 502 Bad Gateway issue.
502 Bad Gateway Error is a common problem on the Internet, when a server acts as a proxy or gateway and receives an invalid response in return, this is a bad response code. The error is also defined by different websites as "502 Proxy Error", "HTTP 502 Error", "Temporary Error (502)", etc.
What causes this error? Error 502 Bad Gateway due to server overload. Another reason for a Discord 502 gateway could be the Cloudflare network. Because Discord runs on Cloudflare, whenever Cloudflare goes down, Discord also stops working.
Way 1: Check Discord Server Status
Sometimes the problem is with the server instead of the DNS, and too many visitors can overload the server, causing problems with Cloudflare's servers.
To fix Discord 502 Bad Gateway, you need to check Discord Status:
Go to the official Discord Status website. Then you will be able to see issues for the past 24 hours and you will be able to know if the server is down. Also, you can report issues from there.
Way 2: Close the Discord Process
If the Discord app is working fine, there might be a problem with the Discord process, so it's best to end the Discord process.
Step 1: Right-click the Start button and choose Task Manager to open Task Manager.
Step 2: Under the Processes tab, choose the Discord processes and click End task.
Once done, check if the Discord 502 Bad Gateway error gets solved. If not, you can try the next ways.
Way 3: Change to a Different Network
If you get Discord 502 Bad Gateway when starting Discord, it might be related to the port your router is using. Some users reported getting a 502 Bad Gateway Discord when connected to a specific network (such as their home Wi-Fi), but it disappeared when they switched to a different network.
So, if you're gaming on your home or office network, try switching to mobile data to see if Discord 502 Bad Gateway is resolved.
Way 4: Clear the Browser Cookies and Cache
Web browsers have your browsing history, saved login information, and cookies from sites. When the cookie and cache expire, this will prevent you from entering the desired website/page you are trying to access. So, it's best to try clearing cookies and cache to fix Discord 502 Bad Gateway. Because if you don't clear cookies and cache, it will show the error again and again due to old data stuck in cookies.
Here is Chrome as an example.
Step 1: Open Chrome on your computer. Then click the three-dots icon on the right corner of the window.
Step 2: Then navigate to More tools > Clear browsing data.
Step 3: Check the Cookies and other site data and Cached images and files box, and then click the Clear data button.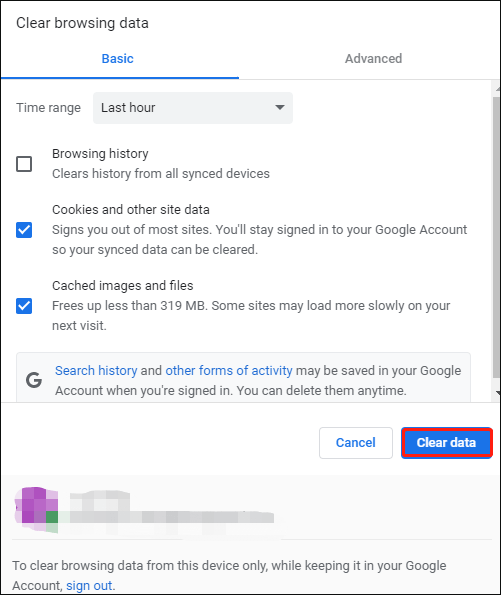 Way 5: Change the DNS Settings
Sometimes the Discord 502 Bad Gateway error can be caused by improper or non-optimal DNS settings of your device. To change DNS settings, follow these steps:
Step 1: Open your Control Panel, and then change the View by type to Category and navigate to Network and Internet > Network and Sharing Centre > Change adapter settings.
Step 2: Right-click your current network and select Properties. Then navigate to the Networking tab and select Internet Protocol Version 4 (TCP/IPv4), and then click on Properties.
Step 3: Select the Use the following DNS server addresses option, and then set the Preferred DNS server to 8.8.8.8 and set the Alternative DNS server to 8.8.4.4. After that, click on OK to save the changes.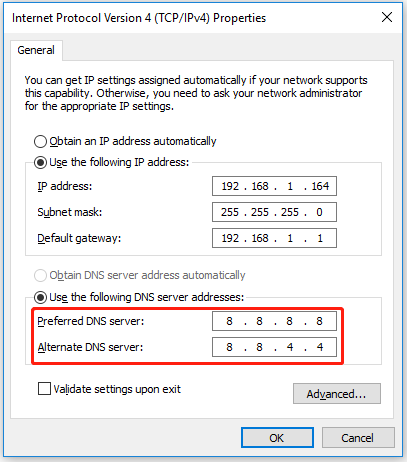 After that, check if Discord 502 Bad Gateway Discord has been resolved correctly.