Adobe provides various computer software services for users. If you subscribe to an Adobe service by mistake or you don't need the subscription anymore, how do you cancel Adobe subscriptions? Don't worry. This post from the MiniTool Partition Wizard introduces a detailed tutorial. If you want to delete Adobe account, you can also refer to this post.
What is Adobe
Adobe Inc. is a multinational computer software company that provides a wide range of services and products, including:
Graphic design software, such as Adobe Photoshop, Adobe Illustrator, Adobe FrameMaker, etc.
Web design software, such as Adobe Flash, Adobe Edge, etc.
Video editing, animation, and visual effects software, such as Adobe Premiere Pro, Adobe After Effects, etc.
Server software, such as Adobe CloudFusion, Adobe Content Server, etc.
…
If you are a creator or designer, you might be familiar with the above programs. If you need one of them, you can visit the official Adobe website, sign in with your Adobe accounts and buy it.
After buying the program, you can start to use it. When you don't need Adobe programs anymore, you might expect to cancel Adobe subscriptions or even delete Adobe account. You can see how to achieve the goal in the following content.
How to Cancel Adobe Subscriptions
As mentioned, most Adobe services need to be paid to use and they usually provide monthly subscribed plans for users who need the services. Each subscription usually comes with a 7-day free trial. If you are not satisfied with the services, you can cancel Adobe subscriptions whenever you want.
Please note that if you cancel Adobe subscriptions during the trial period, you will not be charged. If you cancel Adobe subscriptions within 14 days which starts from the day you pay for the subscriptions, you can be fully refunded, according to Adobe. For more details, please check the Adobe subscription terms and refund policies.
Now, let's see how to cancel Adobe subscription without fee.
Tip: The following tutorial only fits for trial or individual subscriptions. As for canceling teams subscriptions, you need to contact Adobe Customer Care. If you purchased the plan from elsewhere instead of Adobe, you might need to contact the store to cancel Adobe subscriptions.
Step 1: Launch your favorite web browser such as Google Chrome. Then visit the official website of Adobe and sign in with your account.
Step 2: In your Adobe account, click Plans and payment to expand the menu. Then select Plans in the pop-up menu to view your subscriptions.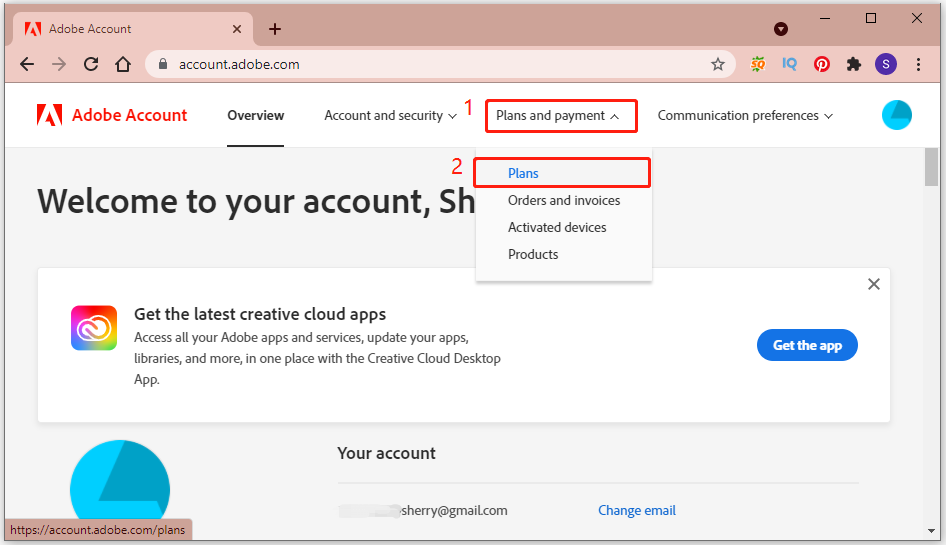 Step 3: On the next page, click the Manage plan button for the subscription you want to cancel. Then select Cancel your plan.
Tip: The Cancel your plan option will be unavailable if your payment is in processing. If you don't see this option, try it later in 24 hours or contact Adobe support for details.
Step 4: Check why do you want to cancel the plan and click Continue. Then follow the on-screen instructions to finish the operation.
Once you cancel Adobe subscriptions, you will be unable to access your Adobe applications and the services included in the subscriptions.
How to Delete Adobe Account
If you want to delete Adobe account, you have to cancel all your Adobe subscriptions at first. If you have a teams or enterprise user, you can delete Adobe account only when you are out of an organization.
Please note that once you delete Adobe account, you won't be able to access Adobe apps and services as well as your files in the Adobe cloud. What's more, your account will be deleted permanently and the lost data can't be recovered anymore.
If you are sure about the operation, here is how to delete Adobe account.
Step 1: Store your files, photos, videos, and any other projects of Adobe in a local drive. Then go to the Adobe website and sign in with your account.
Step 2: Click Account and security > Privacy.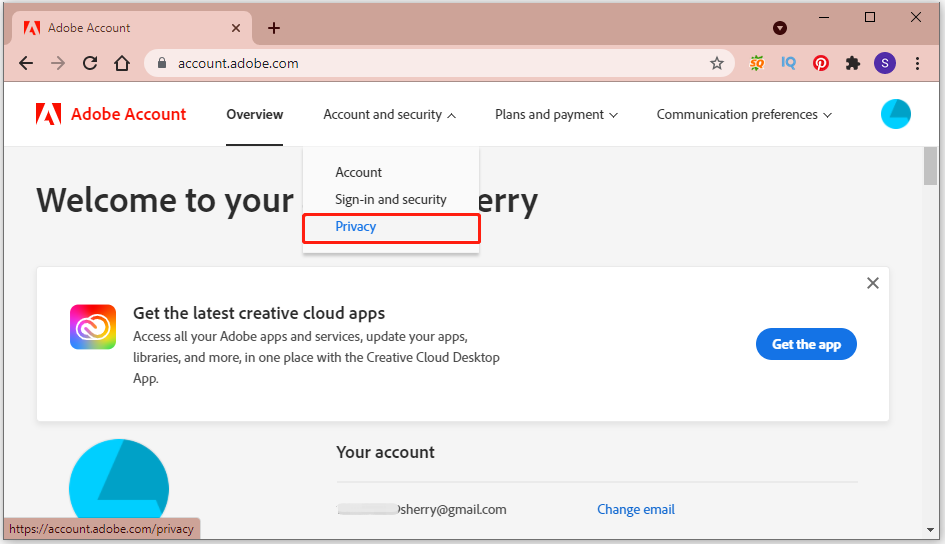 Step 3: Under the Delete Account section, click the Continue button.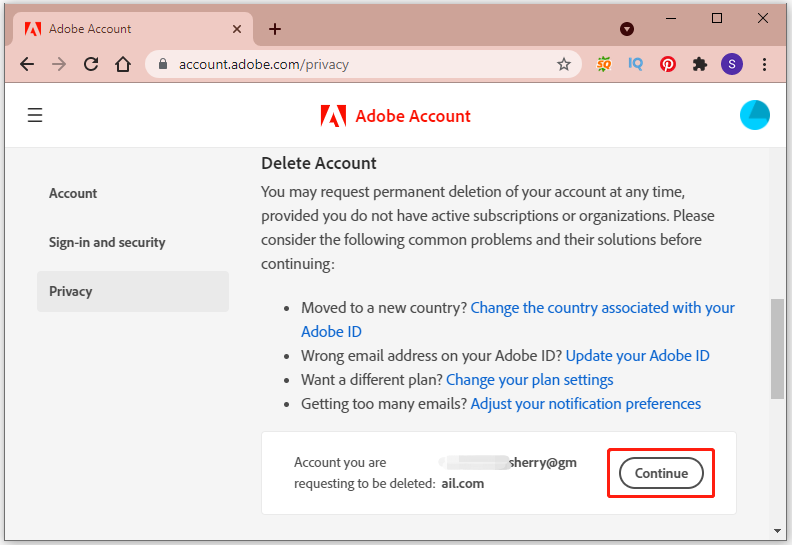 Step 4: Read the list of the consequences of deleting your Adobe account carefully. If you are sure you want to delete Adobe account, click Continue. If you have any Adobe subscriptions, you will be prompt to cancel them, and you just need to follow the on-screen instructions.
Step 5: Made the final confirmation. Check "Yes, I understand and want to permanently delete this Adobe account". Then click Confirm delete account.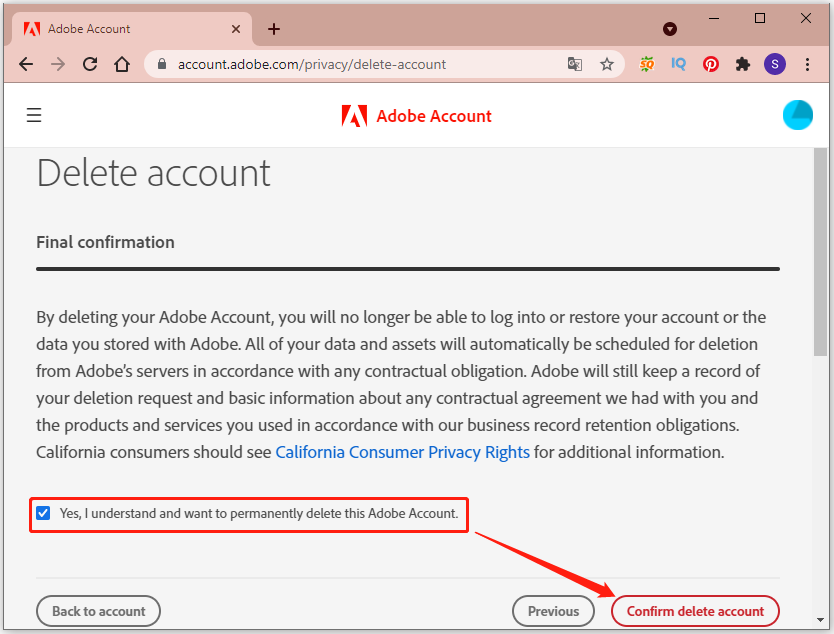 Now, it's your turn to delete your Adobe account.