Is your BTTV not working? If this extension doesn't work well on your Twitch site, you can read this post, in which MiniTool Partition Wizard offers you 4 ways to solve this problem. Hope them can help you!
BTTV Not Working
Twitch is a game video streaming platform providing a platform for game players to share the live game process, screen or rebroadcast game events. In addition to the streaming of game content, non-game content such as Creative, Music, and Social Eating can also be played live. This platform also provides a chat room for users to allow simple interaction between the audiences.
Then, what is BTTV? BTTV, also known as BetterTTV and Better Twitch TV, is a browser add-on, which can enhance Twitch with new features, emotes, and more. BetterTTV can add the following features to Twitch's website:
Extra emoticons - BetterTTV global and per-channel emotes
Username/Word/Phrase highlighting
Word/Phrase blacklist
Split chat lines for easy reading
See deleted links and messages
Unban all banned chatters with /massunban (channel owner only)
Anon Chat - join a channel without showing in the user list
Hide visual noise like bits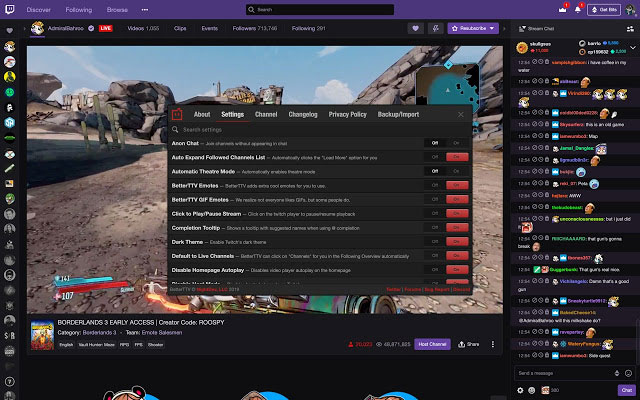 However, many people report that they have encountered BTTV emotes not working issue.
I can access the BTTV settings menu when watching a stream but the emotes do not work at all or even show up. Every time I try to connect my account on the BTTV site, it just takes forever and then gives me a connection error. Please help me.

--- www.reddit.com
How to Solve BTTV Not Working Issue
To solve the BTTV emotes not working issue, you can try the following methods.
Fix 1. Check BetterTTV Settings
If you have cleared your cookies, this will reset the BetterTTV settings. In this case, try toggling the settings you are missing or that are not working to see if that fixes your problem. Here is the guide:
Open Twitch website and open a channel.
Click chat settings icon at the lower right corner of the Live Chat
Choose BetterTTV Settings.
Make sure the BetterTTV Emotes and BetterTTV GIF Emotes options are turned on. If you have also toggled other buttons on before, you can turn them on again this time.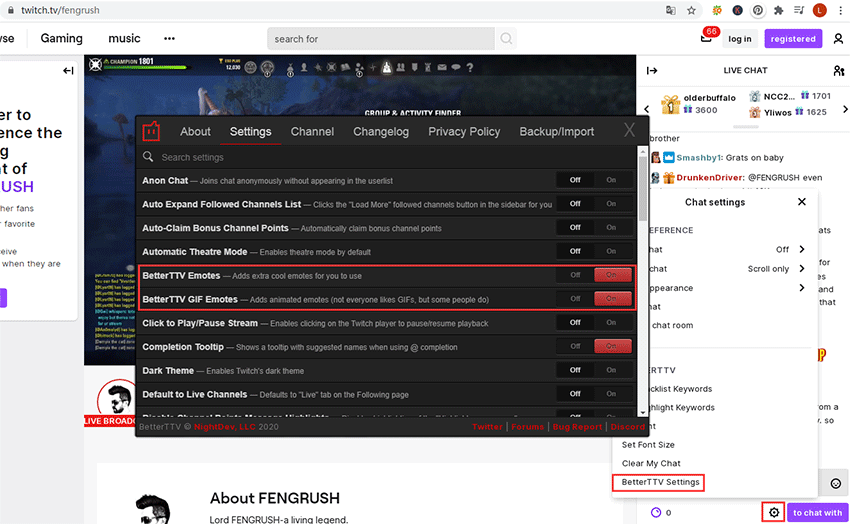 Fix 2. Disable Other Extensions
It's also possible that the BTTV not working issue is caused by another add-on conflicting with BetterTTV. In this case, disable all other addons and check if that fixes your problem. Here is the guide:
Open the browser (e.g. Goggle Chrome).
Click the three-dot icon at the upper right corner.
Navigate to More tools > Extensions.
Toggle buttons (not the Remove button) to disable these extensions temporarily.
Fix 3. Disable Your Antivirus/Firewall
It's also possible that your antivirus blocks BTTV. In this case, disable it temporarily. Here is the guide how to disable Windows Defender:
Press "Windows + R" keys, type "msc" in the Run box and press Enter to open Local Group Policy Editor.
Navigate to Computer Configuration> Administrative Templates > Windows Components > Windows Defender Antivirus.
Highlight Windows Defender Antivirusand double click Turn off Windows Defender Antivirus.
Check Enabledand then click Apply and OK to save changes.
Reboot computer to make the changes go into effect.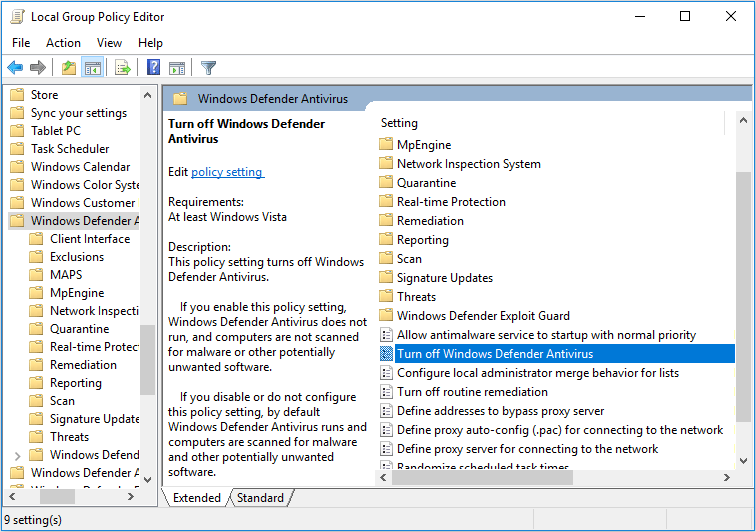 Here is the guide on how to disable third-party antivirus software:
Open Local Group Policy Editor.
Navigate to User Configuration> Administrative Templates.
Click Systemand right click Don't run specified Windows applications in the right box.
Select Edit.
Check Enabledand click Show.
Type the program name (that always ends up with ".exe") in the pop-up window.
Save changes and reboot the computer.
Fix 4. Use FFZ and the Addon Pack Instead
If the above methods don't work, you can consider giving up BTTV and using another tool. Many people recommend FFZ and the FrankerFaceZ Add-On Pack. You can also try them if BTTV doesn not work at all.