What is Browser_Broker? Is browser_broker.exe a virus? Why does it appear in Task Manager. To figure out the answers,
MiniTool Partition Wizard
introduces some basic information about browser_broker.exe and you should have a look at it.
What Is Browser_Broker.exe?
There are some users who discuss browser_broker.exe on forums. They don't know what it is. Is browser_broker.exe a virus? Actually, browser_broker.exe is a legitimate component in Windows operating system and it is essential for Microsoft Edge to function.
Browser_broker.exe will be activated only when Microsoft Edge is running, and the file is located in C:WindowsSystem32 folder. You might not notice the file while using File Explorer, but you can see a process named Browser_Broker showing together with Microsoft Edge if you open Task Manager.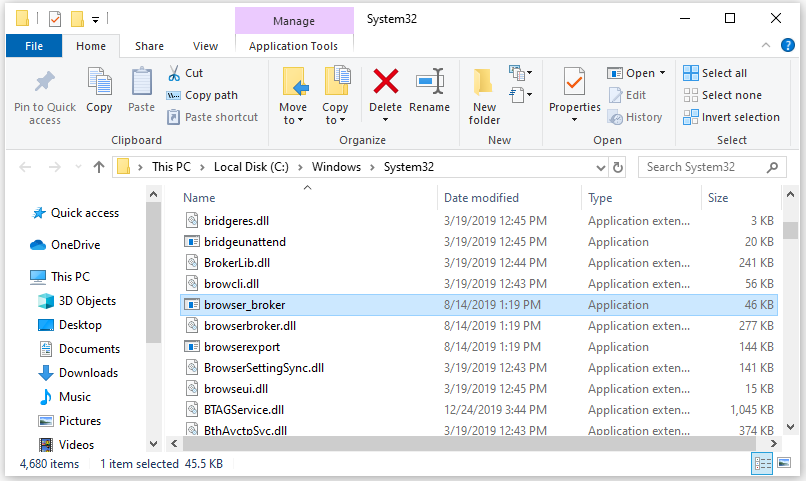 However, you should pay attention that the "browser_broker.exe" you see might be harmful for your PC. It is because that some malware is able to copy or mimic the behavior of the real browser_broker.exe. And the malware will try to fool users and even the security programs by pretending to be a system file.
Therefore, you need to check it out if you are doubt about it.
How to Check Whether Your Browser_Broker.exe Is Safe?
If the malware is trying to attack your computer, you might notice that your computer is not running in a proper way. Browser_broker.exe is a component which barely takes resources. If you find that the process is wasting too much system recources in Task Manager, there might be something wrong.
Here is how to do it.
Step 1: Open Microsoft Edge.
Step 2: Right-click task bar and select Task Manager to view the list of running programs.
Step 3: Under process tab, click the arrow icon on the left side of Microsoft Edge to expand the list. Then right-click Browser_Broker process and select Open file location to open the location of this program file.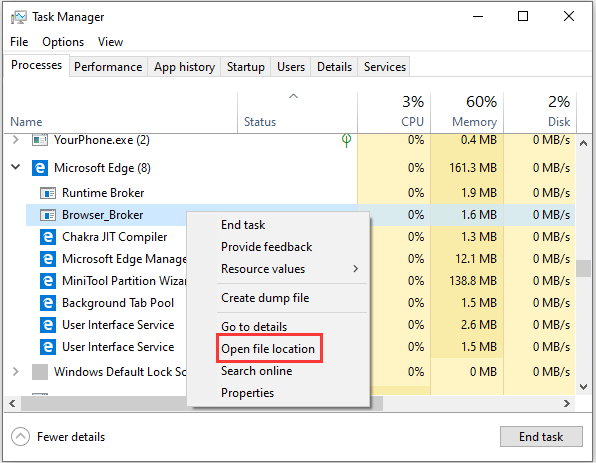 This should open System32 folder. Otherwise, the Browser_Broker in your case is a threat, and you should take the following measures to protect your PC:
Run Disk Cleanup.
Run System File Checker.
Run Windows Update regularly.
Uninstall useless programs and features and disable unnecessary startup items.
Scan your computer for malware, virus and other threats regularly with Windows Defender or a third-party antivirus program.
Can I Delete Browser_Broker.exe?
You can't simply kill the Browser_Broker process in Task Manager. As you know, browser_broker.exe is a necessary file for Microsoft Edge and you might encounter Microsoft Edge crashing issues if you delete the file. Even you delete it, Windows could re-create the file on the next startup.
If you are not willing to keep browser_broker running in the background, an easy way is to use another browser, such as Google Chrome, Mozilla Firefox, etc.