Summary :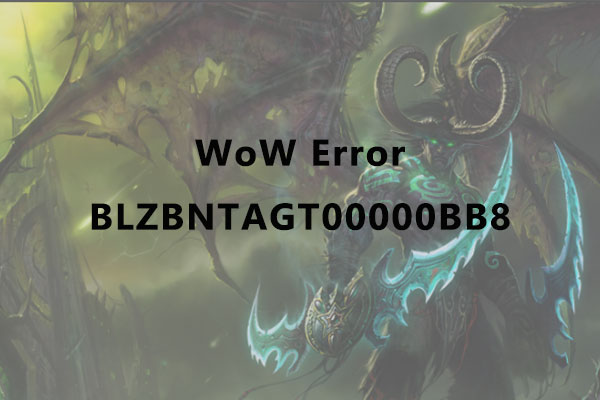 World of Warcraft is a popular online game. Unfortunately, some users encountered the error code BLZBNTAGT00000BB8 while playing this game. It could happen due to various factors. To solve the problem, MiniTool Partition Wizard puts together some possible solutions.
World of Warcraft (WoW), a massively multiplayer online role-playing game released by Blizzard Entertainment, is quite popular among game lovers.
Like other games, WoW also is reported with various errors sometimes, such as WoW51900319, WoW error 132, lag issues, and so on. Today, this post talks about the error code BLZBNTAGT00000BB8. It usually comes with the error message: Whoops! Looks like something broke. Give it another shot.​
According to Blizzard, this BLZBNTAGT00000BB8 WoW error is caused by a problem downloading or writing new update data. If you encountered the same error, you can try the following fixes to solve the problem.
Fix 1: Disable Security Programs Temporarily
Security programs might mistakenly identify the login module as a threat and prevent your game from updating or launching, which causes the error code BLZBNTAGT00000BB8.
To solve the problem, you need to disable your security programs temporarily before you run WoW. Then restart your computer and check if the game works properly. You can also try uninstalling the security software.
To protect your computer, you can try another security program or add your game to the exception list.
Fix 2: Check Your Internet Connection
Internet connection issues could also cause the BLZBNTAGT00000BB8 WoW error. Please make sure your Internet connection is working properly. You can optimize your Internet connection by:
Plugging your computer directly into your modem or router instead of using a wireless connection;
Closing other programs that take up the Internet resources, like other games or downloading programs;
Switching to a more stable connection if you are using Satellite or mobile phone Internet connections.
Fix 3: Repair Game Files
Corrupted or missing game files are another reason for BLZBNTAGT00000BB8. Fortunately, the Blizzard Battle.net application can help you scan and repair them. Now, follow the steps below to solve the problem:
Step 1: Launch Blizzard Battle.net.
Step 2: Go to the GAMES category and select World of Warcraft.
Step 3: Click the Options icon for WoW. Then select Scan and Repair.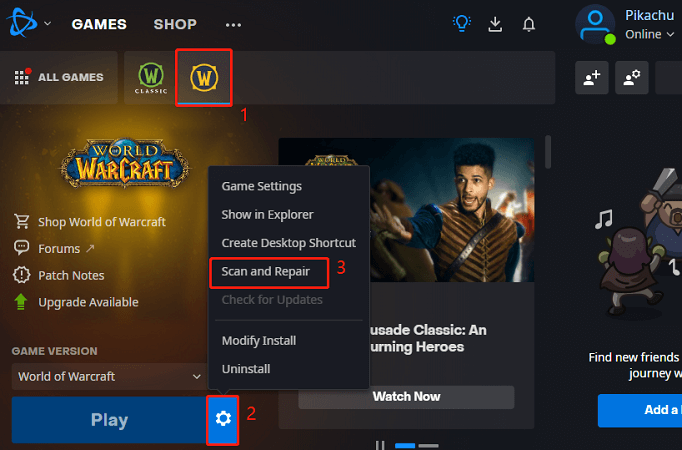 Step 4: In the pop-up window, select Begin Scan.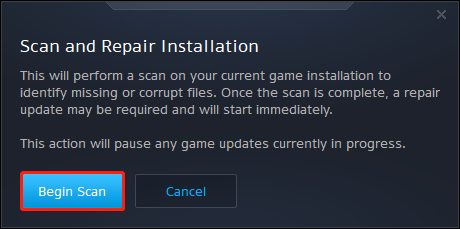 When the process is finished, you can run your WoW as administrator and check if the problem has been solved.
Fix 4: Disable Any Proxies
Another way to solve the BLZBNTAGT00000BB8 WoW error is to disable proxies.
Step 1: Press Win + R to invoke the Run window. Then input inetcpl.cpl in the box and click OK to open the Internet Properties window.
Step 2: Go to the Connections tab and click LAN settings.
Step 3: In the pop-up window, uncheck Use a proxy server for your LAN. If it has already been disabled, try toggling Automatically detect settings.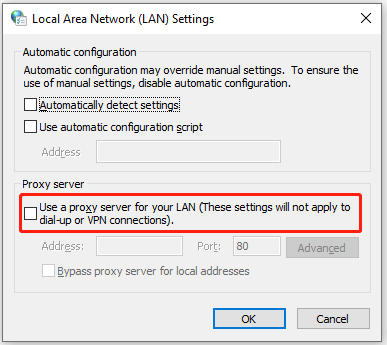 Step 4: Click OK to save the changed settings.
Fix 5: Reinstall the Battle.net Client
If you still encounter the error message "Whoops! Looks like something broke. Give it another shot. Error code: BLZBNTAGT00000BB8", you can try creating a new administrator account to solve permissions issues. What's more, you can also try reinstalling your Battle.net application.
You can uninstall the program via Control Panel or any reliable third-party uninstaller. Then download and reinstall it. If the error still exists, you can try reinstalling your game.