Summary :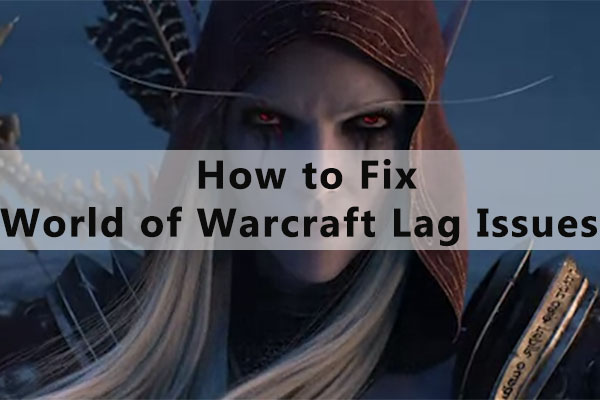 It might be annoying if you encounter WoW lag or high latency issues while playing the game. To make World of Warcraft run better, you can follow the methods provided by MiniTool Partition Wizard in this post.
As a massively multiplayer online role-playing game, World of Warcraft is quite popular among game lovers. It is available on Microsoft Windows and macOS. Windows users can download the game in Blizzard Battle.net game launcher.
Unfortunately, some of them report the WoW lag and high latency issues. It causes a bad influence on their gaming experience. If you are bothered by the same problem, you can try the following methods to make your game run better.
Method 1: Meet the System Requirements for World of Warcraft
To make sure World of Warcraft run smoothly and properly, you should check your PC specs and make sure they meet the system requirements for the game. You can refer to the following post to get the information about the system requirements: World of Warcraft System Requirements [Minimum & Recommended].
To figure out your PC specs, you can press Win + R, input msinfo32, and click OK. Then you will get the information you need in the pop-up window. If any of the specs don't meet the system requirements, you should upgrade the hardware. If the system requirements has been met, you need to try the next method.
Method 2: Troubleshoot Network Issues
Network issues might be responsible for WoW lag issues. You can try power cycling your network devices such as a modem or a router to troubleshoot the problem.
Step 1: Disconnect all the devices connected to your network device.
Step 2: Power down and disconnect the power cable of your network device.
Step 3: Wait for about 1 minute. Then plug the power cable and turn on the network device.
Step 4: Connect your PC to the network again.
Then you can launch your game and check if WoW high latency has been solved.
Method 3: End Unnecessary Background Programs and Set WoW to High Priority
Some programs are bandwidth hungry programs. If you are running too much apps at the same time, you could encounter lag issues. To solve the problem, you need to close the unnecessary programs running in the background. And you can also set WoW to high priority to allocate more resources to your game.
Step 1: Right-click the taskbar and select Task Manager.
Step 2: Under Processes tab, select each programs you want to close, and click End task.
Step 3: Go to Details tab. Then right-click Wow.exe and select Set priority > High.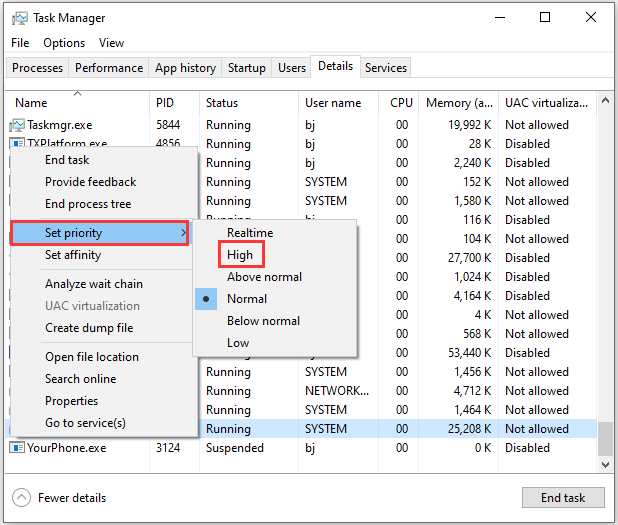 After that, you can restart the game and check if the problem disappears. If you encounter WoW lag issues again, continue to troubleshoot the issue with the next method.
Method 4: Reset the WoW User Interface
Some users have fixed the WoW high latency and lag issue by resetting the user interface of the game. You can also have a try, and all you need to do is to rename some folders in the WoW installation folder. Here are the detailed steps.
Step 1: Exit the game completely and press Win + E to open File Explorer.
Step 2: Navigate to the installation folder. You might find it in C:\Program Files (x86)\World of Warcraft. If you cannot find the location, you can right-click the shortcut of the game on desktop and select Open file location.
Step 3: Open _retail_ folder. Then rename the Cache, Interface, and WTF folder to CacheOld, InterfaceOld, and WTFOld.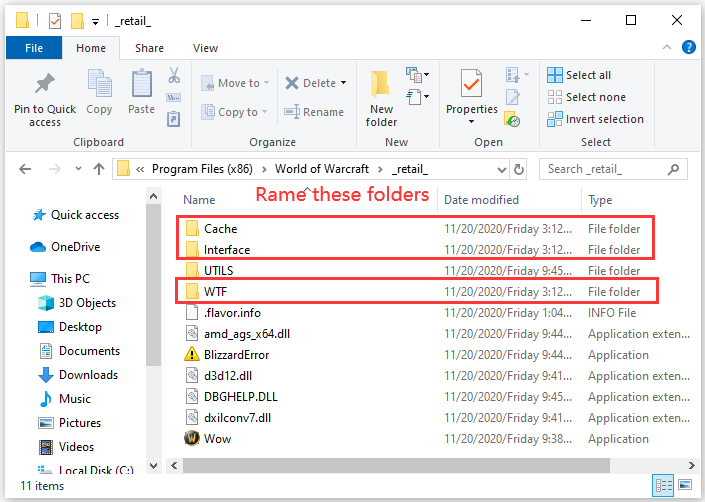 Now, you can open World of Warcraft and play it to check if the problem disappears.
Method 5: Update Your Network Driver
Outdated or corrupted network drivers could also lead to WoW lag issues. To troubleshoot the problem, you should update your network driver. Here is the tutorial.
Step 1: Right-click Start menu and click Device Manager.
Step 2: Double-click Network adapters to expand the category.
Step 3: Right-click the network driver for the network you are using currently and select Update driver.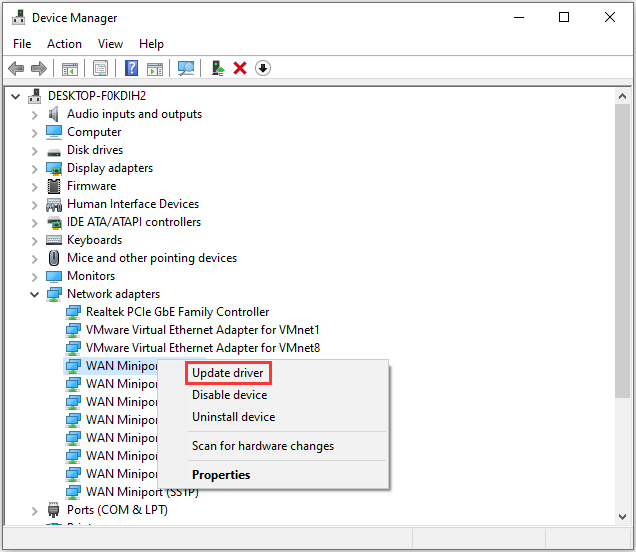 Step 4: Click Search automatically for updated driver software. Then follow the onscreen instructions to finish the process.
After installing the latest network driver software, you can run your game and check if it works properly. You might also need to update your graphics card driver, since many game lag issues are caused by faulty graphics card driver.
How to fix lag in World of Warcraft? Here are 5 solutions and hope they can help you to solve the problem.