Bluetooth Versions
Bluetooth is a short-range wireless technology standard employing UHF radio waves in the ISM bands, from 2.402 GHz to 2.48 GHz. People usually use this technology to exchange data between fixed and mobile devices over short distances and connect cell phones and music players with wireless headphones.
Bluetooth technology develops rapidly. There are many Bluetooth versions.
Bluetooth 1.0 and 1.0B (1999): Products weren't interoperable and anonymity wasn't possible.
Bluetooth 1.1 (2001): Fix many errors found in v1.0B, and add the possibility of non-encrypted channels.
Bluetooth 1.2 (2003): Adaptive frequency-hopping spread spectrum (AFH) and Extended Synchronous Connections (eSCO) improve resistance to radio frequency interference and voice quality of audio links. Faster Connection and Discovery and higher transmission speed of up to 721 kbit/s.
Bluetooth 2.0 + EDR (2004): Enhanced Data Rate (EDR) improves the data transfer speeds to 3 Mbit/s (2.1 Mbit/s in actual use) and reduces power consumption.
Bluetooth 2.1 + EDR (2007): Secure Simple Pairing (SSP) improves the pairing experience for Bluetooth devices while increasing the use and strength of security. Extended Inquiry Response (EIR) can filter devices better before connection.
Bluetooth 3.0 + HS (2009): It started the connection via Bluetooth but transmitted data over Wi-Fi, providing theoretical data transfer speeds of up to 24 Mbit/s.
Bluetooth 4.0 (2010): Bluetooth Low Energy (BLE) provides considerably reduced power consumption and cost while maintaining a similar communication range.
Bluetooth 4.1 (2013): It increases co-existence support for LTE and bulk data exchange rates, and allows devices to support multiple roles simultaneously.
Bluetooth 4.2 (2014): It is designed for the Internet of Things (IoT). The major areas of improvement are Low Energy Secure Connection with Data Packet Length Extension and Link Layer Privacy with Extended Scanner Filter Policies.
Bluetooth 5 (2016): It provides, for BLE, options that can double the speed (2 Mbit/s bursts) at the expense of range, or provide up to four times the range (50 meters) at the expense of data rate.
Bluetooth 5.1 (2019): More antennas provide greater tracking accuracy, and generic attribute (GATT) profile caching makes pairing quicker by retraining requirements.
Bluetooth 5.2 (2020): Enhanced Attribute Protocol (EATT) enables parallel operations between LE clients and servers. LE Power Control provides adjustable power that can be requested by peer devices. BT LE Audio allows one-to-many and many-to-one broadcasts and adds support for hearing aids.
Bluetooth 5.3 (2021): It enhances Connection Subrating, Periodic Advertisement Interval, Channel Classification, and Encryption Key Size Control. It removes Alternate MAC and PHY (AMP) Extension.
What Bluetooth Version Do I Have?
Some services may have requirements on the Bluetooth version you use. What Bluetooth version do I have? In this part, I will show you how to check Bluetooth version on Windows. Here is the guide:
In the Windows Search box, type "device manager", and then open it from the result list.
In the Device Manager tool, find the Bluetooth directory and expand it.
Right-click on the Bluetooth adapter and choose Properties.
On the Properties window, go to the Advanced tab and check the Firmware Version.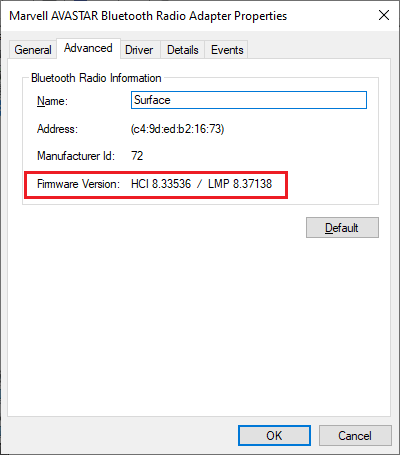 The relationship between LMP numbers and Bluetooth versions is as follows:
LMP 0 - Bluetooth 1.0b
LMP 1 - Bluetooth 1.1
LMP 2 - Bluetooth 1.2
LMP 3 - Bluetooth 2.0 + EDR (Endpoint Detection and Response)
LMP 4 - Bluetooth 2.1 + EDR
LMP 5 - Bluetooth 3.0 + HS (High-Speed)
LMP 6 - Bluetooth 4.0
LMP 7 - Bluetooth 4.1
LMP 8 - Bluetooth 4.2
LMP 9 - Bluetooth 5.0
LMP 10 - Bluetooth 5.1
LMP 11 - Bluetooth 5.2
Bottom Line
MiniTool Partition Wizard can help you clone the operating system, manage disks, and recover data. If you have this need, you can download it from the official website.