Both Avast and McAfee are top antivirus software over the world. But comparing Avast vs McAfee, which one is better? Which one should you choose? If you are curious about this question, you can read this post, in which MiniTool Partition Wizard shows you their main differences.
Avast vs McAfee: Company Profile
McAfee, Inc. is an American multinational computer security software company headquartered in Santa Clara, California. It is one of the world's largest security software companies.
McAfee's security products have more than 50,000 users in organizations in the United States, and 97% of Fortune's 1,000 organizations have selected McAfee products. According to IDC statistics, McAfee has occupied the first place in the enterprise anti-virus market for six consecutive years and the first in the hardware anti-virus product market.
Avast Software s.r.o. is a computer security company headquartered in Prague, Czech Republic. It mainly develops computer security software, machine learning and artificial intelligence. As of April 2020, Avast has more than 435 million monthly active users, ranking second in market share among global antivirus software vendors.
Avast vs McAfee: Features and Price
Avast offers 3 versions: Free, Premium Security ($69.99 or $89.99 /year), and Ultimate ($99.99 or $119.99 /year). Ultimate version offers the complete features as follows:
Detect and block viruses, ransomware, and other threats in real-time.
Scan for intruders and Wi-Fi security weaknesses in your network.
Protect personal photos and files from being encrypted by hackers.
Avoid fake sites for safer shopping, stoping criminals from stealing your passwords and banking info.
Sandbox any app to test if it's safe before running it on your computer.
Lock out hackers with an advanced firewall.
Stop webcam spying.
Permanently shred sensitive files to ensure that no one recovers them.
Automatically update apps to reduce security risks.
Use Remote Access Shield to stop hackers from remotely taking control of your PC.
Enable Avast Cleanup Premium to remove hidden junk, free up disk space, and speed up your computer.
Enable Avast SecureLine VPN to encrypt your internet connection for safe and private browsing.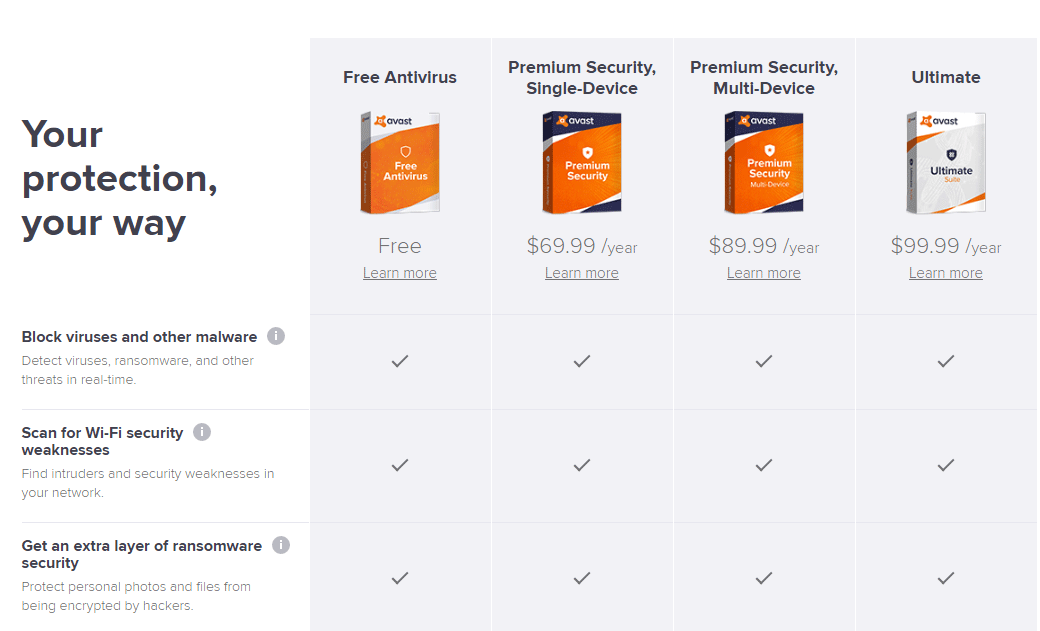 The Premium Security and Ultimate versions allow you to install them on up to 10 devices (PC, Mac, Android, and iOS). But you should pay extra $20 for this feature. In addition, comparing to Ultimate version, the Premium Security lacks feature 11 and 12, while the Free version only offers the first 3 features.
McAfee also offers 3 versions: Individual ($49.99 / 2-year), Multi-Device ($59.99 / 2-year), and Family ($69.99 / 2-year). The Family version offers the complete features as follows:
Award-winning Antivirus, which protects your computer and personal information from hackers and criminals.
Secure VPN**, which keeps your personal information and online habits private with the bank-grade encryption.
Performance Optimization, which blocks auto-play videos on websites and minimize bandwidth usage.
Home Network Security, which secures your firewall and block hackers from accessing your home network.
Password Manager, which securely stores and manages all your online passwords in a single location.
Safe Web Browsing, which will block risky site. Therefore, you can browse websites confidently.
File Shredder, which can delete sensitive files completely to ensure no traces are left behind.
Encrypted Storage, which can keep sensitive files private by storing them on your PC with 128-bit encryption.
Security Experts and Online Support. You can get technical assistance from McAfee dedicated team and support knowledge-base.
Multi-device Compatibility, which allows you to protect all compatible Windows, Mac OS, iOS and Android devices.
Safe Family, which can protect the entire household using a single subscription.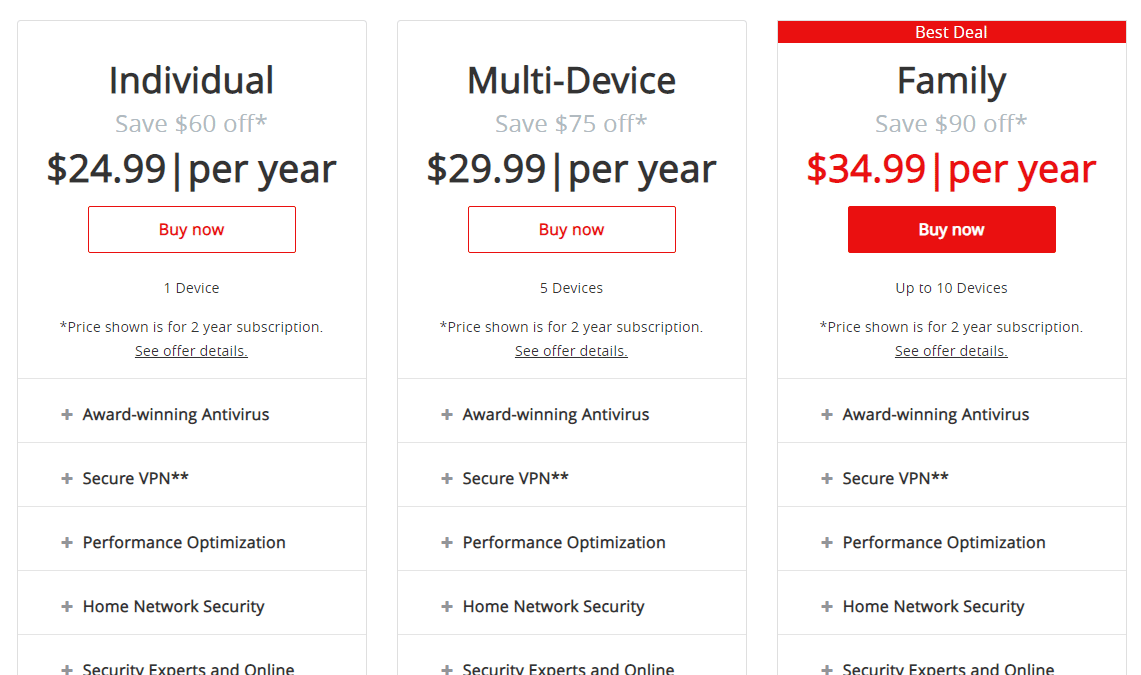 The 3 versions offer almost same features. The difference is that the Family version's license is allowed to used on up to 10 devices; the Multi-Device version lacks the last one feature and therefore its license is allowed to used on 5 devices; and the Individual version lacks the last 2 features and therefore its license is only used on one device.
Comparing the above contents, you can know that the Avast offers more protection to your computer, but its price is also higher correspondingly. But Avast also offers a Free version. You can try this version, if you don't need much too professional protection.
Is Windows Defender Better Than McAfee, Avast, Or Bitdefender