Although Windows has built-in antivirus software Windows Defender, many people still want to install a third-party antivirus program. Some people may want to make a decision between Webroot and Avast. In this post, MiniTool Partition Wizard explains the differences between the two programs.
Webroot vs Avast: Features
For antivirus software, protection features are very vital to its survival. Therefore, let's compare Webroot vs Avast feature first.
According to Webroot official website, it offers the following features:
Advanced threat protection for PCs and Macs.
Always-on security for your data and identity.
Protection that stops ransomware.
Real-time anti-phishing blocks harmful sites.
Firewall and network connection monitor.
Lightning-fast scans without interruption.
Secures your smartphones and tablets.
Protects account logins and passwords.
Eliminates traces of online activity.
25GB of secure online storage, accessible anywhere.
According to Avast official website, it offers the following features:
Detect and block viruses, ransomware, and other threats in real-time.
Scan for intruders and Wi-Fi security weaknesses in your network.
Protect personal photos and files from being encrypted by hackers.
Avoid fake sites for safer shopping, stoping criminals from stealing your passwords and banking info.
Sandbox any app to test if it's safe before running it on your computer.
Lock out hackers with an advanced firewall.
Stop webcam spying.
Permanently shred sensitive files to ensure that no one recovers them.
Automatically update apps to reduce security risks.
Remote Access Shield stops hackers from remotely taking control of your PC.
It can be installed on up to 10 devices (PC, Mac, Android, and iOS).
Avast Cleanup Premium can remove hidden junk, free up disk space, and speed up your computer.
Avast SecureLine VPN can encrypt your internet connection for safe and private browsing.
Comparing the two programs' features, we can know that Avast is a traditional all-rounder that protects against typical dangers. It offers more protection to your computer, for example, VPN protection, file shredder, sandbox, etc.
In addition, it offers a decent free edition that's capable of protecting against modern-day threats. Therefore, in terms of features, Avast is the winner.
Windows Defender VS Avast: Which One Is Better for You
Webroot vs Avast: Price
Webroot offers 3 versions: SecureAnywhere Antivirus ($37.49; 1 device/1 year; PC/Mac), Internet Security Plus ($56.29; 3 devices/1 year; PCs, Macs, Tablets, or Smartphones), and Internet Security Complete ($74.99; 5 devices/1 year; PCs, Macs, Tablets, or Smartphones).
Internet Security Complete version provides the complete features. Internet Security Plus version lacks the last two features. SecureAnywhere Antivirus lacks the last four features.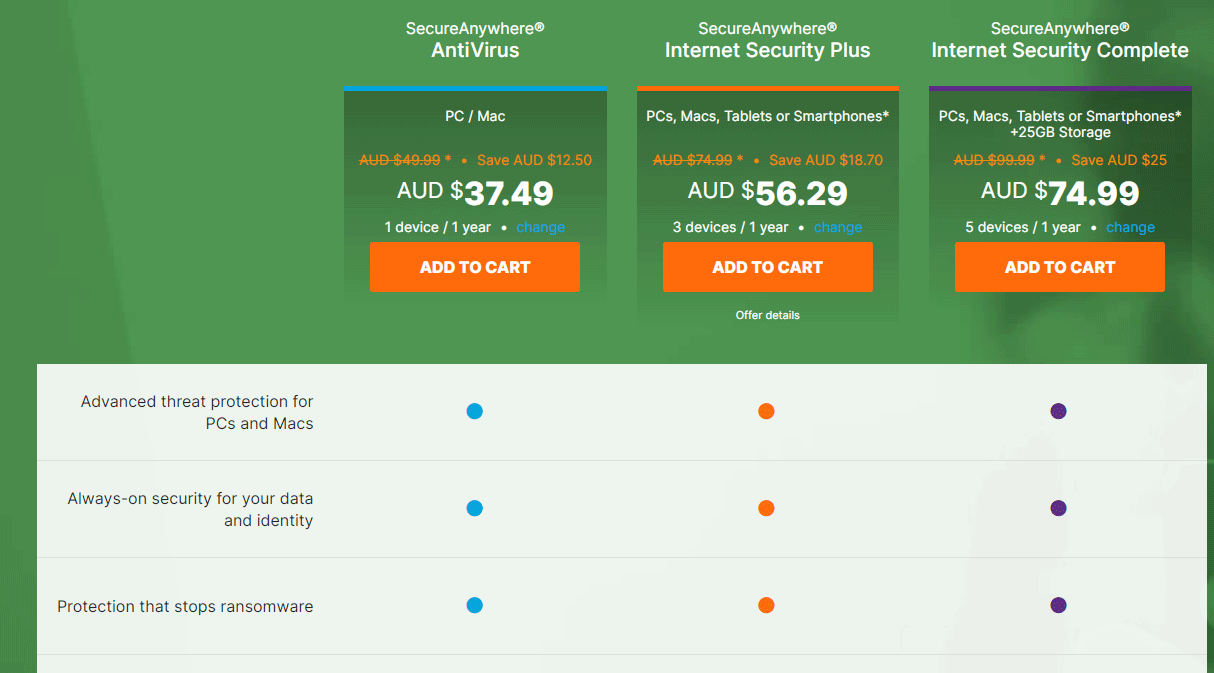 Avast offers 3 versions: Free, Premium Security ($69.99 or $89.99), and Ultimate ($99.99 or $119.99).
Ultimate version offers the complete features. But if you want to install it on up to 10 devices (feature 11), the price should be $119.99. The cheaper Ultimate version lacks this feature. Premium Security lacks feature 12 and 13. And the feature 11 is optional (related to price). As for the Free version, it only offers the first 3 features.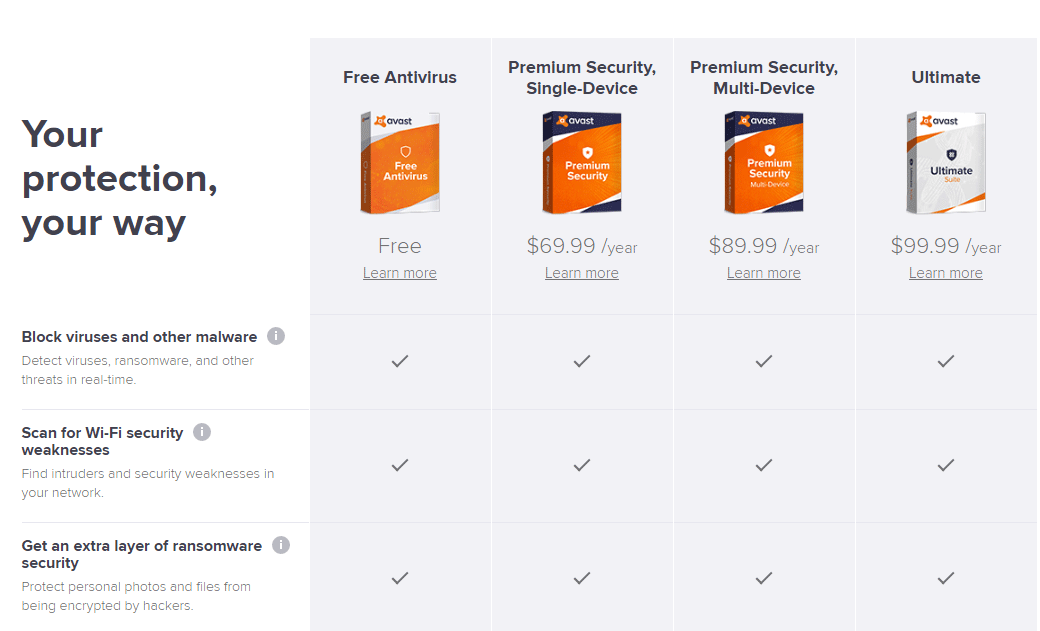 In terms of price, Webroot is cheaper. But if you don't want to spend any money, you can try Avast Free version.
10 Best Avast Alternatives for Windows 10/8/7 [2020 Update]
Webroot vs Avast: Impact on Computer Performance
Webroot's installation file is around 5MB. It doesn't need to install a lot of files because most of it works from the cloud. Therefore, this has almost zero impact on your PC's resources. As for Avast, even though Avast relies on the local hardware to do all the "heavy lifting," it still has a very low system impact.
In the most recent AV-Test evaluation, Avast earned a 5.5/6 score in Performance. Webroot was rated the same. In a similar test conducted by Av-Comparatives, Avast received the ADVANCED+ award (the highest possible score); Webroot wasn't even included in the test.
Bitdefender VS Avast: Which One Should You Choose in 2020
Webroot vs Avast: Support
Both Webroot and Avast offer a knowledgebase on the website with support guides covering common issues and a support forum.
Besides, Webroot also provides phone support, with lines available in Europe, the United States and Australia. But for Avast, its direct technical support will cost you extra. If you need help with a technical issue, Avast will want you to subscribe to its Total Care plan for $199 per year, which includes allowing an Avast technician to remote control your PC.