Summary :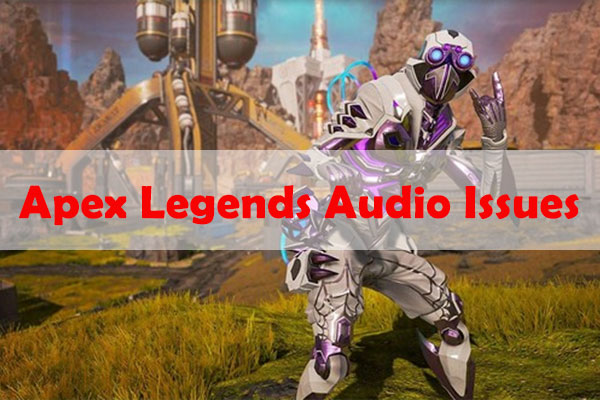 Many Apex Legends players are reporting audio issues in this game. It's really annoying, as it reduces the users' gaming experience. Here are some solutions listed by MiniTool Software. If you are facing Apex Legends audio issues as well, please have a try.
Apex Legends audio issues are common to see among the game lovers. Let's see an example:
I'm having trouble with audio. When in game footsteps and gunshots do not play but when they do play, they are like 10 seconds late. I'll be able to hear music and lobby sounds perfectly, just in game my sounds are screwy.

– answers.ea.com
As the player describes, the audio cannot be played normally in Apex Legends sometimes. And the reasons for the problem might be various. Fortunately, there are some solutions which have been tried by many users to fix the issues. If you're bothered by the same issues, please keep reading.
Solution 1: Restart Your PC
Sometimes Apex Legends audio issues can be fixed easily by a simple restart, as it enables you turn off some background programs which might conflict with Apex Legends.
Therefore, when the issues appear, save your work and restart the PC. Then you can relaunch the game and check if it works without any audio issues.
Solution 2: Run Windows Audio Troubleshooter
If a simple restart doesn't work, you might need to run the built-in audio troubleshooter to fix Apex Legends audio issues.
Step 1: Press Win + I to open Windows Settings. Then click Update & Security.
Step 2: In the left pane, click Troubleshoot. Then select Playing Audio from the right pane and click Run the troubleshooter.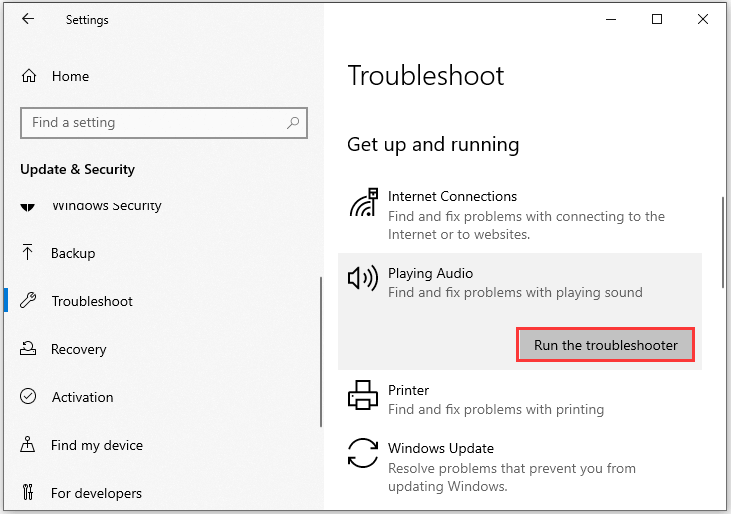 Then Windows will detect problems related to your audio automatically. Just wait patiently and follow the onscreen instructions to finish the process.
Solution 3: Update Audio Driver
When you find that there is no sound in Apex Legends, you can try updating your audio driver to fix it, as corrupted or outdated device driver might cause various issues.
Step 1: Press Win + R to invoke Run window. Then input devmgmt.msc and click OK to open Device Manager.
Step 2: Double-click Audio inputs and outputs to expand the category.
Step 3: Right-click your audio device and select Update driver.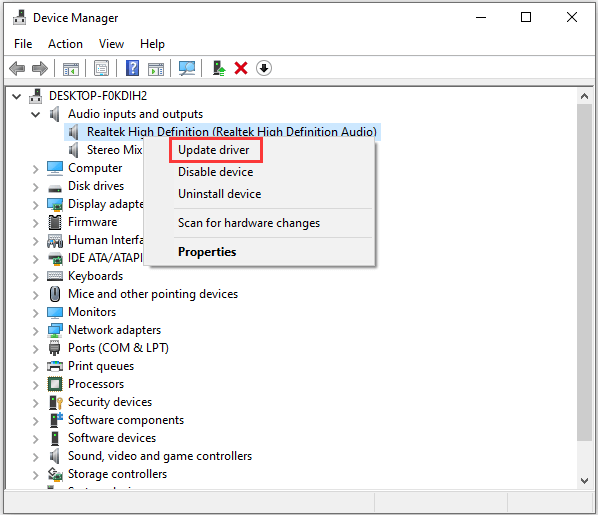 Step 4: In the pop-up window, select Search automatically for updated driver software. Then Windows will search your computer and the Internet for the latest driver software for your audio device. You just need to follow the instructions on screen to finish the operation.
Restart your PC once it's completed. Then you can launch Apex Legends again and check if it works properly. If you still encounter Apex Legends no sound issue, move on to the next solution.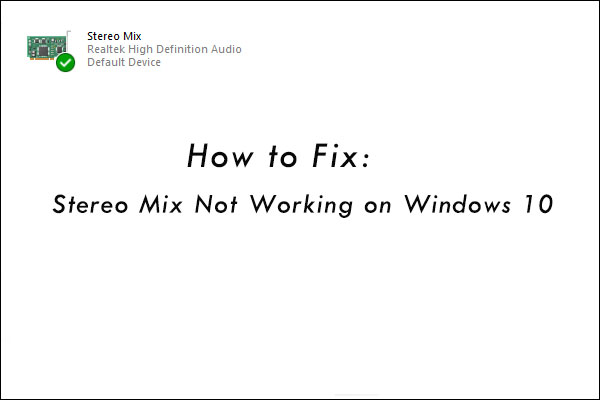 Stereo Mix not working on Windows 10 is a really annoying issue. Here are 5 solutions to fix the problem that Windows Stereo Mix stops working.
Solution 4: Restart Windows Audio Services
Another way to solve Apex Legends audio issues is to restart the Windows Audio Services. Some users have fixed the problem with this method. You can also have a try.
Step 1: Open Run window. Then type services.msc and press Enter to launch Services.
Step 2: Scroll down to find Windows Audio from the list. Then right-click it and select Restart.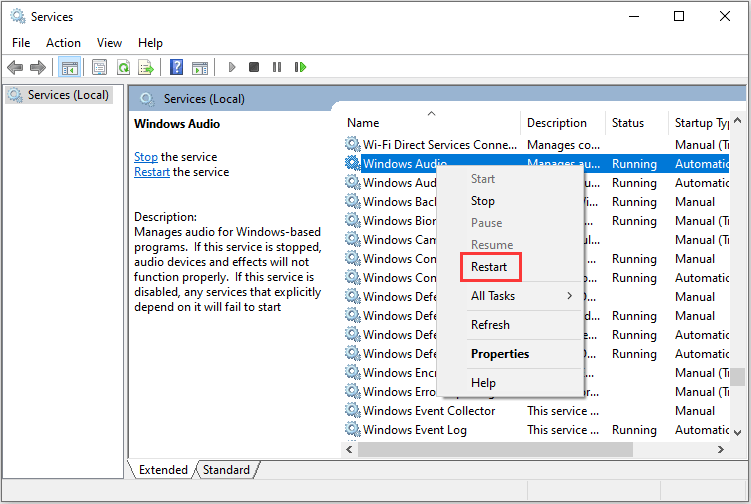 Then you can relaunch your game and Apex Legends no sound issue should have been solved.
If the problem still exists, you might need to uninstall the program and then reinstall it. This may be helpful to fix the issues.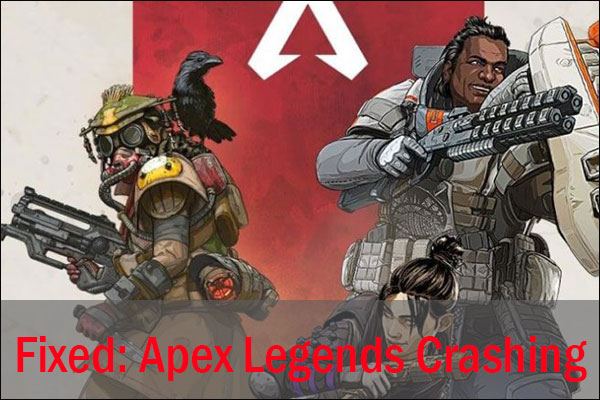 When Apex Legends keeps crashing on your Windows computer, how to fix it? Don't worry. You can find some effective solutions in this post.