Summary :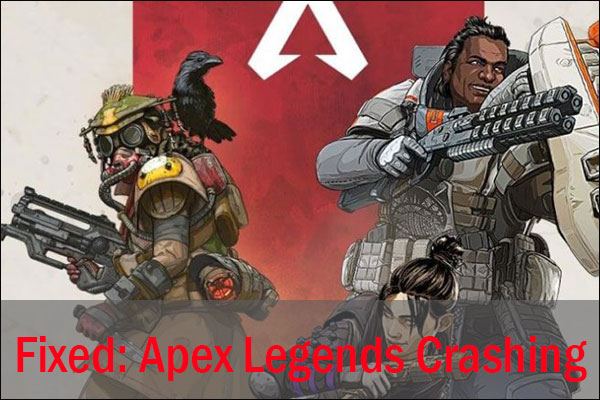 If you are experiencing apex legends crashing issue, don't worry. This is a common issue reported by many players. In this post from MiniTool, we will show you how to fix Apex Legends crashing issue on a Windows PC with top 4 solutions.
Apex Legends is a popular battle royale game that can be played on Windows PC, PlayStation 4 and Xbox One. If you've been playing the game on your computer, you may encounter Apex Legends crashing issue sometimes. And you are not the only one who may come across this issue.
Recently, many users report that Apex Legends keeps crashing PC. And they don't know who to fix it. Is there a reliable solution to fix Apex Legends crashing PC issue?
After analyzing several posts on how to fix Apex Legends crashing issue, here I have summarized some effective solutions to fix it. And you can have a try.
Solution 1. Verify the Integrity of Game Files
The missing or damaged game files could also give rise to the Apex Legends crashing issue. In this case, you'd better verify the integrity of game files and repair corrupted game files.
If you don't know how to verify the integrity of your Apex Legends game files, you can follow the steps below:
Step 1. Open up the Origin client and select My Game Library.
Step 2. Right-click the Apex Legends from the game library and then click Repair button from the pop-up menu.
Step 3. Then it will start verifying your game files. This process will search for the missing or corrupted game files and fix them automatically.
After it is finished, restart the game and check if the Apex Legends crashing issue gets resolved.
Solution 2. Disable Full Screen Optimization
Full screen optimization makes the game run as a borderless window. This can cause problems with games that are not optimized to use this feature. If this is the reason for Apex Legends crashing, you should disable the feature immediately.
You can follow the steps below to disable full screen optimization:
Step 1. Right click on the Apex Legends shortcut on your computer and select Open File Location from the pop-up menu.
Step 2. In the game installation folder, right–click on the game executable and select Properties.
Step 3. In the new window, switch to the Compatibility tab and check box next to the Disable fullscreen optimizations option.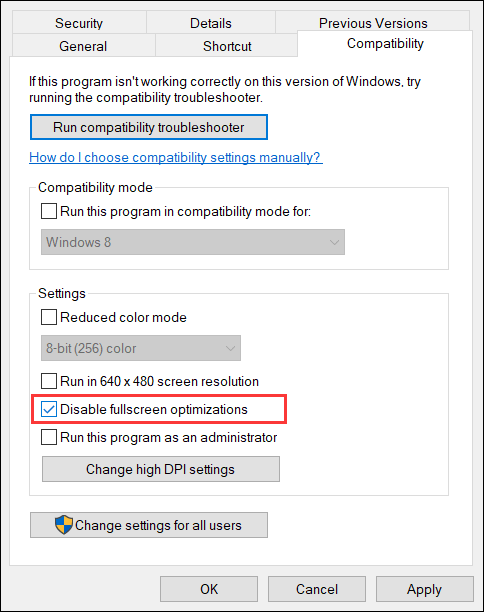 Step 4. Click Apply and OK to save your settings.
After disabling the full screen optimization, check if the problem that Apex Legends keeps crashing gets fixed.
Solution 3. Update Graphics Driver
Outdated or corrupted graphics driver could cause Apex Legends crashing issue. If you have not updated graphics driver on your PC for a long time, you'd better follow the steps below to update graphics driver:
Step 1. Right click Windows Start menu and choose Device Manager to open it.
Step 2. Double-click the Display adapters category and right-click the graphics card and select Update driver option.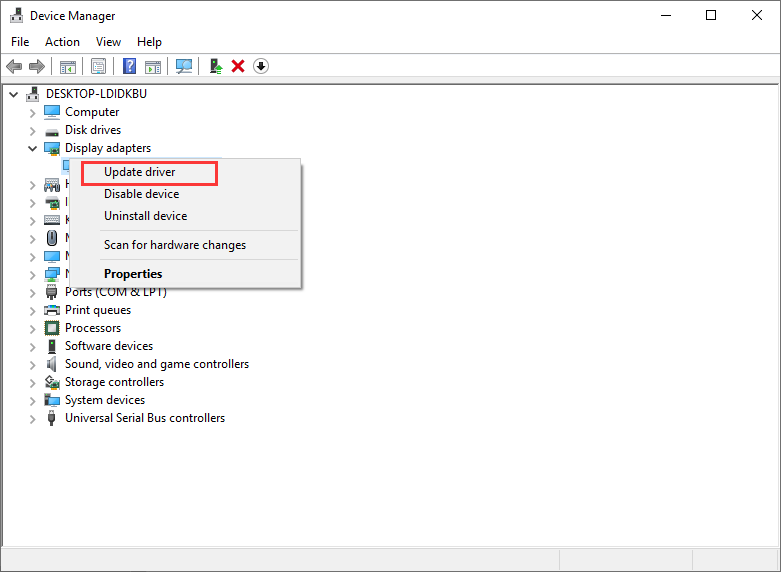 Step 3. Select Search automatically for updated driver software, and then Windows will search for the latest driver and install the graphics driver for you. Then follow the prompts to update your graphics driver.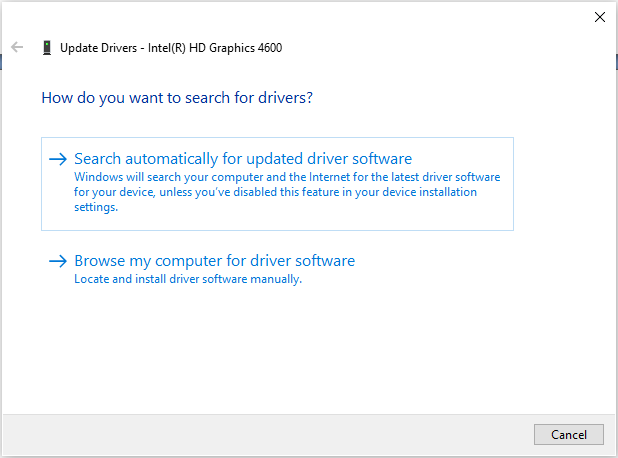 Tip: If Windows fails to find the latest graphics driver and update it for you, you need to manually update the graphics driver. Go to your graphics card manufacturer's website and download the latest graphics driver that is compatible with your Windows OS. Then install the driver software manually with Device Manager.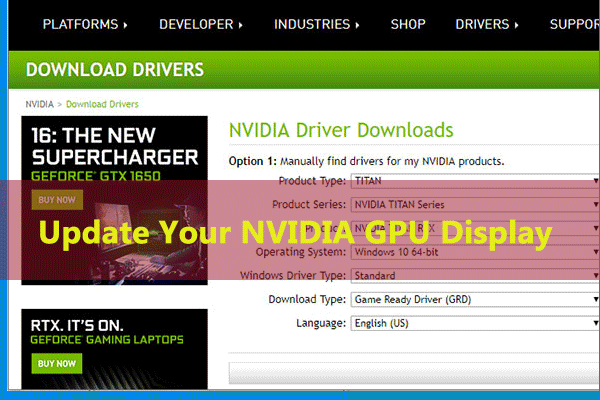 There are five security vulnerabilities found in Nvidia drivers for Windows. Nvidia urges Windows users to update GeForce, NVS, Quadro and Tesla Drivers now.
Solution 4. Increase Virtual Memory
You can fix the Apex Legends crashing issue by increasing some extra virtual memory to be used as additional RAM memory. Many users reported that this was helpful. You can follow the steps below to increase virtual memory on a Windows PC.
Step 1. Right-click on the This PC entry on your PC and choose the Properties option.
Step 2. Click on the Advanced system settings at the left of the window.
Step 3. Switch to the Advanced tab, click on Settings under the Performance section.
Step 4. Navigate to the Advanced tab and click the Change button in the Virtual memory section.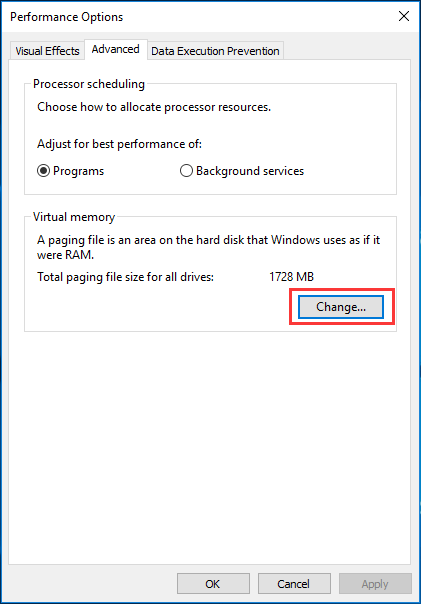 Step 5. The Automatically manage paging file size for all drives option is selected by default. Uncheck it and choose the partition where you want to store paging file memory..
Step 6. Click on Custom size and choose the Initial and Maximum size of the paging file.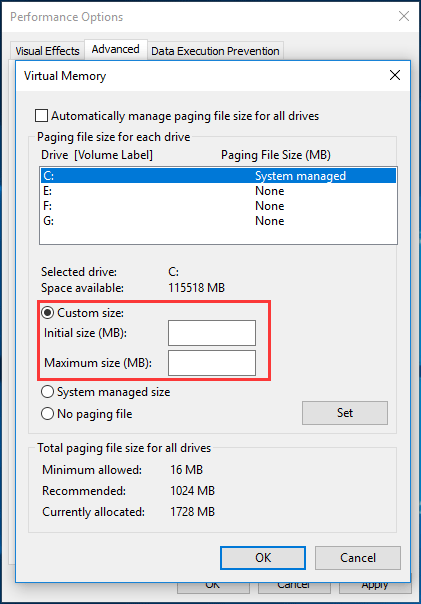 Tip: To make sure that this solves Apex Legends crashing error, you'd better allocate at least two gigabytes extra than you already used. And you'd better set the initial and maximum size to the same value.
Then re-launch the game and check to if Apex Legends keeps crashing.
After reading this post, now you should know how to fix Apex Legends crashing issue on a Windows PC. Which method works for you? Do you have better solutions? We are glad to have you share it with us.