Have you encountered the Windows update error 0x80248014? If yes, this post from MiniTool Partition Wizard would tell you the possible reasons and available fixes for the error code 0x80248014. Just read it!
When you try to update Windows, you may encounter the error code 0x80248014. When this error occurs, the Windows Update process will terminate. There are many reasons for Windows update errors such as insufficient disk space, internet connection issues, corrupted Windows update components, etc.
Well, how to fix Windows update error 0x80248014? Keep reading.
Way 1: Run Windows Update Troubleshooter
You can also try running Windows Troubleshooter to fix the Windows update error 0x80248014. How to run this tool? The tutorial is below.
Step 1: Press Windows + X and then choose the Settings option.
Step 2: Click Update & security and then Troubleshoot.
Step 3: Locate Windows Update on the right side, click it, and then click Run the troubleshooter.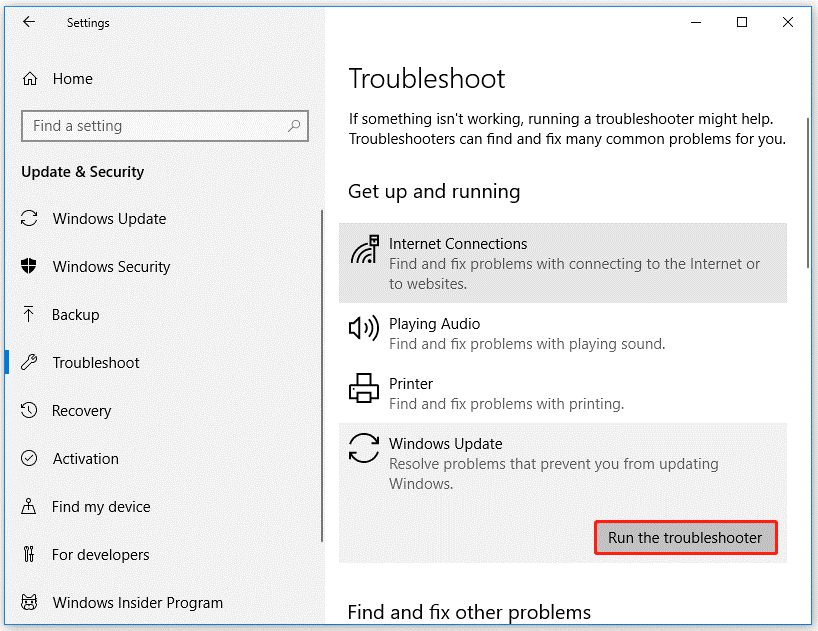 Way 2: Clear the SoftwareDistribution Folder
The SoftwareDistribution folder is an important Windows folder for updates and all updated files and data are stored in this folder. So, if there's some corruption inside it, you may encounter the Windows update error 0x80248014. You can solve this problem by clearing the SoftwareDistribution folder.
Step 1: Open File Explorer. Copy and paste the following path to the address bar.
C:\Windows\SoftwareDistribution
Step 2: After opening the SoftwareDistribution folder, select all the sub-folders in the folder and choose Delete to delete all.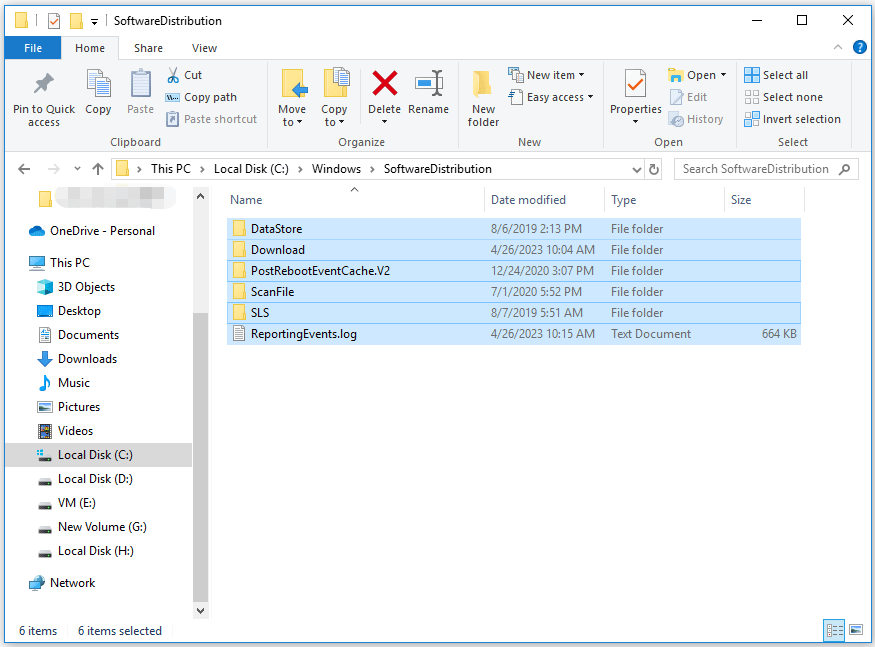 Way 3: Reset Windows Update Components
If you are still stuck in the Windows update error 0x80248014, you can try resetting Windows Update components. How to do that?  Refer to the following steps:
Step 1: Press Win + R, input cmd, and press Ctrl + Shift + Enter to open Command Prompt as administrator.
Step 2: Input the following commands and press Enter after each to stop the involved services.
net stop wuauserv
net stop cryptSvc
net stop bits
net stop msiserver
Step 3: Then, execute the following commands to reset SoftwareDistribution and Cartroot2 folders.
ren C:\Windows\SoftwareDistribution SoftwareDistribution.old
ren C:\Windows\System32\catroot2 Catroot2.old
Step 4: Finally, restart these services by running the command below:
net start wuauserv
net start cryptSvc
net start bits
net start msiserver
Once done, restart your computer, and then try updating again to see if the error code gets solved.
Way 4: Run SFC Command
Another troubleshooter for the Windows update error 0x80248014 you can try is the SFC scan. This is a universal tool that deals with various system errors. Here's how to run the SFC command in Windows 10:
Step 1: Type Command Prompt in the Windows search bar. Then right-click the search result and choose Run as administrator.
Step 2: Once the Command Prompt window appears, type the sfc /scannow command and press Enter.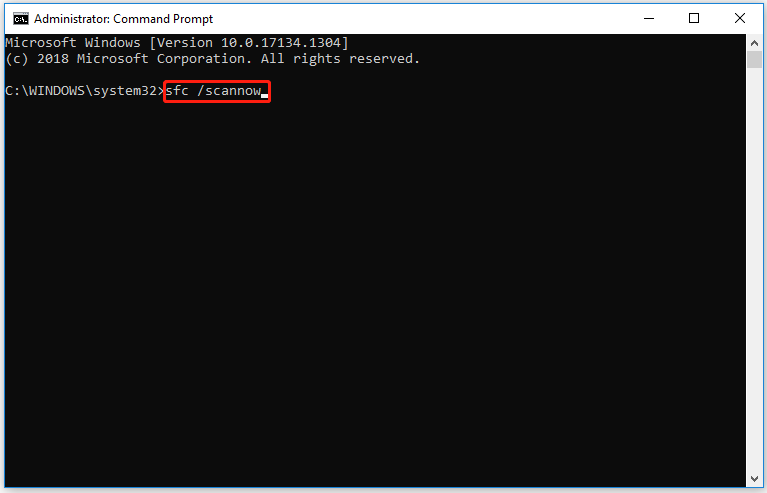 Step 3: Wait for the scanning and repairing process ends.
If SFC commands not working, you can try the DISM tool.
Way 5: Free up the Disk Space
As mentioned above, the Windows update error 0x80248014 may be caused by insufficient disk space. So, you should free up disk space by deleting unwanted files and uninstalling programs. If all the files are important to you, you can use the Extend Partition feature of MiniTool Partition Wizard.
MiniTool Partition Wizard is a professional partition manager, which can help you recover missing data, scan bad sectors, fix file system errors, etc.
Step 1: Download and install MiniTool Partition Wizard. Then launch it to enter its main interface.
Step 2: Select the drive you want to extend and click Extend Partition on the left operation panel.
Step 3: In the drop-down menu, select where to take free space. Then drag the light blue block to decide how much free space you want to take. Finally, click the OK button.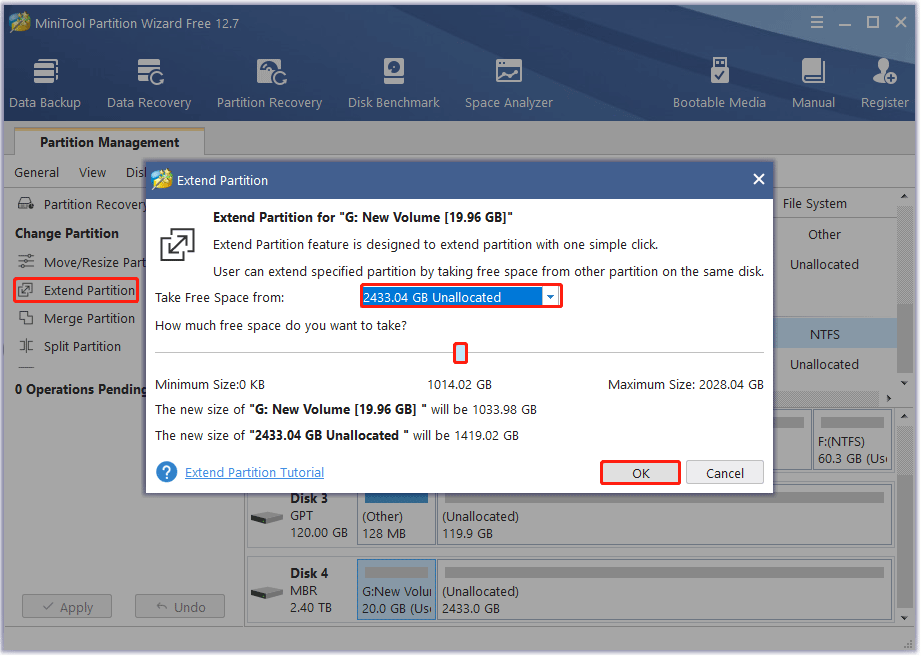 Step 4: Click the Apply button to execute the operation.