This post lists some of the best Xbox VPNs and their features. You can choose one from them and then use it on your Xbox console. Here, MiniTool also shows you how to get a VPN on Xbox step by step.
Why Do You Need an Xbox VPN
You can obtain some benefits after using an Xbox VPN. For instance, it helps you access restricted content, improve online security, and boost network performance. Besides, it also allows you to override geographical restrictions and avoid censorship issues.
VPNs themselves also contain some advantages. As they encrypt all web traffic and IP addresses, they can protect your privacy and security. They can also help you stream services in other countries. That's why many users look for VPNs for Netflix, VPNs for Hulu, VPNs for Disney+, VPNs for Xbox, etc. 
Best VPNs for Xbox
What's the best VPN for Xbox? Here are some recommendations for you. Simply pick one according to your preference.
Note:
1. You'd better not use a free VPN for Xbox One as its provider may sell your personal information to others.
2. Download the VPN from its official website.
#1. ExpressVPN
ExpressVPN is the best VPN for Xbox. It boasts the following features.
Boots gaming experience with low latency and fast ping times
Can be set up on most routers or via Wi-Fi connection
Keeps you from DDoS and other cyberattacks with its 256-bit encryption
Compatible with multiple platforms such as Windows, Mac, Android, and iOS
Can work on game consoles like PS3/4/5, Xbox 360, Xbox One, Xbox Series X/S, as well as Nintendo Switch
Allows up to 5 devices to connect to it simultaneously
Has over 3,000 servers in more than 90 countries
Offers 30-day no-questions-asked money-back guarantee
#2. NordVPN
NordVPN is the fastest Xbox VPN. Like ExpressVPN, it also doesn't have a free trial.
Prevent DDoS attacks
Encrypt your traffic twice
Allows you to connect via a router
Allows you to have 6 simultaneous connections
Has more than 5,000 servers across 60 countries
Offers dedicated IP addresses for running your own games server
Works on platforms like Windows, Mac, iOS, Android, Linux, and FireTV
Money-back guarantee within 30 days
#3. CyberGhost
Offers apps for platforms including Windows, Mac, Linux, Android, and iOS
Includes a lot of extra privacy protection features for computers and mobile devices
Has more than 5,700 servers in 90 countries
Allows you to have 7 simultaneous connections
Money-back guarantee within 45 days
#4. Ivacy VPN
Ivacy VPN is the cheapest Xbox VPN costing you only $1 per month.
With 5,700+ servers in over 100 countries
Enables you to get 10 simultaneous connections
Money-back guarantee within 30 days
#5. PureVPN
PureVPN is the best Xbox VPN for privacy. To prove that, PureVPN has a third-party audit carried out on an annual basis. Though it might be not as fast as some other VPNs, it allows for 10 simultaneous connections. In addition to that, it offers you a 7-day free trial.
It has 6,500+ servers in 140+ countries. Like other Xbox VPNs, it also has router support.
#6. Surfshark
Surfshark comes with free and premium services. You can enjoy no logs or ads, unlimited data, and thousands of servers after getting the premium service. Here are the features of Surfshark.
Works on all Xbox consoles that use Wi-Fi
Allows an unlimited number of simultaneous connections
Keeps with safe with a kill switch, 256-bit AES encryption, and protection against Web RTC and DNS leaks
Has an ad-blocker, malware scanner, and split tunneling
Has a 30-day free trial
Money-back guarantee within 30 days
Offers apps for Windows, Mac, Android, iOS, and Linux
With 3, 200+ servers in 65 countries
#7. AtlasVPN
AtlasVPN is the best free VPN for Xbox One. It has both free and paid versions. The difference between the two versions is the number of servers. The free version only offers you 3 available servers, while the paid one provides you with 750 servers.
Similar to Surfashark, it also supports unlimited simultaneous connections. It includes a 30-day money-back guarantee too. However, it doesn't have router support.
What about VPN Xbox compatibility of these VPNs? Here, we summarize the compatible VPN for Xbox consoles.
Both ExpressVPN and Ivacy VPN can be compatible with all Xbox consoles including Xbox 360, Xbox One, Xbox Series X/S. CyberGhost, IPVanish, NordVPN, and Private Internet Access can only work with Xbox One. Trust.Zone is only compatible with Xbox 360.
How to Get a VPN on Xbox
Way 1: Use Wi-Fi Router
If you want to set up a VPN Xbox without computers, try using a Wi-Fi router. Purchase a Wi-Fi router with built-in VPN service capability. After setting up a VPN connection on your router, connect your Xbox console to the Wi-Fi network.
Alternatively, you can also use your home Wi-Fi only if you have subscribed a VPN. This method requires you manually enter the VPN details in your Wi-Fi router. After installing the VPN and setting up the network, connect your Xbox console to the network.
Way 2: Use PC
Step 1: Connect your Xbox console to the PC with an Ethernet cable.
Step 2: Download and install the desired VPN on your computer, and then connect to your home Wi-Fi network.
Step 3: Open Settings and click Network & Internet > VPN > Change adapter options.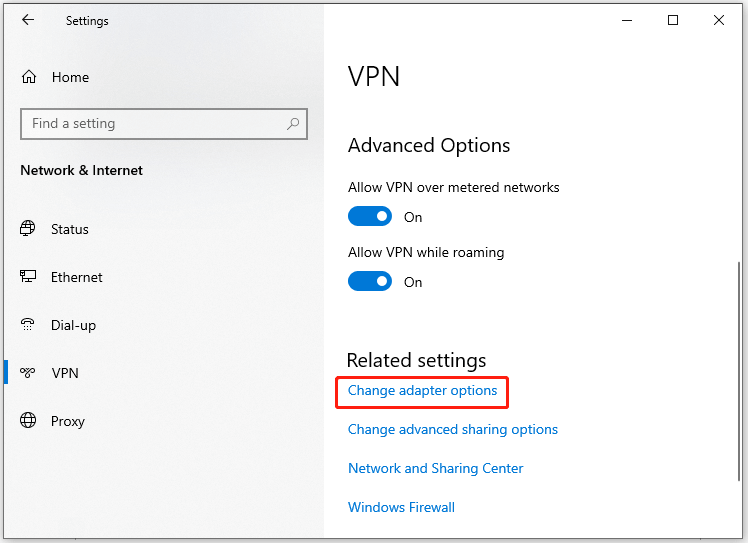 Step 4: Right-click on your VPN icon and click Properties.
Step 5: Navigate to the Sharing tab and check the Allow other network users to connect through this computer's Internet connection box.
Step 6: Select your Xbox's Ethernet connection from the drop-down menu of Home networking connection. Then click OK to save the changes.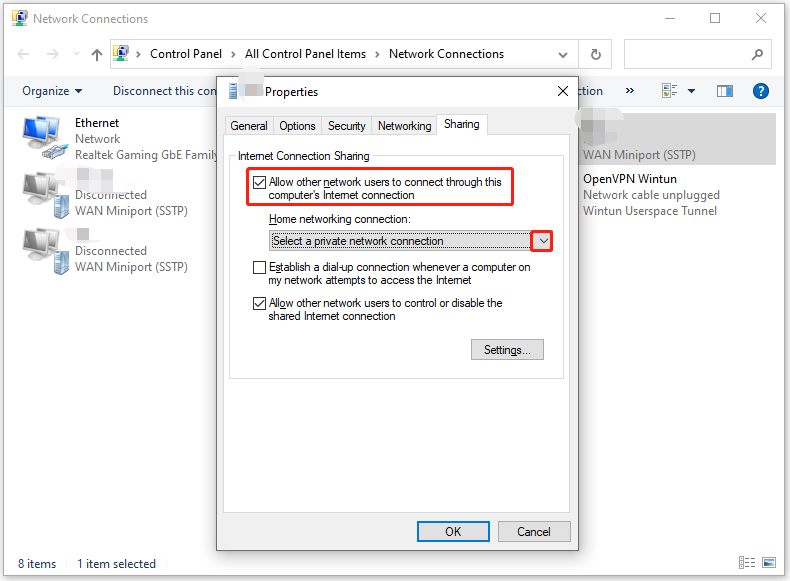 Step 7: Press the Xbox button on the Xbox controller and then press the RB button for three times.
Step 8: Choose Settings > Network tab > Network settings > Test network connection.
Step 9: Now, your Xbox console should connect to the Internet.
Tips:
To use VPN on Xbox, your Windows PC must have an active VPN connection. 
For more guides on gameplay, you can visit the website of MiniTool. If you encounter hard disk or partition errors, fix them with MiniTool Partition Wizard. For example, it helps you repair "you must initialize the disk before Logical Disk Manager can access it", disk unknown not initialized, external hard drive not showing up, etc.