Summary :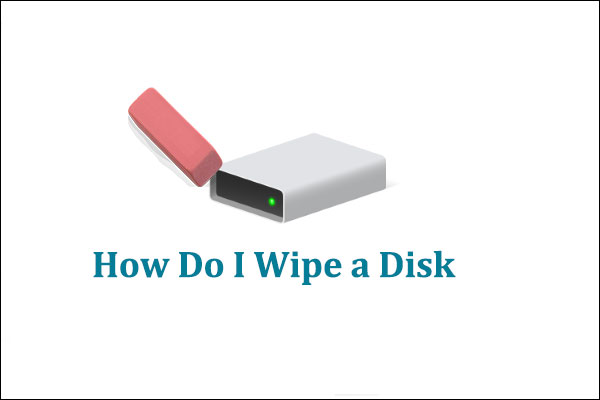 Data security is vital for computer users. When they want to permanently clear disk data, most people would adopt Format Partition or Delete Partition. Nonetheless, these measures cannot really wipe hard drive. But you don't need to worry. This article will show you how to wipe disk to prevent data leak with a free hard drive eraser.
With an increasing number of users storing information and materials on disk as electronic data, data security is under test though storing data on disk is quite convenient. Considerable quantities of enterprises have suffered catastrophic loss or even gone bankrupt due to disk data leak. For individuals, data leak can also be troublesome, which means that avoiding data leak is a necessary task for every computer user (See: How to Wipe the Hard Drive Permanently before Selling PC).
People may ask, what is the most effective way to wipe hard drive if deletion cannot erase the data permanently and still cause data leak?
What Is the Most Effective Way to Wipe Hard Drive
Many computer users, including you perhaps, believe deleting all disk files can prevent data leak, which, in fact, is an erroneous conception as deletion cannot thoroughly wipe disk and deleted files still exist on disk and can be recovered by professional data recovery software such as MiniTool Power Data Recovery.
Knowing this, many users resolutely delete all partitions on disk to realize wiping partition. Unfortunately, they still fail to prevent data leak as employing a professional partition magic can easily recover all deleted partitions. From this perspective, what we should do to avoid data leak is to employ Wipe Disk.
Wipe Disk differs from Delete and Format as the latter two don't really operate data but modify or delete relevant settings to disable operating system to display them. Though they are invisible but still exist on disk. Wipe Disk performs operation on data by filling data of every sector to overwrite original data. In this way, it will become impossible for any data recovery software to successfully recover data. In this regard, Wipe Disk is the most effective way to prevent data leak.
How to Wipe a Hard Drive Windows 10 with MiniTool Partition Wizard
Wipe Disk is the consummate way to prevent data leak. However, this feature is not available in Windows built-in disk management tool. Fortunately, there is a free hard drive eraser – MiniTool Partition Wizard can help you wipe hard drive. MiniTool Partition Wizard is a professional hard drive eraser employed even by military organizations to wipe disk.
Here I will show you how to completely wipe a hard drive Windows 10 with MiniTool Partition Wizard.
Warning: Once disk is wiped, disk data will never be recovered. Please back up data first if there is needed data on disk.
Step 1. Download MiniTool Partition Wizard by clicking the following button. Install it on your computer and launch it to get its main interface.
Step 2. Choose the disk that you want to wipe and select Wipe Disk Feature from the left action panel.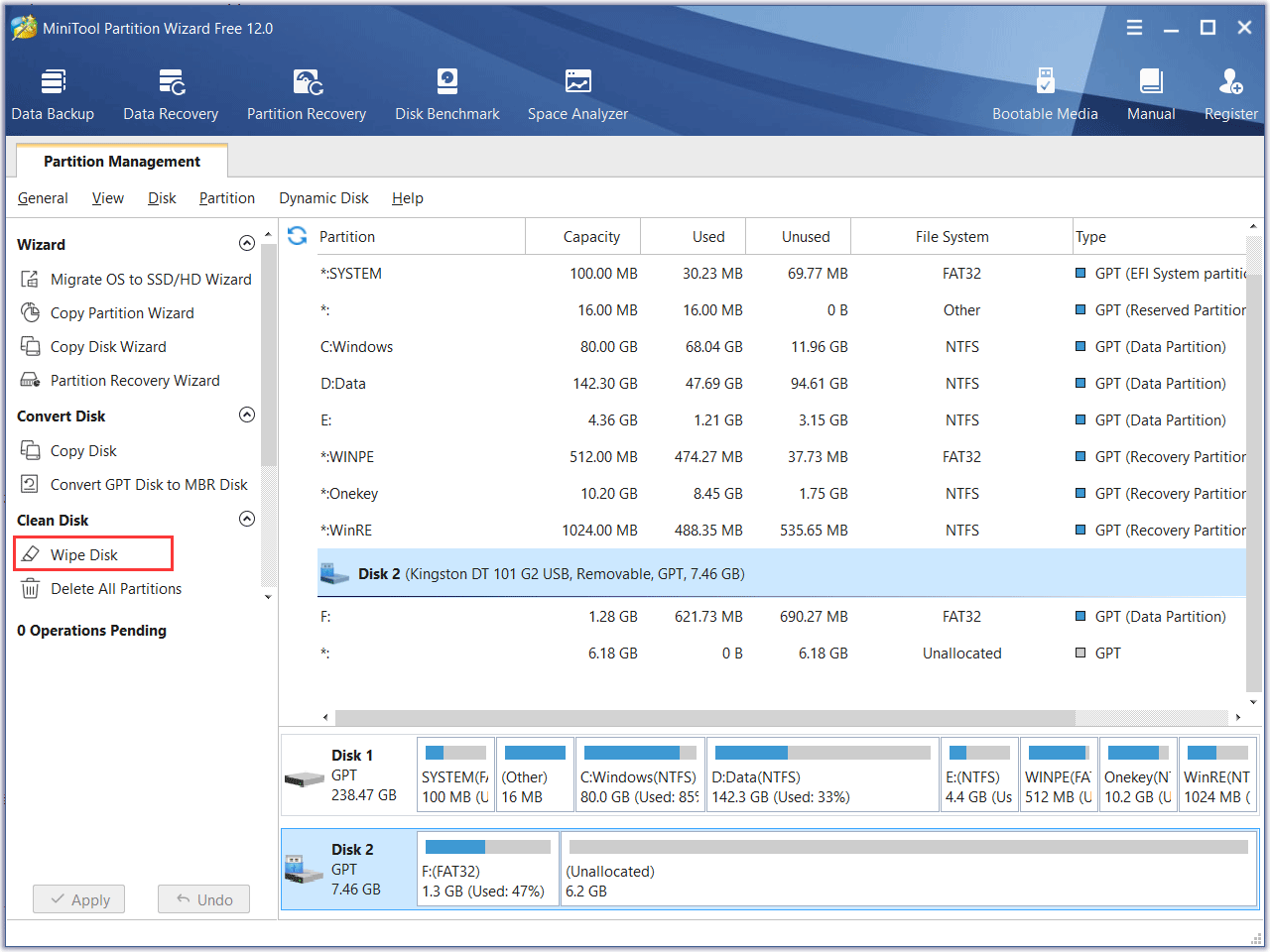 Step 3. The principle of wiping disk on MiniTool Partition Wizard is to repeatedly fill sectors. In the interface below, you can see this hard drive eraser offers five wiping methods with each method getting different result and consuming uneven time. Users can fill each sector with 1 and 0 or employ the latter two methods to procure the best effect though they take comparatively longer time. Choose a wiping method to click OK.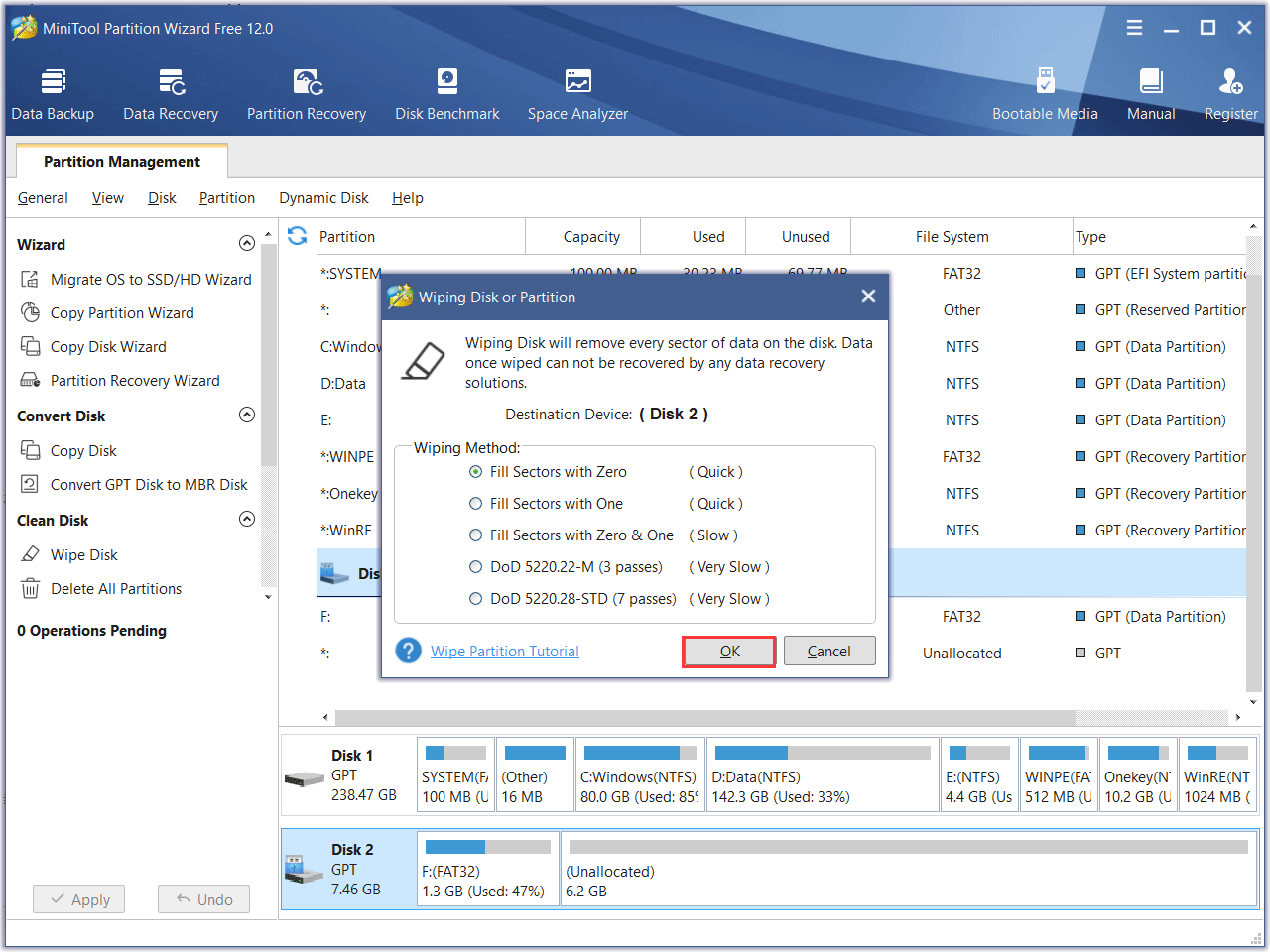 Step 4. Now you can see the selected disk becomes unallocated, which shows it has been wiped. At this time, please click Apply button on the top to perform all changes.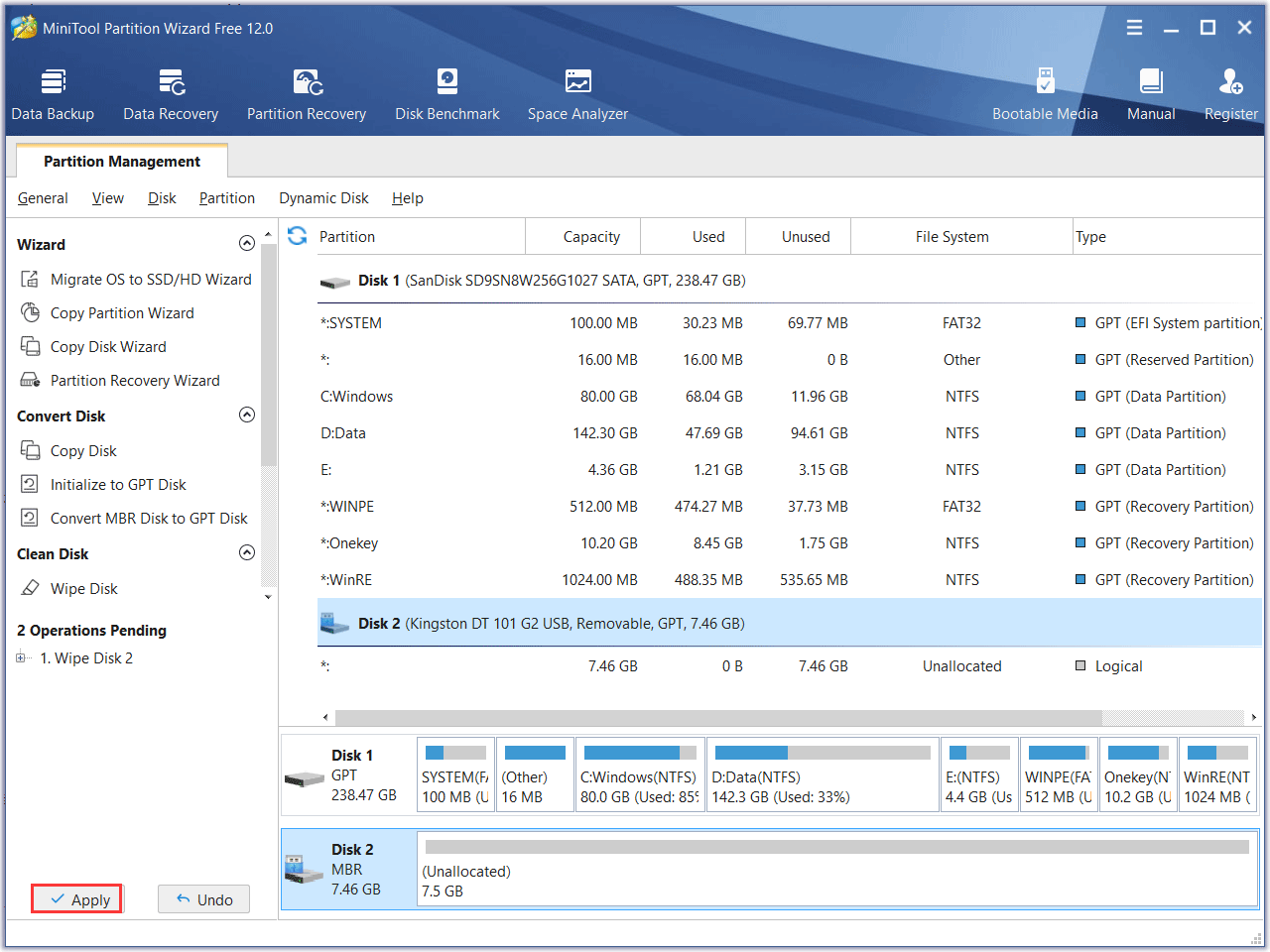 Wipe partition with MiniTool Partition Wizard
MiniTool Partition Wizard not only offers Wipe Disk function, but also provides Wipe Partition function. If you just want wipe one partition on the disk, you may select the partition and choose Wipe Partition feature form the left action panel, as you can see from the following picture. The steps are the same with Wipe Disk.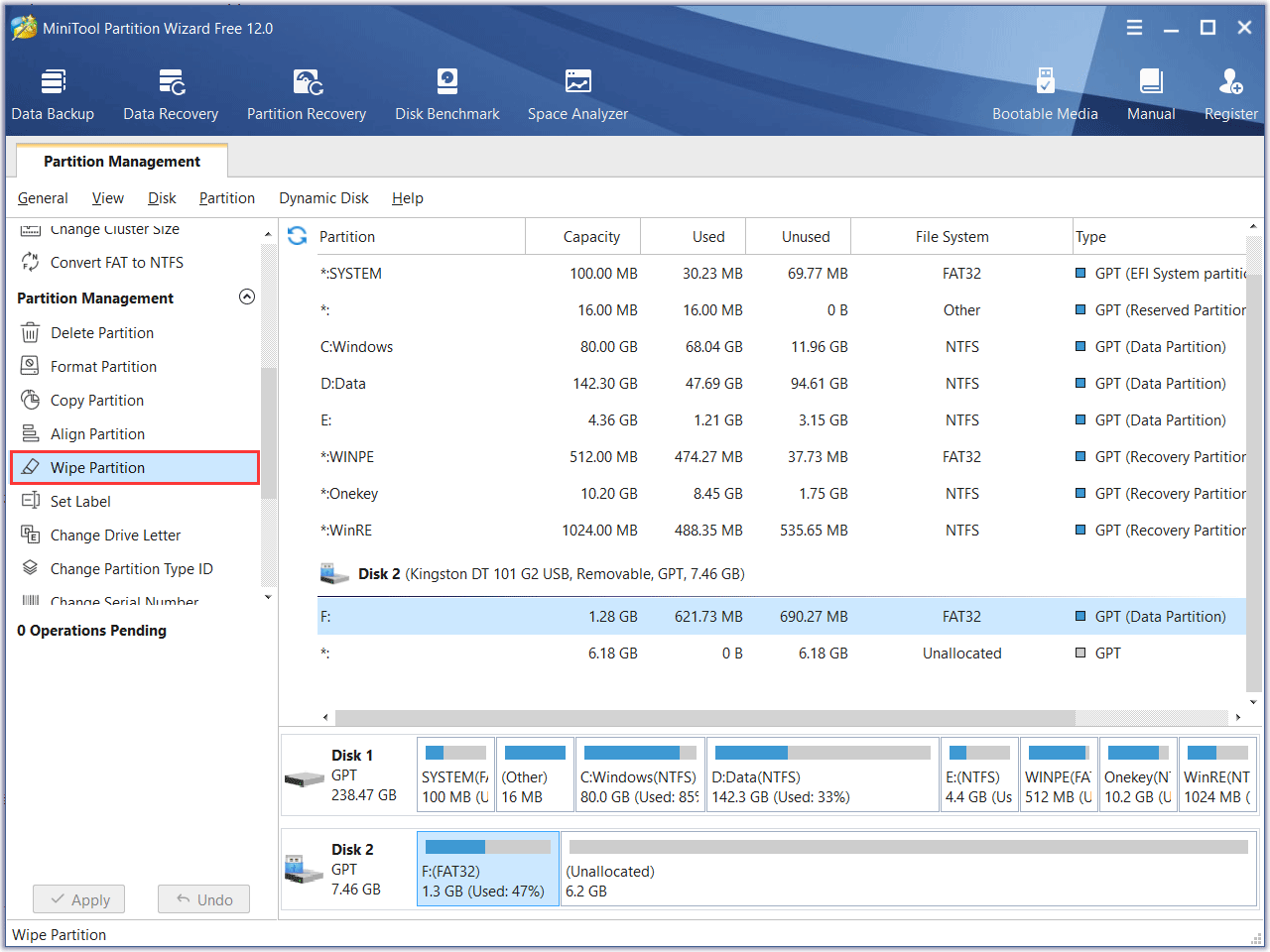 Note: After wiping a partition, you need to format the partition before you can use it again. Don't forget to click Apply at last.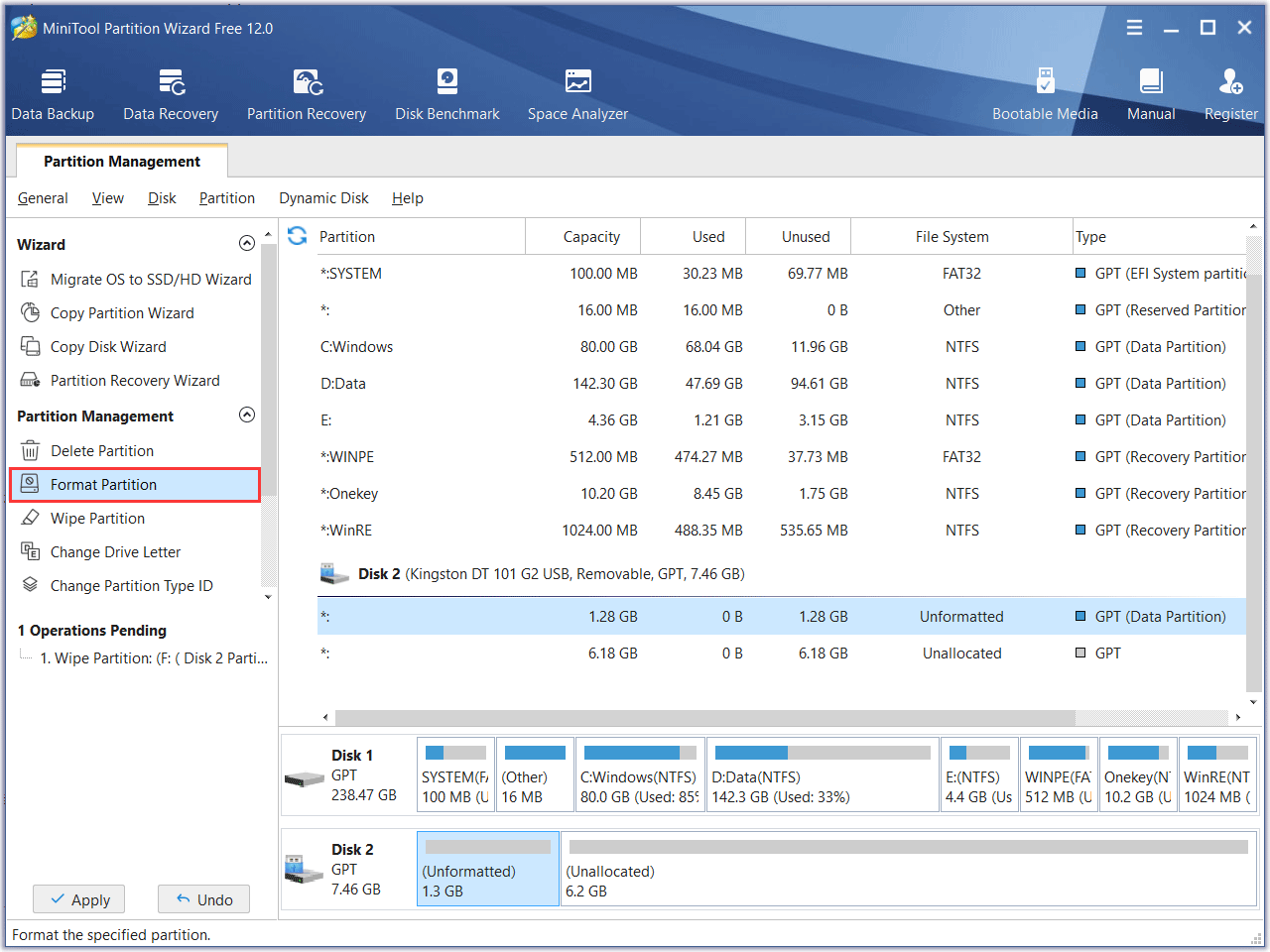 "I tried MiniTool Partition Wizard to wipe disk, and it really helps! I'd like to share this post with more friends who don't know how to completely wipe a hard drive."Click to tweet
Verdict
After learning how to wipe computer clean, you don't have to worry about disk data leak. But make sure you have backed up important files before you wipe disk, as the data on the disk is unable to recover after wiping. Now, try it by yourself.
If you have encountered any issue when wiping disk or you have any good solution to how to erase a hard drive, you can leave a message on the following comment zone and we will reply as soon as possible. If you need any help when using MiniTool software, you may contact us via [email protected].