WerFault.exe error can appear for odd reasons when you use apps on computer. Read this article and you will be able to fix it in Windows 10 with 5 effective methods. You can try MiniTool Partition Wizard that can help you perform partition management in Windows 10 very easily.
Have you ever encountered WerFault.exe application error? Just as the following user from Reddit posts:
I have no idea how this happened. I just started my computer today and every single program I open except for Chrome for some odd reason says"WerFault.exe – Application Error: The instruction at 0x0000000077E974EB referenced memory at 0x0000000000000001. The memory could not be read."   
If it happens to you, just read this post and you will learn 5 resolutions for it.
What is WerFault.exe
The WerFault.exe executable file is one of the built-in Windows system applications. It is a feature that allows Microsoft to track and address errors relating to the operating system, Windows features, and applications.
If an error occurs when running an application, WerFault.exe automatically starts and collects error report data. When it fails to deal with the error, you will get WerFault.exe – Application Error. The detailed message differs in different cases.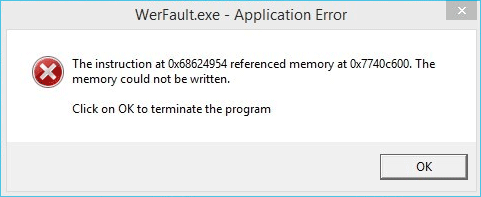 WerFault.exe – Application Error appears for various reasons. Maybe WerFault.exe Windows 10 is corrupted or deleted from its place. This error might also come up when virus attacks the system.
If WerFault.exe appears just with a certain application, you can ignore it. But If you get WerFault.exe error with some or all programs constantly, try methods below.
Method 1. Try Antivirus Software
Now that WerFault.exe error is probably caused by viruses; you can try to use Windows Defender.
Run Windows Defender Security Center –> Virus & threat protection –> click Scan now to perform a quick scan.
Tip: You can click Run a new advanced scan to set a Full/Custom/Windows Defender Offline scan.
After removing possible threats, restart the PC to see if the error still exists.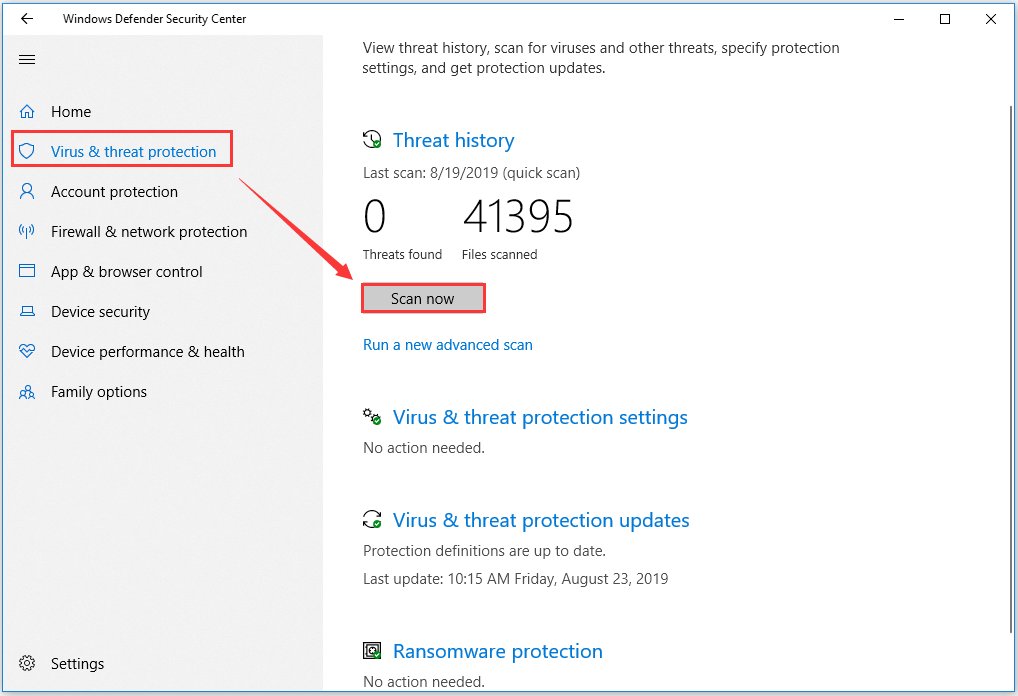 Note: If you have already installed antivirus app before, chances are that the error is caused by this app, then just try to disable it to see if the error is removed.
Method 2. Run SFC Command
Step 1: Run the Command Prompt properly as administrator.
Step 2: Type the command sfc/scannow and hit the Enter key on the keyboard.
Step 3: Your protected system files will be scanned and the corrupt files with a cached version will be replaced during scanning. Restart your PC and check if the error is fixed after the process completes.
Method 3. Use Windows Memory Diagnostic Tool
Step 1: Search Windows Memory Diagnostic in the search box of Windows 10 PC.
Step 2: Run this tool and click Restart now and check for problems in the pop-up window.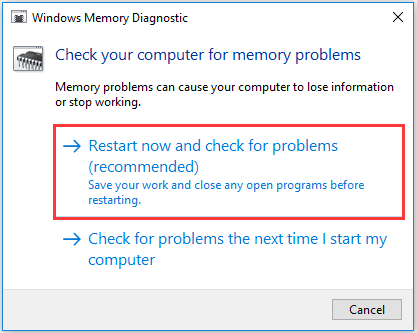 Step 3: This operation will fix memory-related problems inside your Windows 10 OS. Just wait until the process finishes and you can see if WerFault.exe application error is removed.
Method 4. Disable Windows Error Reporting Service
Step 1: Open Run window, type services.msc in the empty box and click OK to open Services.
Step 2: In the Services window, find Windows Error Reporting Service and double-click to open it.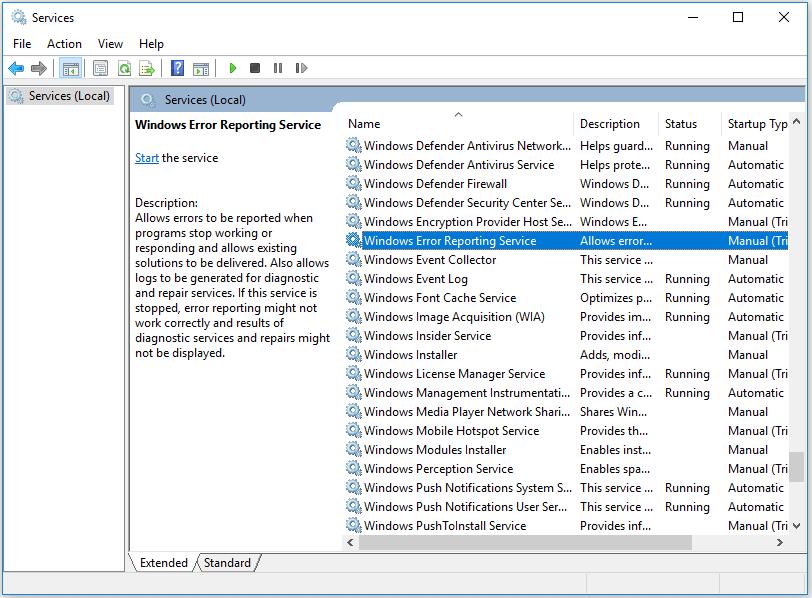 Step 3: In the pop-up window, set Startup type as Disabled from the drop-down menu, and click Apply. Finally, click OK and reboot your computer.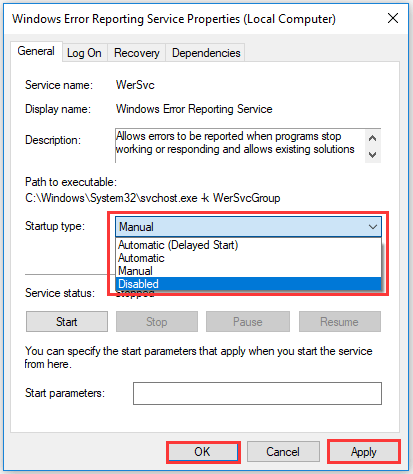 Method 5. Reinstall Display Drivers
Step 1: Rightclick the Start button and choose Device Manager from the menu.
Step 2: In the interface of Device Manager, find and expand Display adapters. Then right-click the display driver under this section, and choose Uninstall device from the context menu.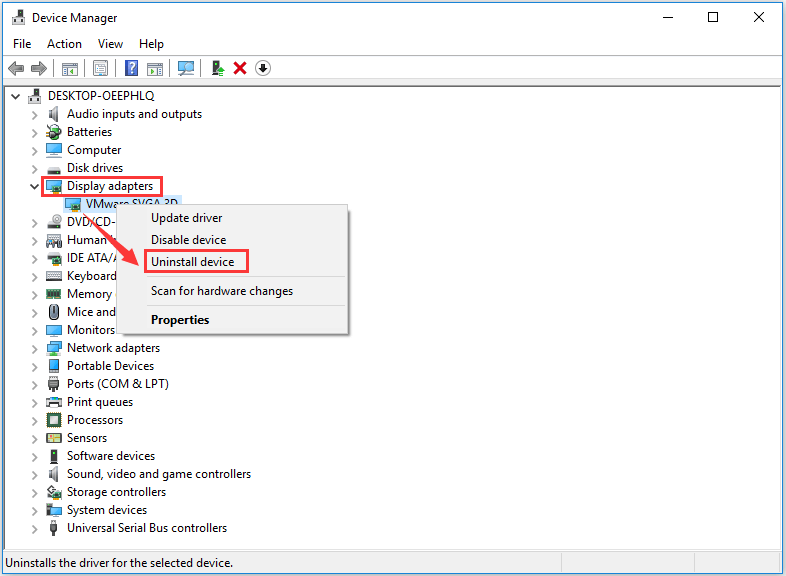 Step 3: After finishing uninstalling the display driver, click Action tab from the top panel, then choose Scan for hardware changes.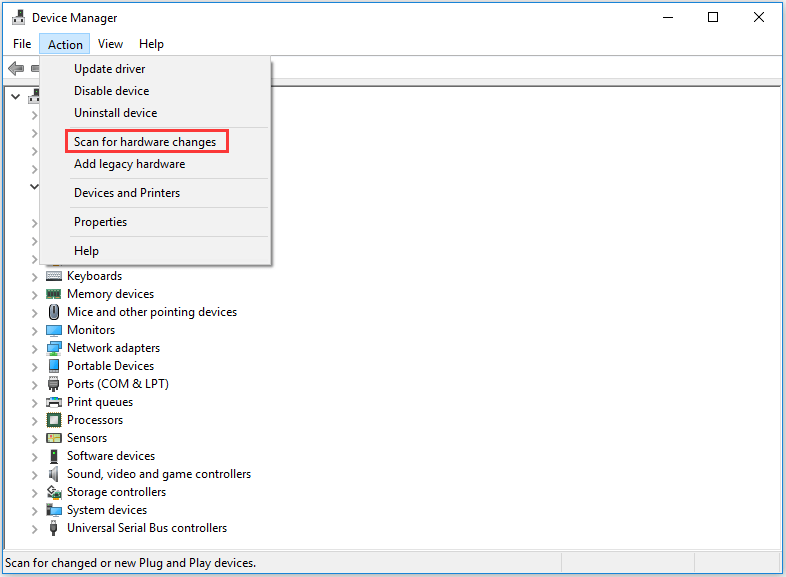 After activating this option, Device Manager will reinstall the latest missing hardware with the newest version. That is to say, you needn't worry about installing the hardware uninstalled just now by yourself – it will be automatically installed after scanning for hardware changes.
Of course, you can also use third-party software like Driver Easy Pro to detect problematical drivers, and then search, download, and install the latest driver version with just one click. Here is the guide:
Step 1: Install Driver Easy and launch it. Click the Scan Now button.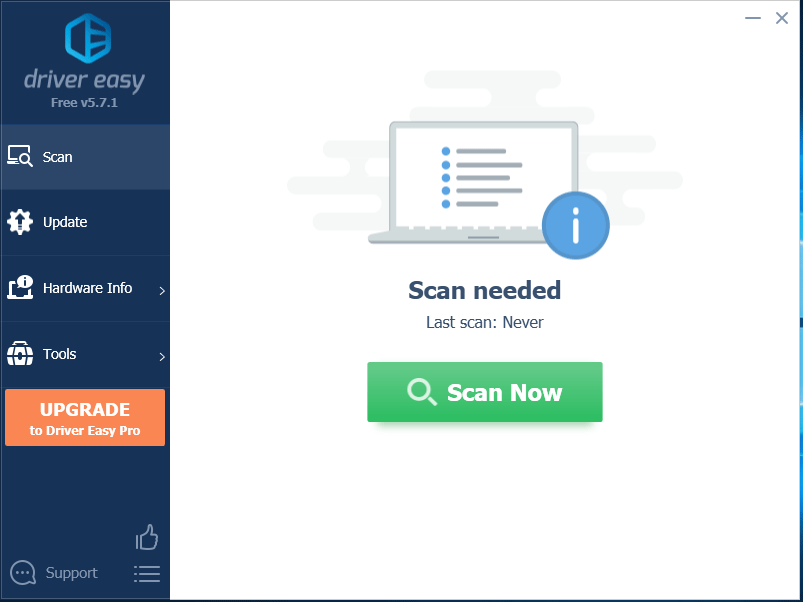 Step 2: After the scanning process is completed, click the Update All button to download and install the latest drivers for all devices with outdated drivers.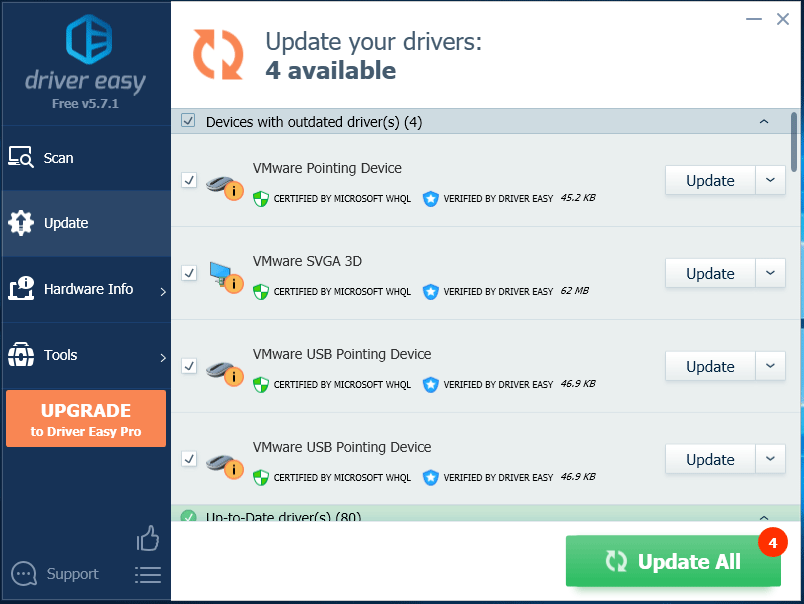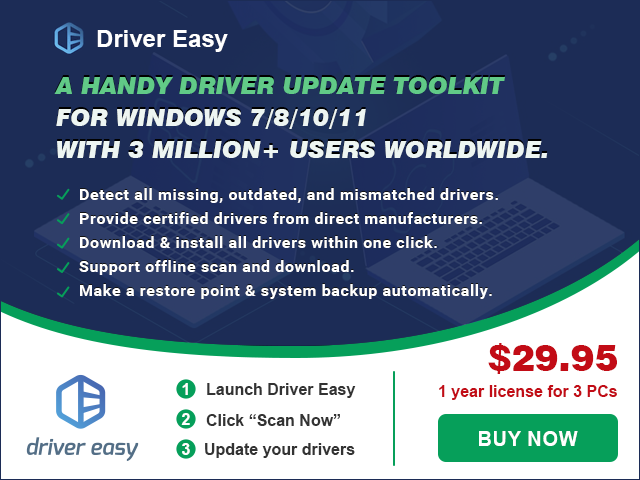 These are all the methods provided for you to fix WerFault.exe error. Have you successfully removed it?