How to update Toyota Entune, audio, and map? This post from
MiniTool Partition Wizard
offers a complete guide on
Toyota software updates
. It works for most Toyota models. You can try it.
Introduction to Toyota Updates
Toyota Motor Corporation is a Japanese multinational automotive manufacturer founded in 1937. It is one of the largest automobile manufacturers in the world, producing about 10 million vehicles per year.
As of 2009, Toyota officially lists approximately 70 different models sold under its namesake brand, including sedans, coupes, vans, trucks, hybrids, and crossovers.
As of 2022, the Toyota Motor Corporation produces vehicles under four brands: Daihatsu, Hino, Lexus, and the namesake Toyota. The top 10 best-selling Toyota and Lexus nameplates globally in 2021 are as follows:
Toyota Corolla
Toyota RAV4
Toyota Yaris
Toyota Camry
Toyota Hilux
Toyota Highlander
Toyota Tacoma
Toyota C-HR
Toyota Levin
Lexus RX
Toyota Vehicle Operating System
Most modern vehicles have a vehicle operating system, which can provide multimedia entertainment, GPS navigation, games, Internet access, telephone, car information, and fault diagnosis functions.
What vehicle OS does Toyota use? Toyota has used many versions of vehicle operating systems, including:
#1. G-Book (2002)
G-Book is a telematics subscription service provided by Toyota Motor Corporation for its Toyota- and Lexus-branded vehicles. It allows users to link with cellphones, personal digital assistants, personal computers, and G-Book equipped cars.
It also incorporates information from Toyota Mapmaster Inc. which updates digital mapping information. So, users don't need to periodically update in-car navigation systems.
#2. G-Link (2005)
G-Link is the proprietary Lexus telematics system for the Japanese market. It has a different software configuration versus G-Book, particularly in its link to the 24-hour Lexus Owner's Desk hotline, and is offered standard for the first three years of ownership.
The G-Link software runs off of the vehicle's hard disc drive navigation system and song library, and includes traffic updates, HelpNet compatibility, and the G-Security service.
Tips:
In 2019, T-Connect comes out. It is an improvement on Toyota's already established G-Book service.
#3. Entune (2011)
Most vehicle operating systems are based on QNX, Linux, Android, and WinCE. Then, the vehicle manufacturers make customization accordingly. According to the customization degree, all vehicle operating systems can be classified into the following 3 types:
Super APP: This vehicle operating system just adds some apps you may use when driving.
ROM-type operating system: This vehicle operating system adds car services and vehicle control. It also re-organizes the application framework. G-Book belongs to this type of vehicle OS.
Customized operating system: This vehicle operating system reconstructs from the system kernel to the application layer deeply and integrates and optimizes the hardware resources. As a result, this type of vehicle OS is tightly related to the head unit hardware. BMW iDrive and Toyota Entune belong to this type.
Toyota Entune is an integrated multimedia navigation and telematics system for Toyota automobiles that provides satellite-based information on traffic, weather, sports scores, stocks, and fuel prices via subscription through SiriusXM.
Iterations of Entune are distinguished via the generation of the head unit. Beginning with 11CY, the evolution of head unit functionality parallels hardware capabilities. The current Entune version is 3.0, released in 2017.
Entune 3.0 is not compatible with previous Entune versions because it is based on the Automotive Grade Linux operating system while the previous Entune versions are based on Blackberry QNX.
In addition, the head units in the 2018 Camry are available in three levels.
Entune 3.0 Audio: Includes Touchscreen display, AM/FM Radio, Siri Eyes Free, Scout GPS Link with Moving Maps, Entune 3.0 App Suite, and Voice Recognition controls.
Entune 3.0 Audio Plus: Adds CD Player, SiriusXM, Safety Connect, Service Connect, Remote Connect, Wi-Fi Connect, and Available JBL with Clari-Fi.
Entune 3.0 Premium Audio: Adds Dynamic Navigation, Dynamic POI Search, Destination Assist Connect, and Dynamic Voice recognition controls.
Although the head unit hardware decides what features are offered, the head unit software (Entune) decides the user experience to some extent. Therefore, Toyota releases Entune and other software updates periodically.
#4. Toyota Arene (2025)
Toyota announced a new vehicle software platform "Arene" to handle low- and high-level software on their vehicles. It intends to put Arene "in its own vehicles by 2025" and "will open Arene to other developers". This vehicle operating system is still in development.
Toyota Other Updates
As you can see, G-Book is more like a subscription service, although it served as the vehicle OS when Entune didn't appear. Therefore, you don't need to update it manually.
When Entune comes out, it allows users to update manually via a USB flash drive or over the air (OTA). In addition to the Toyota Entune update, there are also Toyota audio updates and Toyota map updates.
How to Install Toyota Software Update
Toyota Entune updates, Toyota audio updates, and Toyota map updates can be installed in 2 ways: OTA and USB. In this part, I will show you the 2 ways.
Install Toyota Software Update via OTA
The OTA technology allows users to download software update packages from remote cloud servers through the network, so as to achieve the purpose of updating vehicle systems. Toyota software updates can be made over the air on vehicles with the latest Toyota Audio Multimedia System.
The processes of Toyota Entune OTA update, Toyota audio OTA update, and Toyota map OTA update are the same. Here is the guide:
From the Menu window, select Settings (gear icon) > Software update.
The system will check for updates immediately. If there's an update available, it will be displayed there. Otherwise, "No update available" is displayed.
If there are updates available, click Update software to initiate the update process.
Accept the Terms of service.
The system will start downloading the Toyota software updates.
After the download is completed, a notification window will pop up reminding you that some functions will not be available during software installation. Click Accept.
Wait until the software installation is completed, you are asked to restart the system.
Tips:
During the software update installation process, if you turn off your vehicle, the update will pause automatically and resume the next time your vehicle is turned back on.
If updates are postponed for a prolonged amount of time, a visit to your dealership may be necessary to have them installed.
You can use a private Wi-Fi network, a public Wi-Fi network, or the Wi-Fi hotspot feature of your phone to download Toyota software updates. You just need to set that in Settings > Wi-Fi.
How to Choose the Best Micro SD Card for Your Dash Cam
Install Toyota Software Update via a USB Drive
If you use the Entune system, you can use the same way to install Toyota Entune updates, Toyota audio updates, and Toyota map updates via a USB drive. Here is the guide:
Step 1: Prepare a USB drive larger than 2GB and format it to FAT. If you install the Toyota map updates, you may need a larger USB drive and format it FAT32 or exFAT. However, some old Toyota models may not support exFAT. If the USB drive is larger than 32GB, you can't format it to FAT32 in Windows. In this case, MiniTool Partition Wizard is recommended.
Tips:
Although FAT32 supports up to 2TB, Windows will only offer (in the GUI) to format drives up to 32GB in size as FAT32. MiniTool Partition Wizard, a professional disk and partition management tool, allows you to format a partition up to 2TB to FAT32 easily and for free.
MiniTool Partition Wizard FreeClick to Download100%Clean & Safe
Connect the USB drive to your PC.
Launch MiniTool Partition Wizard. It will detect the USB drive automatically.
Right-click on the partition of the USB drive and choose Format.
A format window will pop up. Click the File System drop-down menu to choose FAT32, and then click OK.
Click the Apply button to execute pending operations.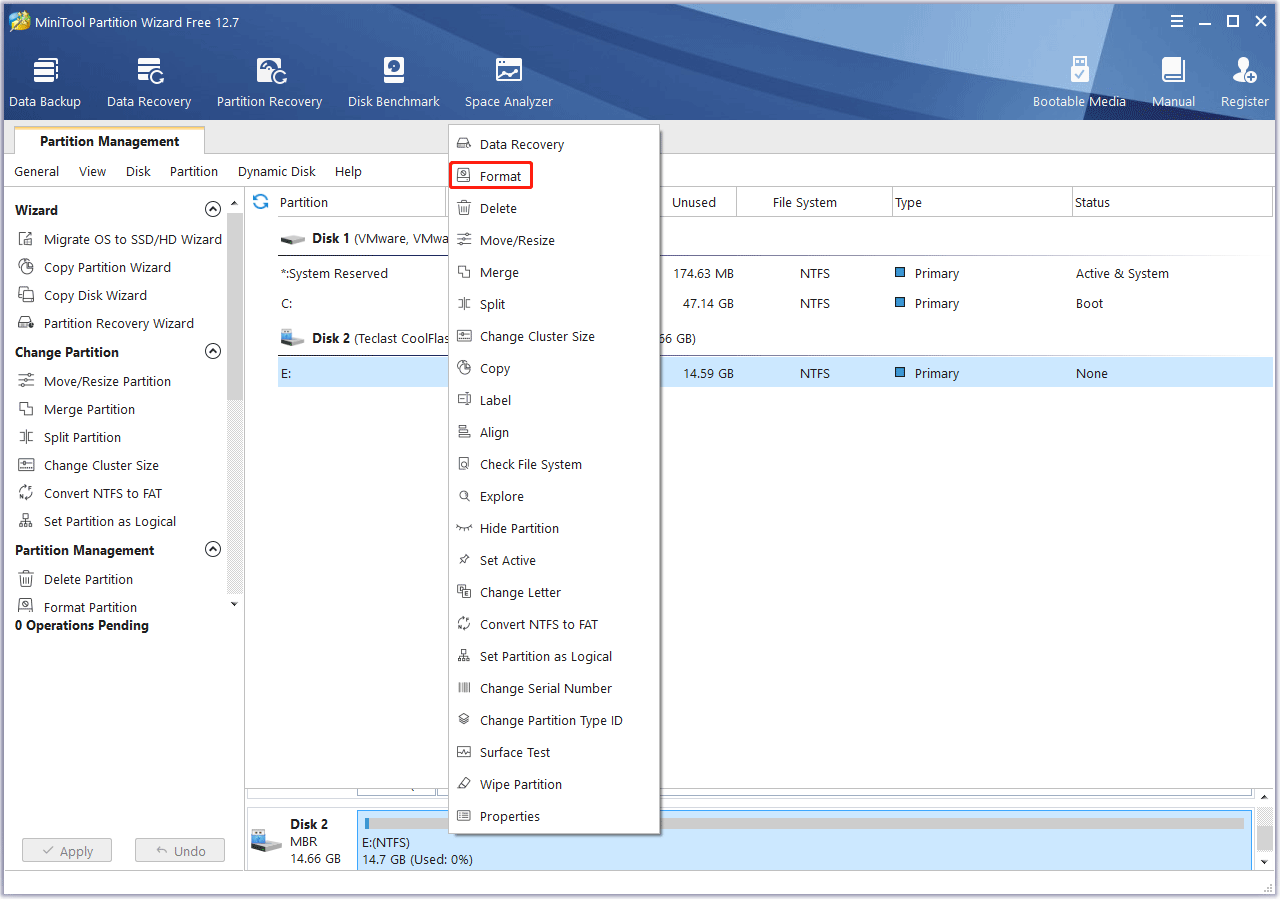 Step 2: Download Toyota software updates.
Go to the Toyota firmware update page.
Hover the cursor over the Select A Vehicle section.
Type your Vehicle Identification Number (VIN) or select your Toyota vehicle Model, Year, and Multimedia Unit Type.
On the new page, click Get Updates.
On the download page, choose your model ID.
Accept the vehicle software end user license agreement and click the Download The extension of the downloaded file should be .kwi.
Tips:
You can find your VIN on a label on the driver-side doorjamb; on a metal plate on your dashboard, near the windshield on the driver's side; on the vehicle registration card issued by the Department of Motor Vehicles; and on the Insurance Identification Card issued by your insurance company.
You can find your car model ID by pressing the MENU hard button beside the screen/touchpad, and selecting Setup / Settings > General > Software Update. On the Software Update screen, the Infotainment MODEL ID (DCU) will be visible. It is a minimum of 10 digits and may contain both letters and numbers.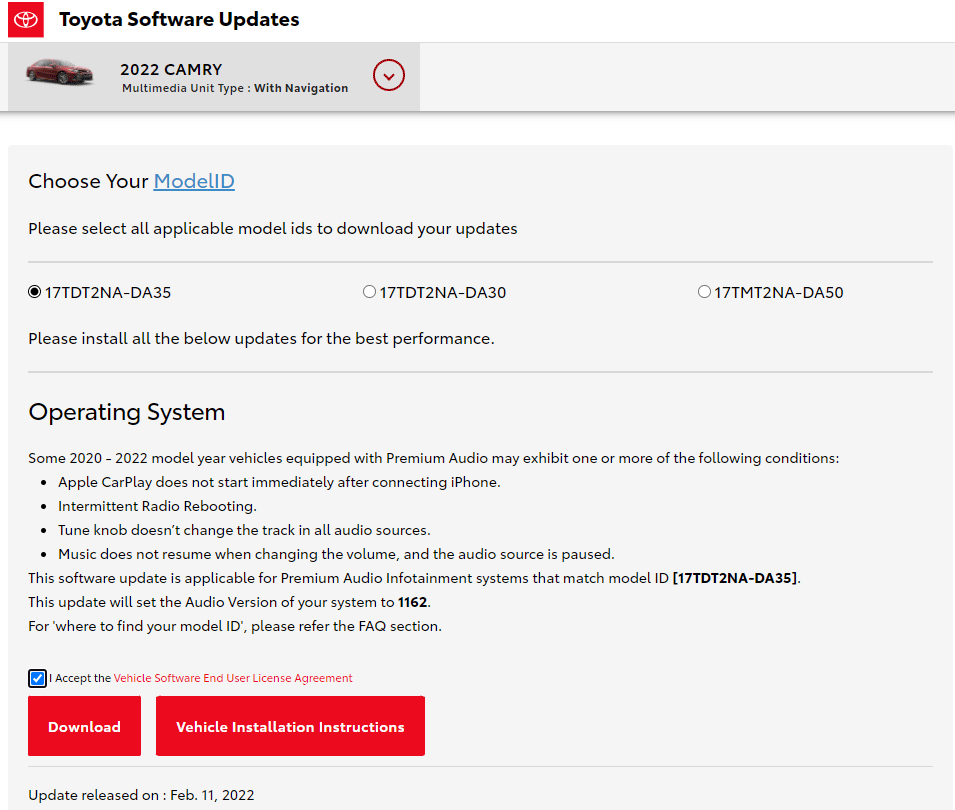 Step 3: Move the downloaded Toyota software update file (a .kwi file) into the USB drive. If the downloaded file is a ZIP file, you need to decompress it first and then copy all files under the extracted folder into the USB drive.
Step 4: Insert the USB drive into the USB port of the Toyota car and start the update.
Press Menu > Setup > General Settings > Software Update.
The system will say "New software was found". Click Update Software.
Software update details are displayed. Click OK.
Agree with terms of service. Click Yes to confirm the update. The system will start installing the Toyota software update.
After the installation is completed, you are asked to park your car at a safe location and turn the engine off and on.
Here is a post showing you how to update Toyota software, including Toyota Entune, Toyota audio, and Toyota map.Click to Tweet
Bottom Line
Is this post useful to you? Do you know other ways to update Toyota software? Some Toyota models may be a little different when using USB to update software. If you encounter such a case, share it with us in the following comment zone. I will appreciate that very much.
In addition, if you encounter problems when using MiniTool Partition Wizard, please feel free to contact us via [email protected]. We will get back to you as soon as possible.