Telegram is a popular social networking service around the world. Unfortunately, you might encounter problems while using this service. In this post, MiniTool Partition Wizard puts together some solutions to the Telegram app not working, responding, and opening issues on Windows 11/10.
Telegram is a cross-platform social networking service for instant text messaging and video or voice calling. It is available on many operating systems, including Android, iOS, iPadOS, watchOS, Microsoft Windows, MacOS, and Linux.
Users can access this service from its official website or by installing the application. Unfortunately, some users reported that their Telegram app not working on Windows 11/10. If you are bothered by the same issue, please try the following fixes to solve it.
Fix 1: Check for Network Issues
Telegram is a cloud-based service and it requires a network to run properly. If your Telegram app not working, you should check for network issues at first. And our previous post might help you: 11 Tips to Troubleshoot Internet Connection.
If there is nothing wrong with your network, you can move on to the next solution.
Fix 2: Run Telegram as Administrator
You could encounter the Telegram app not opening issue due to the lack of administrative privileges. To solve the problem, you can try running the program as administrator.
Step 1: Press Windows + S to open Windows Search.
Step 2: Type Telegram in the search box.
Step 3: Right-click the Telegram app and select Run as administrator in the search results. Alternatively, just click Run as administrator from the right side of the window.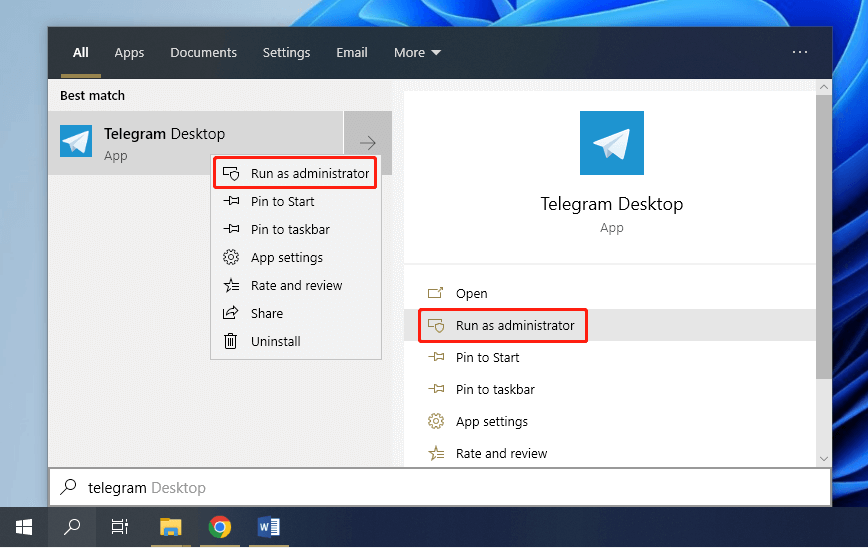 If you are still bothered by the Telegram app not responding or opening issue, keep trying the next fix.
Fix 3: Disable Your Antivirus or Firewall Temporarily
Sometimes certain antivirus or firewall programs might prevent the Telegram app from working properly. Therefore, if you are using any antivirus or firewall program, you can try disabling it temporarily and then check if the Telegram app not working issue has been solved.
Please be aware that disabling the antivirus or firewall program could expose your computer to potential risks. So, alternatively, you can add the Telegram app to the whitelist of your antivirus or firewall program. The following posts might help you:
Fix 4: Reinstall the Telegram App
If you are bothered by the Telegram not opening on Windows 11 again and again, you can consider reinstalling the Telegram app. It may help you get rid of the problem.
You just need to uninstall the program in Control Panel or Settings. Then download and install the Telegram app from Microsoft Store again.
Fix 5: Contact Telegram Support
You can also contact Telegram Support to get more solutions. They may help you get out of the problem.
Fix 6: Try Telegram Web
If you failed to solve the Telegram app not working on your PC, you can try to use the web version of Telegram. You just need to launch a web browser and then visit the official website of Telegram. Then log in with your Telegram account and enjoy the service. It works in the same way as the Telegram app.