Do you use Mozilla Firefox as your favorite browser? Have you ever encountered error code ssl_error_no_cypher_overlap on Firefox while trying to access a website? How to solve the error by yourself? MiniTool Partition Wizard provides some suggestions in this post.
Mozilla Firefox is a free web browser developed by the Mozilla Foundation. It is available on Microsoft Windows (version 7or newer), macOS, Linux, Android and iOS. And it is popular around the word. According to Mozilla, there were half a billion Firefox users in December 2014.
It's common to see some error codes which stop a website from opening on a browser. Many Firefox users encountered a message that shows "secure connection failed" with the error code ssl_error_no_cypher_overlap while trying to visit a specific website.
In most cases, this error happens when the server fails to provide proper security mechanism or protocols to the request of the browser. However, here are also some other factors that could lead to the problem:
Outdated Mozilla Firefox version
Disabled SSL3 and TLS
Removed PC4 support
If you're bothered by the same problem, follow the fixes below to solve it.
Fix 1: Update Firefox
If your Mozilla Firefox is outdated, you might encounter error code ssl_error_no_cypher_overlap while using the browser. To solve the issue, you should install the latest version. Here is how to do it.
Step 1: In Firefox, click the menu button at the top right corner and select Help. Then click About Firefox.
Step 2: Now the About Mozilla Firefox window will pop up, and it will check for updates and download them automatically.
Step 3: When the download is finished, click Restart to update Firefox.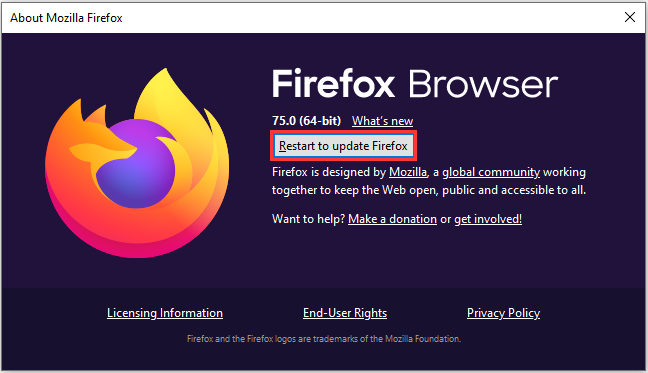 Then the browser will be restarted. And you can enter the same website to check if the error has been solved. If it still exists, try the next fix.
Fix 2: Check SSL3 and TLS1 Encryption Protocols
As mentioned, users might receive "secure connection failed" message with error code ssl_error_no_cypher_overlap if the encryption protocols SSL3 and TSL1 are disabled, as some websites require these protocols for the connection.
If you're still using the old version of Firefox, you can click the menu button and navigate to Options > Advanced > Encryption: Protocols to check the SSL3 and TSL settings.
SSL3 and TSL2 settings are not available in the latest version, but you can modify some security options to solve the problem.
Step 1: Click the menu button and select Options.
Step 2: In the pop-up window, select Privacy & Security tab. Then scroll down to locate Security section.
Step 3: Uncheck Block dangerous and deceptive content.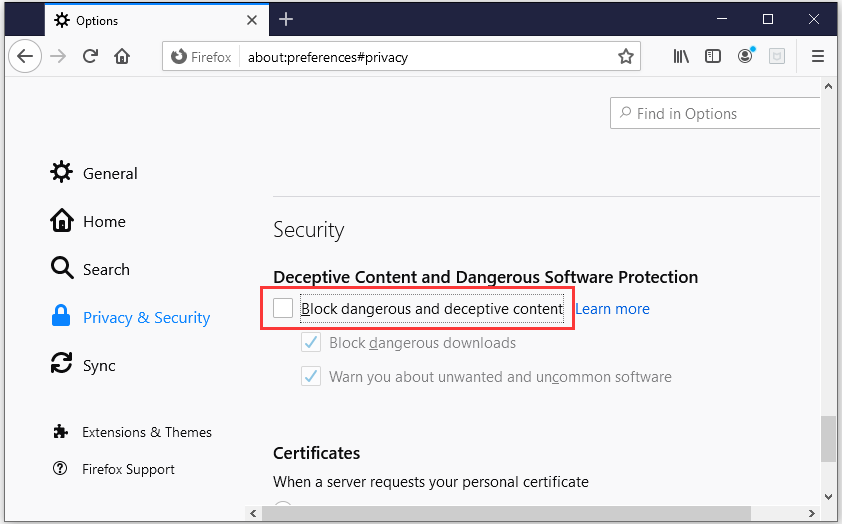 Then you can exit the browser and restart your computer. Launch Firefox again and see it you can visit the website which was stopped by the error code ssl_error_no_cypher_overlap.
Fix 3: Check Firefox Configurations
If the above fixes don't help you solve the problem, you might need to check your Firefox configurations. You just need to follow the steps below.
Step 1: Open a new tab in Firefox. Then type about:config in the address bar and press Enter to navigate to Advanced Preferences.
Step 2: In the search bar, input TLS to view all the preferences which have TLS configuration. Then you need to find any settings with have a value appearing in bold, and you should double-click them to restore it back to default settings.
Tip: For the older version of Firefox, you need to right-click the target settings and select Reset.
Step 3: Search for SSL3 and do the same actions as TLS. You need to pay attention that there are two settings needed to be blocked to improve security and you should set them to false. They are:
ssl3.dhe_rsa_aes_128_sha
ssl3.dhe_rsa_aes_256_sha