Mozilla Firefox is one of the most popular Internet browsers due to its high-speed and high-level security. However, a large number of users complain Firefox not responding sometimes. MiniTool will tell you how to fix this error in this post.
Though Mozilla Firefox is considered as one of the best browsers for Microsoft operating system, there are some issues with Firefox indeed like any other applications. For instance, Firefox won't open, Firefox high CPU usage, Firefox not responding, etc.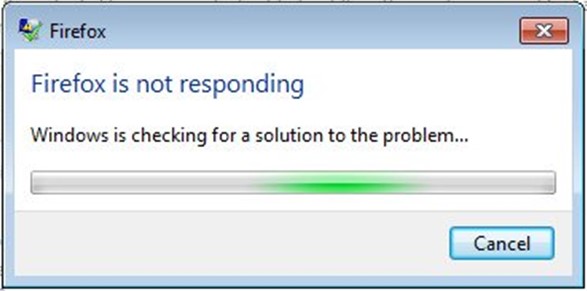 You may raise a question "why is Firefox not responding". Here are some common causes of Firefox keeps freezing.
There are malicious or intrusive files in installation folder or in the cache memory.
Intrusive or untested plug-ins result in instability.
There are too many freeware converters running at the same time within Firefox (pdf to word, jpeg to png, word to pdf, etc.)
Firefox profile folder doesn't have access to create files (read-only permission)
Even so, you can solve Mozilla not responding error with the following given methods.
You may be also interested in this: Windows 10 Notifications Tell Firefox Users to Use Edge
Fix 1: Try Safe Mode
In most cases, the faulty Add-on/Extension can cause the Firefox not working error. Given to that fact, you can try entering Safe Mode to delete the faulty Add-on/Extension. Here's how to do.
Step 1: Select the ≡ option from Firefox to open the submenu, and then click Help and choose Troubleshooting Information.  
Step 2: Click on Restart with Add-ons Disabled to go on.
Step 3: In the pop-up window, click on Restart, and then choose Start in Safe Mode.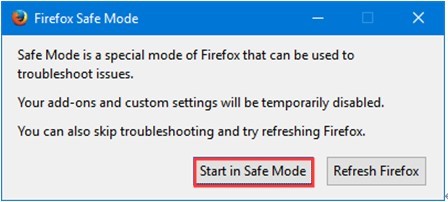 Step 4: Check if the Firefox not responding error is fixed. If so, delete the faulty Add-on/Extension according to its instruction. If not, enable the Add-on/Extension by repeating the above steps. 
Fix 2: Check for the Required Access Rights
Sometimes, Firefox not responding is because that the profile folder doesn't have write permissions. It is a very common issue if Firefox uses a profile from a file system that was mounted with read-only permissions before.
To fix the Firefox not working error, you can change the settings of the profile folder to set the proper access rights. Here are specific steps for that.
Step 1: Open the Run dialog window by pressing Win and R keys. Type %APPDATA%\ Mozilla \ Firefox \ Profiles \ in the box and hit the OK button.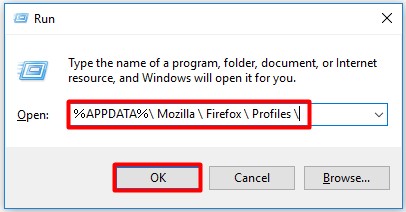 Step 2: Open the folder that contains Firefox configuration files. Right click Profiles folder and choose Properties.
Step 3: Navigate to the General tab of the Profiles Properties. Select the Read-only checkbox and click Apply.
Step 4: Then reboot your computer.
Fix 3: Reset Firefox
To fix Firefox not responding 2017 error, you can try resetting Firefox and then reopen the browser. Here's how to repair Firefox by resetting Firefox.
Step 1: In the main page of Firefox, click the Menu icon.
Step 2: In the elevated list, choose Help(?) to go on.
Step 3: Select Troubleshooting information.
Step 4: After that, choose Refresh Firefox in the Troubleshooting Information page.
Step 5: Wait for a while, and then reopen the browser.
Fix 4: Remove Session Restore Files
If you save multiple session restore packages, Firefox can run slowly or even stop from running randomly. In this case, you need to remove session restore files to fix the Firefox keeps freezing error.
Step 1: Click the Menu icon, and then go to Help(?) and select Troubleshooting Information.
Step 2: Click Open Folder from the Application Nasics.
Step 3: Click on the Menu button again and pick power-off to go on.
Step 4: Delete the sessionstore.js file from the profile folder. Additionally, remove any related files like sessionstore-1.js and etc.
After that, you can reopen Mozilla Firefox again to check if the error is solved.