Some people might encounter the Spotify not working on Firestick issue when using Spotify on Amazon Firestick devices. If you are one of them, this article from MiniTool Partition Wizard provides you with 5 solutions for this problem.
Spotify is a free popular music, podcast, and video service. On Spotify, you can play millions of songs, podcasts, and other content on multiple devices. However, after a recent update, many users encountered the issue of Spotify not working on Firestick.
Why did Spotify kick me out? This problem is usually caused by a poor internet connection or incorrect Wi-Fi settings selected on the streaming stick or connected smart device. An outdated Spotify app or Firestick can also cause streaming issues that affect the streaming and listening experience.
Well, how to fix Spotify not working on Firestick? Please keep reading.
Note:
The solution below applies to the Spotify app and Spotify Cast feature on all Amazon Fire Stick models.
Solution 1: Check Your WiFi and Internet Connection
As we mentioned, a slow or unstable network can cause Spotify not working on Firestick error. Therefore, you should check your WiFi and Internet Connection.
If you're casting Spotify from another device to your Fire Stick, both need to be on the same Wi-Fi network. Also, you need to turn off airplane mode. Because airplane mode can disable your device's Wi-Fi connection.
Alternatively, restart your Internet router and modem. The problem might be with your internet connection. A router or modem restart can improve the connection and fix any issues that may have occurred.
Solution 2: Restart Firestick TV
A quick restart can fix many bugs and glitches. Rebooting your device is a super simple but effective way to try when there is a problem with any of the apps and programs on your device.
Press the power off button on the device.
Wait a few seconds.
Press the button to start the device again.
Open Spotify again.
Solution 3: Update the Spotify App
Older versions of the Spotify Firestick app are known to have playback issues. So, you should update the Spotify app. The steps are as follows:
From the Home screen, select Apps on the far right of the horizontal menu (three squares and a plus sign).
Highlight the Spotify app you want to update.
On your Fire TV remote, press the button with three horizontal lines.
Select More Info.
If an update is available, select Update next to the Open button.
Solution 4: Uninstall and Reinstall the Spotify App
The application installation may be corrupted. Deleting it and downloading it again can fix the issue. Here's how to do:
Step 1: Turn on your Firestick and select Settings in the top menu.
Step 2: In Settings, press the Down button on your remote, then scroll to and select Applications.
Step 3: In the App options that appear, select Manage Installed Applications.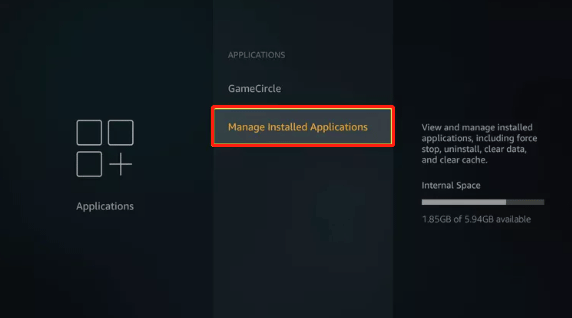 Step 4: Scroll through the list of apps installed on your device to find the Spotify app. Select it and select Uninstall from the options that appear.
Step 5: You will be prompted to confirm that you want to uninstall the application. Click Uninstall and the app will be removed from your device.
Solution 5: Factory Reset Fire Stick
As a last resort, resetting your Firestick to factory settings may work.
Note:
When you reset your Fire Stick, you will lose any downloaded apps, so make sure you have time to add them and the username and password needed to connect.
Go to Fire TV settings.
Navigate to the My Fire TV tab.
Select Reset to Factory Defaults and wait for your device to reset.
If you're still unable to use Spotify on your Firestick, try using the Spotify app on another device, such as a smart TV or a video game console such as an Xbox or PlayStation.