Some users encounter the Amazon Fire TV keeps restarting issue when they use the Amazon Fire Stick. If you encounter this issue, this article from MiniTool Partition Wizard provides you with 6 solutions for the problem.
Amazon Fire TV is a video streaming device that allows you to access digital audio and video content from the Internet on an HDMI TV. With a fast internet connection, you'll be able to enjoy your favorite Netflix, Hulu, or HBO Max shows on your TV in Full HD or 4K resolution. There are currently five different models, Fire TV Stick 4K Max, Fire TV Stick 4K, Fire TV Stick, Fire TV Stick Lite, and Fire TV Cube.
If your Amazon Firestick keeps restarting, you might be wondering: why does my Firestick keep restarting? There can be several reasons for this issue, such as power issues, defective accessories, software issues, or even hardware issues. To resolve this Amazon Fire TV keeps restarting issue, you need to perform several solutions.
Before starting the troubleshooting steps, try these steps first:
Disconnect and reconnect your Amazon Fire Stick
Remove any hardware extensions (such as USB) you may be using, and try connecting your Fire Stick directly to the TV
Check the power cord and any other cables you are using to make sure they are not frayed or frayed. If yes, replace them.
If the above method does not work, then try the following method.
Solution 1: Check the Power
The first thing for the Amazon Fire TV keeps restarting issue you need to do is make sure your Amazon Fire TV Stick is getting enough power. Since this device uses a USB port for power, most people will plug it into a USB port on their TV. This leads to an insufficient power supply as the USB ports on the TV can only support 500mA to 900mA of output current. Your Amazon Fire Stick needs at least 1A to 2A of current.
The best way to power your Amazon Fire Stick is to use the power adapter that came with them, as this will provide enough power for the device.
Also, make sure you're using the correct power brick for your Amazon Fire Stick. The most common reason for a Firestick keeps restarting is that you're not using the correct power supply module. Amazon recommends a 5.25v, 5W power block. Therefore, it is best to always use the manufacturer's original equipment.
Solution 2: Remove Other HDMI-Connected Devices from the TV
Other HDMI devices connected to your TV's HDMI port may interfere with its streaming signal, causing Firestick keeps restarting and thus conflict with the Amazon Fire TV Stick. Try disconnecting other HDMI devices connected to the TV HDMI port and check if the problem persists.
Solution 3: Disable HDMI CEC Function
Did you know your TV remote can control your Amazon Fire Stick? If you have the HDMI CEC feature enabled on your Fire Stick, you may have pressed a button on your TV's remote to restart your Amazon Fire Stick. Therefore, you should try to turn this feature off. When it's off, the only way you can control the Fire Stick is with the Fire TV remote.
Disable HDMI CEC on Fire Stick:
Go to Settings.
Select Display & Sounds.
Select HDMI CEC Device Control and make sure it is turned OFF.
Solution 4: Make Sure the TV Connected to the Firestick Supports HDCP
The Amazon Fire Stick requires an HDCP-compliant display. While most TVs support this feature, not all do, and if you're using a TV that doesn't support HDCP, it can cause your Firestick keeps restarting while it's constantly looking for a compatible connection.
Solution 5: Update Fire TV Stick Software
Outdated firmware or software on your Fire Stick can cause Firestick keeps restarting. The latest updates usually come with some performance enhancements as well as bug fixes that can resolve the Firestick keeps restarting issue you're experiencing.
Go to Settings on your Firestick.
Navigate to the My Fire TV tab, and then select About.
Click on the Check for Updates option.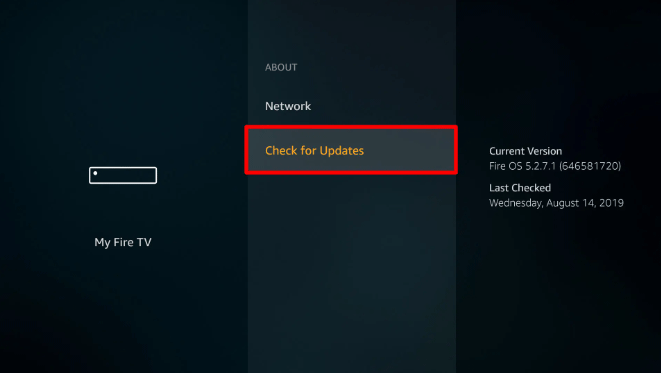 –Image from HelloTech
Related reading: Unable to update Fire TV Stick? Here're 5 Solutions
Solution 6: Factory Reset Fire Stick
If the problem is caused by corrupted data or software on the Fire TV Stick, the best way to fix it is to perform a factory reset. This will restore the Fire TV Stick to factory default settings. If you have more than one app installed on your Fire Stick, they will be deleted during the hard reset. Once the factory reset is complete, you will need to download any apps you have installed.
Note:
When you reset your Fire Stick, you will lose any downloaded apps, so make sure you have time to add them and the username and password needed to connect.
Go to Fire TV Settings.
Navigate to the My Fire TV tab.
Select Reset to Factory Defaults and wait for your device to reset.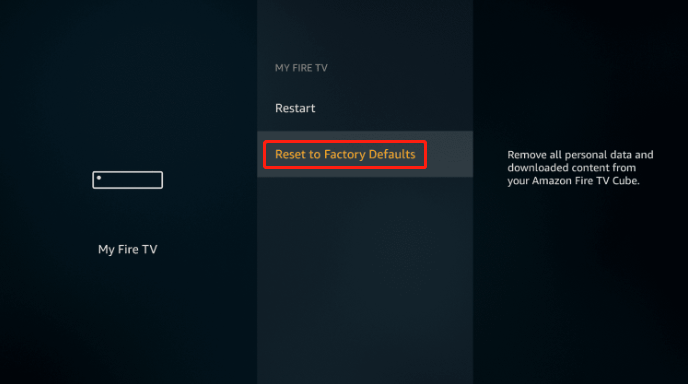 –Image from Lifewire