Are you looking forward to Skate 4 coming out and eager to search for relevant information on this game? If so, you can pay attention to this post. Here, MiniTool Partition Wizard provides everything that can be found online about Skate 4, including the release date, platforms, trailers, playtest, etc.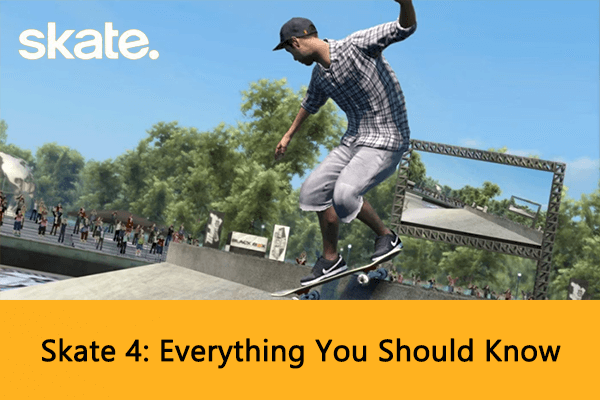 About Skate 4
It has been over a decade since Skate 3 (the last Skate game) was released in 2010. Lots of fans are calling for the next entry of Skate to come out all the time. However, there has been no news for a fourth entry in the series after the developer EA Black Box was shut down in 2013. Eventually, in June 2020, EA announced that they were working to bring Skate back to skateboarding games with Skate 4.
It is confirmed that Skate 4 will be a free-to-play game. This game is not a sequel to the previous Skate games so it will actually be called Skate. Besides, this post summarizes more details about Skate 4. If you are a fan of this game, read this post to obtain everything you want to know. 
Skate 4 Release Date
When will Skate 4 come out? Well, the Skate 4 release date is not confirmed yet. Developers are still working on it. Although the EA CEO, Andre Wilson, claimed in 2022 that Skate 4 will "launch soon", you will sadly wait a long time before it is released in fact. It's speculated that you are likely to own Skate 4 in late 2023 at the earliest.
Skate 4 Playtest
During Skate 4's development, some playtests might be provided. If you want to participate in a playtest, you can go to the Skate official website and sign up as a Skate. insider. If you are lucky enough, you may get the chance to play early versions of the game via a playtest.
Note that you can only take part in playtests on the PC via Origin right now. Moreover, you are not allowed to share any videos, captures, screenshots or streaming of anything from the playtests of Skate 4.
Skate 4 Trailer
Is there any Skate 4 trailer revealed on the Internet? Well, a trailer that was called "pre-pre-pre alpha" has been given by EA in June 2022. In this footage, the team announced that they were back but still working on it. Additionally, some of the game's physics and animations are shown in this video as well. However, with the game development, they might be changed.
EA also promised to give more freedom and more ways to players for expressing themselves in the Skate 4 trailer.
Skate 4 Gameplay
There is not a complete statement about Skate 4 gameplay. But you can find some gameplay elements in the leaked videos. As you see, Skate 4 allows multiplayer and custom builds. In addition, players can complete lots of classic skating actions. To get more details about Skate 4 gameplay, you should sign up and wait for an insider playtest. 
Skate 4 Platforms
You may wonder where you can play Skate 4. Well, it's sure that Skate 4 will be available on PC, Xbox One, Xbox Series X|S, PlayStation 4, and PlayStation 5. Furthermore, the developers are currently exploring the mobile version of Skate 4. Therefore, you can also look forward to playing Skate 4 on your Android or iOS device.
However, there is no confirmed statement about whether Nintendo Switch will be one of the Skate 4 platforms. If you are a Switch user, you may be disappointed by the final results.
PS4 vs PS5: What's the Difference and Which One to Select
Further reading: 
Once Skate 4 is released, you can download and install this game on your PC to enjoy it. To make sure the installation can complete successfully, you need enough free space on your disk. If there is no sufficient storage, you can free up diske space with this guide or enlarge your hard drive using the Extend Partition or Move/Resize Partition feature of MiniTool Partition Wizard. Besides, this professional disk partition software also includes many other useful features. You can visit the official website to learn more about this program.
MiniTool Partition Wizard FreeClick to Download100%Clean & Safe
In this post, we summarize some useful information on Skate 4. If you are interested in this game, you can take a look at this post. If you have any problems, you can leave a message in the following comment area.