Nowadays, a mysterious Windows 10-powered Samsung Galaxy device appears on Geekbench. What is it? This article will introduce some information about the new Windows 10 Samsung Galaxy device.
Samsung Galaxy Space
It may be hard for you to pick a Samsung Windows 10 device as the choices are limited. However, Korean manufacturer's Windows 10 releases a couple or sometimes more devices to few markets every year.
It looks like it is the time for Samsung to release new Windows 10-powered devices. As expected, Samsung has a fresh Windows 10 device in the pipeline that goes by the name of the Samsung Galaxy Space at least according to a leaked Geekbench (a cross-platform processor benchmark) result.
Based on the limited details provided in the listing, the new Samsung Galaxy device seems to be powered by an ARM-based chip similar in performance to the Qualcomm Snapdragon 850 powering the Galaxy Book 2. Furthermore, this new Windows 10 device features the following items:
This new device offers up to 8GB of RAM;
This new device sports an octa-core processor including 8 cores, with a clock speed of 2.84 GHz.
The single-core score of it stands at 2,011, while the multi-core score is up to 6,047, as the following picture shows. The two scores are slightly weaker than the Galaxy Book 2, whereas the test was based on a 32-bit version of Windows and not 64-bit.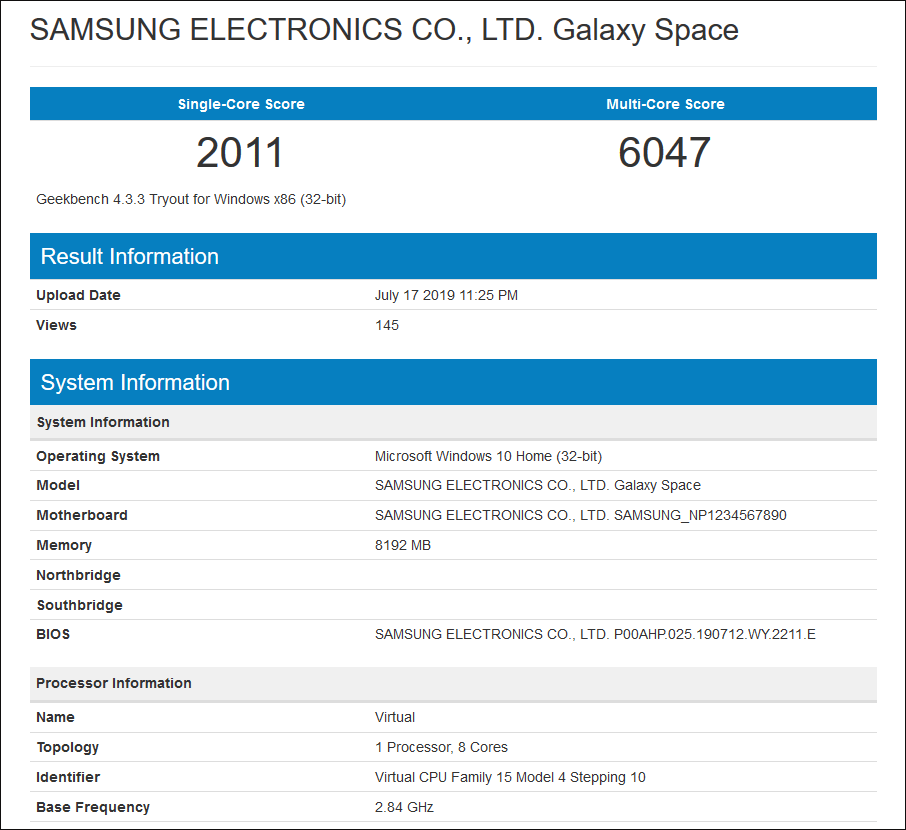 Although there are some commons between Samsung Galaxy Book 2 and Galaxy Space, there are some differences. The former uses a motherboard identifier beginning with 'SM' typical of its mobile devices, while the latter uses a motherboard identifier of 'NP' which is typical of its laptops.
The difference would suggest that this new device is an ultraportable WoS with an always-on, always-connected configuration favored by business.
If the Samsung Galaxy Space is indeed an ultrabook of sorts, it would be likely, to a large extent, similar to Lenovo's WoS Toga C630. According to the notebookcheck.net 's review of the new device, they were impressed by its mobility, silent operation, and fast sleep/wake times as well as the fact that it refreshes in the background while on standby.
However, this device has the following shortcomings.
Lacking x86 virtualized performance;
Thin port selection;
Slow UFS 2.1 mobile storage when compared with an SSD.
Absolutely, for the right person, Samsung Galaxy Space could make an attractive mobile productivity solution.
From the looks of things, it is pretty much safe to say that Galaxy Space is a new portfolio device from Samsung, and this brand will offer a refreshed model every year if the product hits a success.
Conclusion
To sum up, the new Samsung Galaxy device – Galaxy Space is running Windows 10 and has 8GB of system memory, with an 8-core process and a base clock speed of 2.84GHz.
However, the form factor of this new Windows 10 device is still a mystery. We will have to wait until its launch event to find more details about Samsung Galaxy Space.