You may have noticed the Runtime Broker process in your task manager. What is it? Why is it running on your PC and increasing CPU usage? If you are curious about the Runtime Broker, you may check out this post from MiniTool now.
What Is Runtime Broker and Why Is It Causing High CPU
Runtime Broker (runtimebroker.exe) is an official Microsoft core process which appeared in Windows 8 and its later version Windows 10. It is used to determine whether universal apps you got from the Windows Store are declaring all of their permissions, like being able to access your location or microphone.
The Runtime Broker always runs in the background all the time. Many users may don't know what it is and some even has not noticed its existence.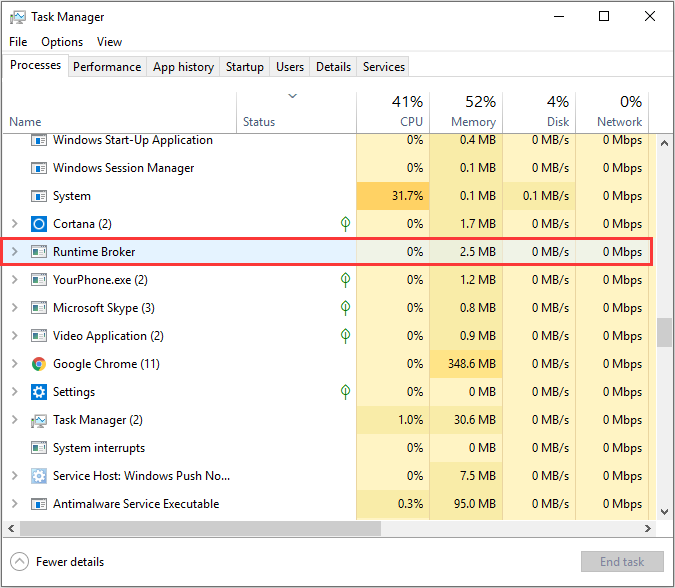 Usually Runtime Broker consumes 0% of the CPU. When you launch a universal app, you will likely see an increase of CPU usage about 30%. If the CPU usage is higher than that figure or there is no universal app running but the CPU spikes, you should pay attention to it. The high CPU usage could be caused by a misbehaving app or other unexpected conditions. Sometimes it also uses a lot of memory.
But you don't need to worry about that now, the following will offer you some quick fixes. If you don't know how to fix the Runtime Broker high CPU issue, please keep on reading.
Fix 1. Disable Get Tips, Tricks and Suggestions
Any feature of Windows 10 powered by a Universal windows application will result in the execution of the Runtime Broker process. This can also explain why the CPU usage goes up even if there is not windows applications started at that time.
In this situation, the common fix is to disable the application responsible for displaying prompts and suggestions to Windows users. And here are the detailed steps.
Step 1. Right click the Windows start menu and choose Settings.
Step 2. Click System.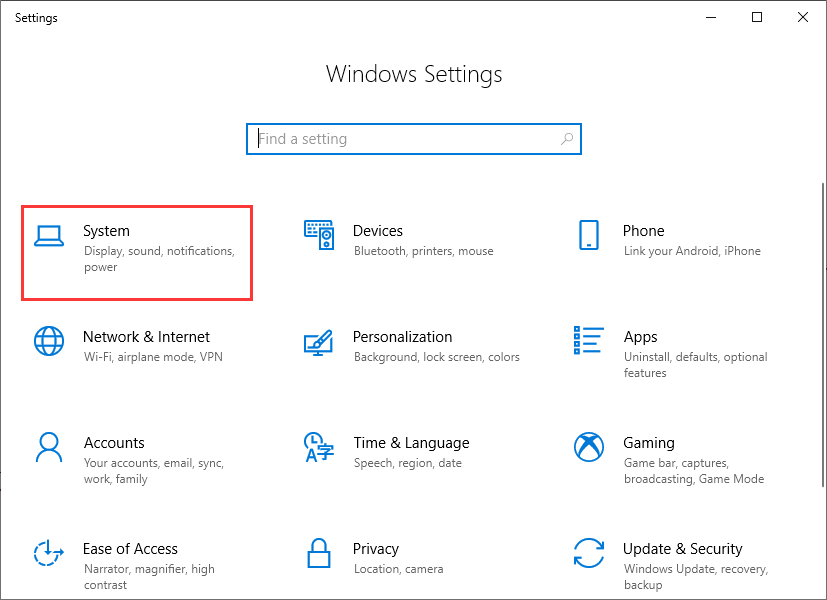 Step 3. Choose Notifications & Actions.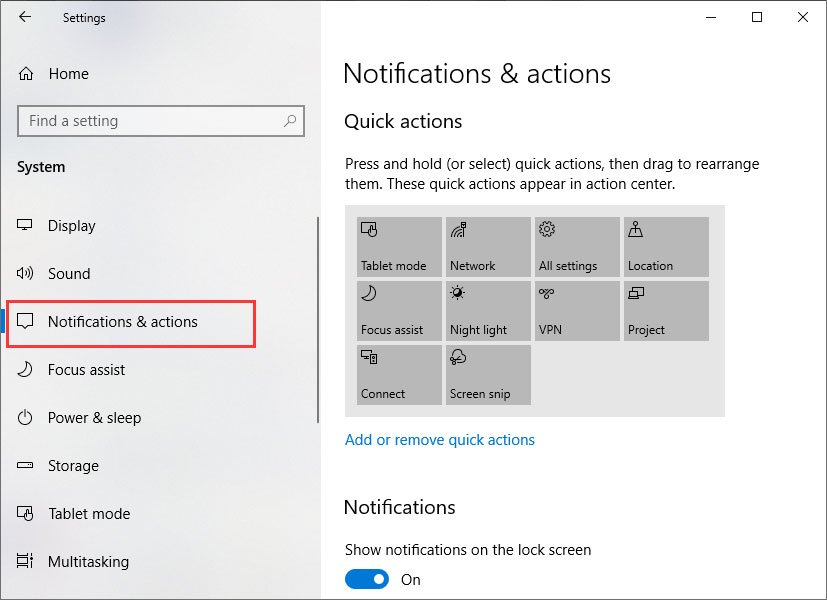 Step 4. Find the Get tips, tricks, and suggestions as you use Windows. Then switch it to Off.
If this cannot help you fix Runtime Broker high CPU usage issue, try the next method.
Fix 2. Deal with the Misbehaving Application
The Runtime Broker high CPU usage issue can also be caused by a misbehaving application. If the app is not very important, just uninstall it. If you don't want to uninstall the app, then check for updates and update the app immediately. Or you can also uninstall it restart your computer and then reinstall the misbehaving app.
If the does help, try the next method.
Fix 3. Limit the Apps Running in the Background
Some applications may run in the background including the apps that may cause Runtime Broker high CPU. So, to fix the problem, you can disable then running the background via settings.
Step 1. Right click Windows Start menu and choose Settings.
Step 2. Click Privacy from the window.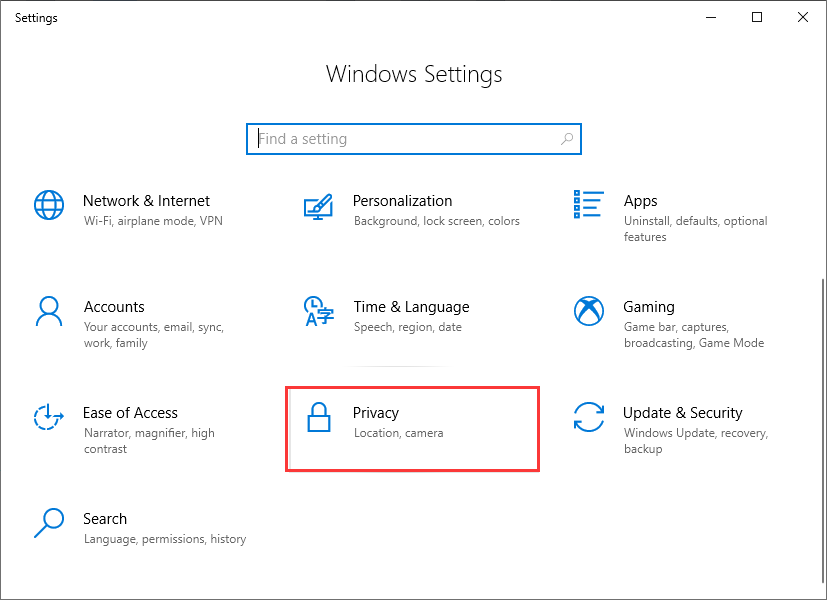 Step 3. Locate to the Background Apps.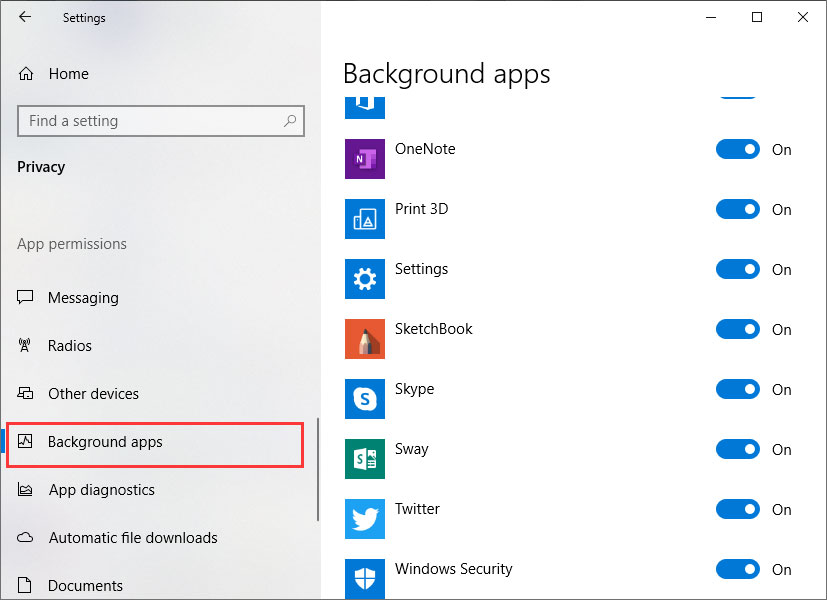 Step 4. Toggle the application that you want to disable in the background to off.
Fix 4. Make Sure the Process Is Not a Virus
In fact, the situation that a virus replaced the real Runtime Broker with an executable of its own is unlikely. But if you can also make sure the process is not a virus by finding out Runtime Broker's real file location.
Step 1. Right click the Windows taskbar and choose Task Manager from the menu.
Step 2. In Task Manager, Double-click Runtime Broker and right click the expanded option. Then choose Open File Location.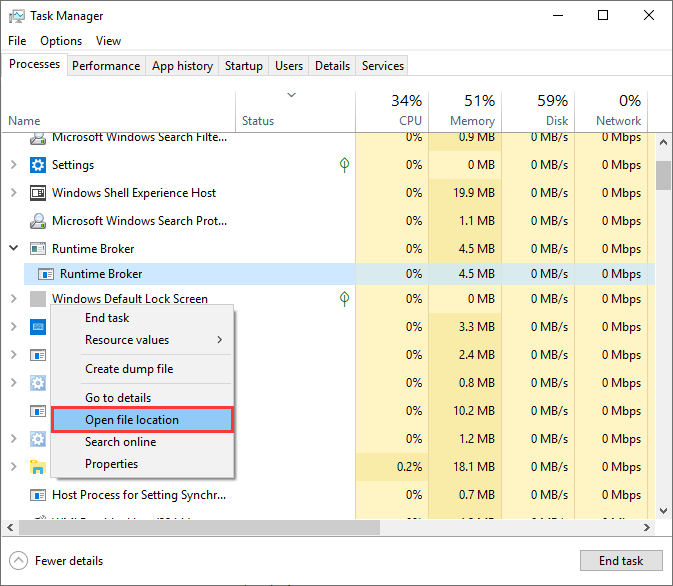 Step 3. If the file is stored in the System32 folder, you can make sure that the Runtime Broker process is not a virus.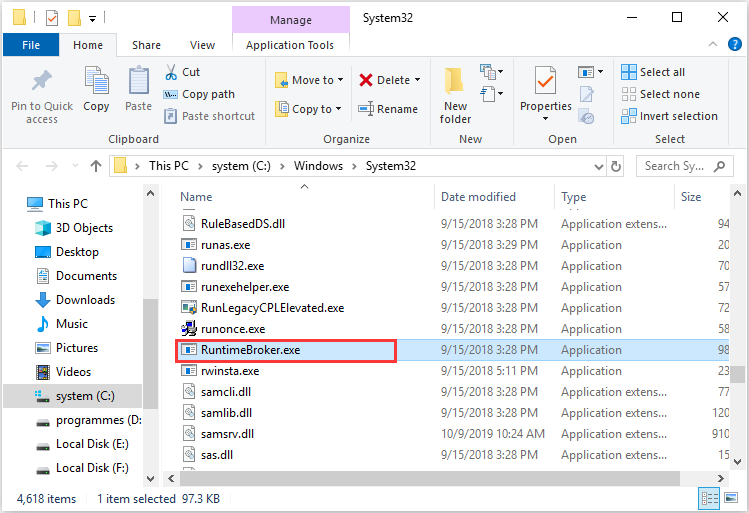 If you are still worried about virus infection, you can perform a virus scan with antivirus software like Avast.
Conclusion
After reading this post, now you should what Runtime Broker is. If you need to get rid of Runtime Broker high CPU usage issue, you can try the fixes mentioned in this post.
Which methods works for you? Do you have better solutions? We are glad to have you share it with us.