Summary :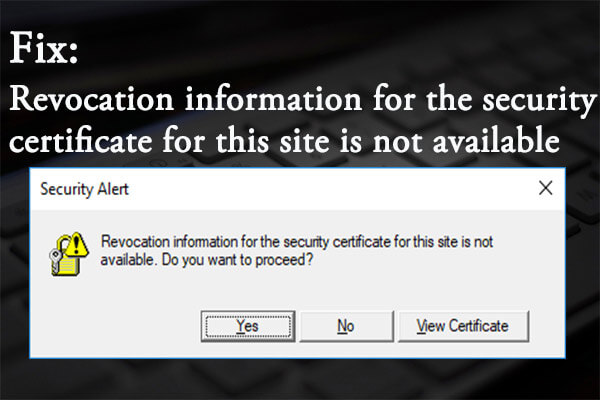 While visiting secure website, you might receive an error message that revocation information for the security certificate for this site is not available. In order to get rid of this issue, MiniTool develops this guide where you can learn about several feasible solutions.
The security certificate works to establishes trust between the browser and the websites you are visiting. A security certificate might be revoked for various reasons, including compromised password, internal hacking attempt, and etc. Once a security certificate is revoked, it will be listed in the Certificate Revocation List (CRL) and no longer trusted by the issuer.
Some users have reported the revocation information unavailable of the security certificate on the forum. According to the reports, they get a Security Alert dialog when they are visiting a certain secure website, prompting that revocation information for the security certificate for this site is not available.

What can you do if you receive this error message? Here are some workarounds you can have a try.
Fix 1: Adjust Data and Time Settings
If the data and time of your system are incorrect, many problems including the security certificate issue in our case might come up. So, you should go to adjust your system data and time settings to make sure they are correct.
Step 1: Search Control Panel in your Cortana and click it in the search results to open it.
Step 2: Choose Clock and Region category and hit Data and Time.
Step 3: In the Data and Time window, switch Internet Time tab and click Change settings.
Step 4: In the pop-up window, check Synchronize with an Internet time server. Then, set time.windows.com as the default server and click Update now button.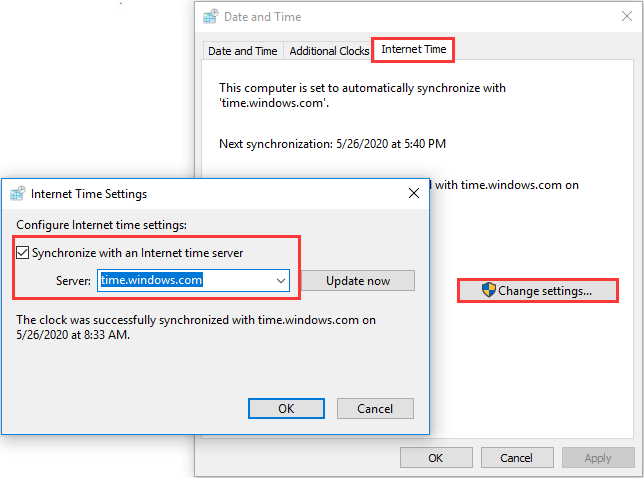 Once it's done, restart your computer and visit the website again to check if the "revocation information for the security certificate for this site is not available" error message has gone.
Fix 2: Remove Certain Programs
This issue has been reported to be associated with application confliction. If you have installed certain security apps on your computer, they might interfere with your security certificates. The known problematic programs are including McAfee Web Advisor and Browser Defender.
If this is applicable in your case, you should take actions to disable or remove the problematic applications. You can refer to this guide to uninstall a program. Besides, if you have a security app of extension type, you should also remove the respective extension or add-in from the browser you are using to visit the website.
Fix 3: Update Java
In addition, outdated Java might also lead to the "revocation information for the security certificate for this site is not available" issue. It has been proven that certain older Java versions might be unable to access the website where the certificate is stored.
So, it is a nice choice to update your Java if your Java version is outdated. To do that, you just need to visit the official website of Java and download the latest version. Then, install it on your computer according to the given instructions.
After installing the latest version of Java, you can try accessing the website again to check if the problem is resolved. If you receive the error message again, please move on to the next solution.
Fix 4: Disable Check for Publisher's Certificate Revocation
This is just a method to prevent you receive the error message every time you visit the website that gives the error. You might be unable to resolve this issue completely with this method, but you can have a try.
Step 1: Press Windows + R to open Run window.
Step 2: Input inetcpl.cpl and click OK button to enter Internet Properties interface.
Step 3: Switch to Advanced tab and scroll down to the Security section. Uncheck the Check for publisher's certificate revocation setting.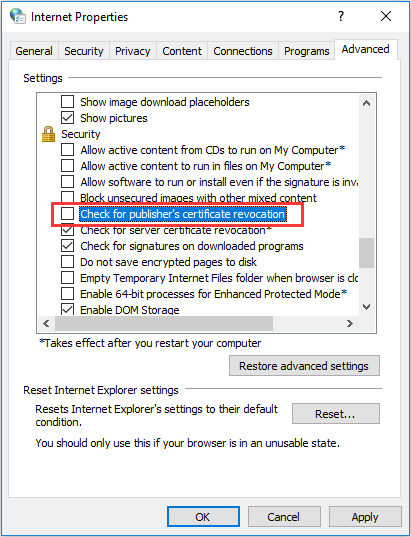 Step 4: Click Apply and OK to save the changes.
After that, restart your device and check if you can visit the website without the error message.