If you want to know about an email sender that you aren't familiar with, try using a reverse email lookup tool. Here, MiniTool collects the top 6 free reverse email lookup tools helping you find the information about the email address and its owner.
Email is widely used in daily life. For instance, it can be used for signing up for a social media account, shopping online, registering a website, leaving comments on discussion boards, chatting with friends, etc. However, it may be used to attack or scam you by cybercriminals.
Then your personal data might leak and your device would be infected by viruses or malware. To avoid that situation, you can do a reverse email lookup. Here comes the need of a free reverse email lookup tool. Well, you will have an overview of the reverse email lookup tool by reading the section below.
What Does the Reverse Email Lookup Tool Do
Through an email lookup, you can obtain facts behind an email address. To be specific, you will gain access to a person's digital information and physical data including social media profiles, online photos, real identifying information (actual name, age, etc.), current address, criminal records, as well as family/friends and other known associates, etc.
The reverse email lookup enables you to identify fake social media accounts, false names, and aliases. What can you do with the information found through a reverse email lookup? Well, you can do the things below.
Reconnect with someone for whom you only have an email address.
Verify the identity and relationship status of an online date.
Identify and then report an email scammer.
Ensure an online shopping transaction is safe.
See if your significant other is cheating.
Keep your kids from an online predator.
To perform a reverse email search freely, you can make use of a free reverse email lookup tool. Simply pick one from the lists below.
#1. PeopleFinders
PeopleFinders is a free online reverse email lookup tool, which can help you get information about an unknown email address and the person behind it quickly. By doing so, you can check if an email address is a source for phishing or some other email scam.
In addition to the condition of the email address, this free email lookup tool is capable of finding other contact information of the email owner like phone number, social media profiles, and current address. Actually, it is also used as a name/phone/address lookup service.
To execute an email lookup freely via this utility, navigate to peoplefinder.com. Then enter the email address you want to verify and click on the Search button. After a while, you will get the result.
Tips:
If necessary, you should move to the Email tab before entering the email address.

#2. That'sThem
The free reverse email lookup service offered by That'sThem includes nearly a trillion email records and links with the owner's public record. It means that you can get information like the owner's name, location, phone number, and even educational credentials by searching the email address on That'Them.
To perform a free email lookup on this service, go to thatsthem.com and click on the Email tab. After that, input the target email address in the field and click Search.
Tips:
As the homepage displays, you can conduct a reverse name/address/phone/IP/VIN lookup on this site too.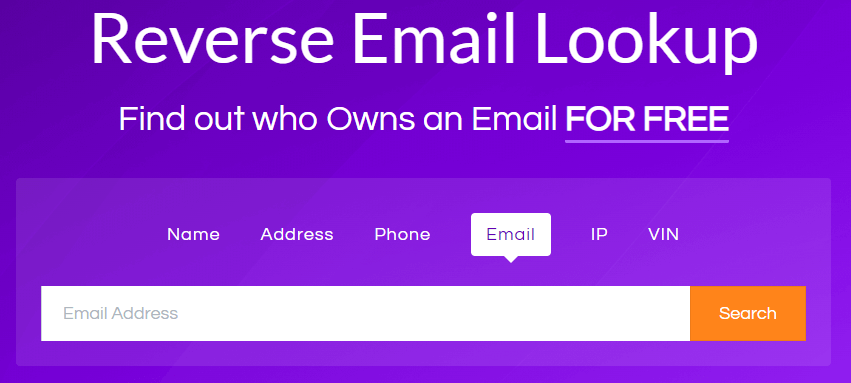 #3. BeenVerified
You can find the following information after performing a free reverse email lookup on beenverified.com. Your email search is completely private, and the sender won't receive a notification when you run a report.
Real name, aliases, and approximate age
Social media profiles
Current and previous address and property information
Names of possible relatives and associates
Contact information
Education, job, and employer info
Criminal records
This service enables you to conduct an email lookup free of charge. You just need to go to beenverified.com > tap on the Email tab  > enter the email address you would like to check > click SEARCH.

#4. You Get Signal
 The reverse email lookup tool offered by yougetsignal.com allows you to find the email addresses a person owns or the owner of a specific email address. Besides, you will get detailed information about the email address owner's name, address, relatives, home ownership, date of birth, and criminal background history.
To use this free email lookup tool, move to yougetsignal.com, enter the target email address in the corresponding field, and then click the Search By E-mail button.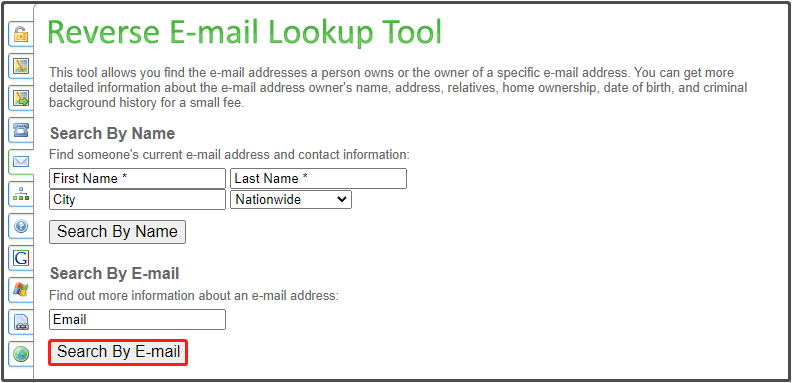 #5. Emailrecordsfinder
After you make an email search on this reverse email lookup, you will find the information below.
Owner info like his identity, residence, education, employment history, marital status, etc.
Contact info like phone numbers, hidden email addresses, current mailing addresses, and previous residence.
Social accounts like social, dating, professional, and other types of online networking profiles.
Web activities on Forums, Posts, Websites, Blogs, Images, and Videos.
Data breaches: It helps you monitor the dark web systematically and check if your data has been stolen.
Public records like criminal records, arrests, traffic violations, court records, marriages, divorces, assets, etc.
If you want to perform a reverse email lookup, navigate to recordsfinder.com and then tap on the Email tab. Then type the target email address in the field and click SEARCH NOW.

#6. SPYTOX
Using the reverse email lookup tool on SPYTOX, you will find the full name, all prior and new email addresses, phone numbers, physical mailing addresses, photos, social media profiles, and other information related to the target email address.
Different from other reverse email lookup tools, SPYTOX allows you to search all Gmail and Yahoo email addresses. To do an email search from this free email lookup tool, go to the official website of SPYTOX and click EMAIL. Input the target email address and hit Search.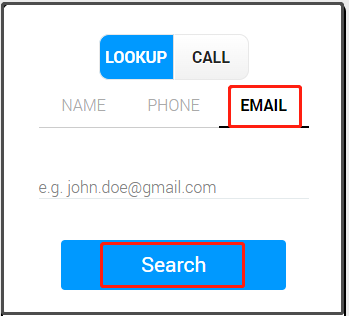 Bottom Line
If you need to protect yourself from scams and fraud, pay attention to these free online reverse email lookup services. Perform an email search by using them and make sure that the email sender is reliable before you open the email. To check the performance of your storage devices like HDD, SSD, SD card, and USB drive, it is recommended to use MiniTool Partition Wizard. Its Disk Benchmark feature helps you test the read/write speed of these devices.