PS4 keyboard and mouse is more convenient when playing games. You can aim at the object accurately and precisely. Then, how to add PS4 keyboard and mouse to the game console? How to use mouse and keyboard on PS4? Here, MiniTool will show you the detailed steps.
Though you may get used to playing PS4 games with the game controller and inconvenient on-screen keyboard, connecting physical PS4 keyboard and mouse is still a nice choice. It is more convenient when typing in Web browsers, and also faster.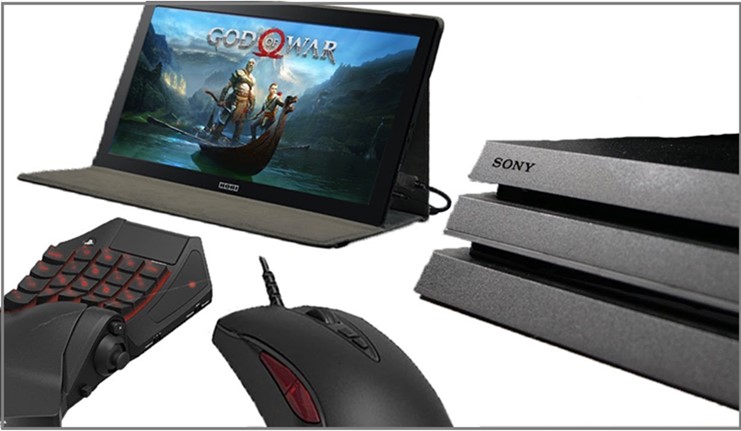 Besides, you can aim at the object accurate. More importantly, you can play Final Fantasy XIV, DC Universe Online and War Thunder as well via the keyboard and mouse besides PS4. Of course, some games are not available on PS4 mouse and keyboard such as God of War, Red Dead Redemption 2, etc. 
In order not to lose all the joy of game, you can learn to play games by using keyboard plus mouse combination and game console. The following content will tell you how to add and use PS4 keyboard and mouse.
How to Add PS4 Keyboard and Mouse to the Console
There are several ways to add PS4 keyboard and mouse to the PS4 system. This section will introduce you 2 methods to connect PS4 mouse and keyboard. You need to know that not all keyboards and mice can work with PS4 system, so you should check if they can work with the system before performing the steps below.
There are some types of mouse and keyboard for PS4 system.
10 Gear KeyMander Wireless keyboard and mouse
Reytid PS4/ Slim/Pro 2.4G Mini wireless keyboard
Logitech M510 wireless computer mouse
MayFlash Max Shooter One mouse/keybaord
Steps for connecting wireless keyboard and mouse
Step 1: Boot the PS4 console, and then login to your PS4 account.
Step 2: Go to the Settings of the console under the help of your PS4 controller.
Step 3: Select the Devices tab and hit X button.
Step 4: Choose Bluetooth Devices on the elevated menu and hit X button. If you have set the devices as Discoverable before turning on the PS4 system, you will see them now. If not, enable them to appear on PS4 by following the devices' instruction.
Step 5: After that, scroll down the device list to find the device to use, and then select it. If you are required to type password, enter 0000 and confirm the operation.
Step 6: Then, you can change the settings of the wireless device such as left or right-handed mouse, keyboard languages, and so on.
Steps for connecting wired keyboard and mouse
Step 1: Plug the wired keyboard and mouse into one of the USB ports on the PS4 console. If the system recognizes your devices, their icons will flash on the PS4 screen. If so, you can start using them for playing games.
Tip:
You can also connect keyboard and mouse to the PS4 console with a
USB hub
.
Step 2: If the system is unable to recognize your devices, you have no alternative but to change devices.
How to Use PS4 Mouse and Keyboard on PS4
After connecting keyboard and mouse for PS4, you can play games with these devices. Then, you will have enjoyable game experiences. In fact, if your devices cannot work with PS4 system, you can still use these devices under the help of an adapter or converter.
You may also like: Some Basic Information about USB Adapter and Its Usage
Adapters or converters like Xim4 and MayFlash Max Shooter are plug and play. What you need to do is to connect the adapter to the PS4 system and connect the external devices to the adapter. After that, you can play games with these connected devices.
However, the adapter or converter charges high and you may get banned if you use the adapter. So, you need to think twice before using it.