Sometimes, Payday 2 might fail to launch on computer without giving any error message. Plenty of users have reported the annoying problem, and some of them also shared the methods they've tried. In this article,
MiniTool Partition Wizard
puts together some feasible solutions and displays with the detailed instructions.
Payday 2 is a cooperative first-person shooter video game. As a sequel to Payday: The Heist, Payday 2 was firstly released in August 2013, and it is now available for multiple platforms, including Windows, Linux, Xbox 360, PlayStation 3/4, Xbox One, and Nintendo Switch.
This video game has attracted lots of game lovers, but some players complain that they cannot launch Payday 2 at all. If Payday 2 won't launch, perhaps it lacks administrator privileges or there are certain problems with the game files. You might also encounter the issue due to other factors, but you may fix it effectively.
Here are some possible solutions to Payday 2 not launching. Before you give up the game, you can try these solutions one by one to fix the issue.
Fix 1: Run the Game as Administrator
To run properly on a computer, Payday 2 requires the administrator permissions to access certain necessary files. So, you might fail to launch the game if it lacks administrator privileges. In this case, you just need to run the game as administrator.
Step 1: Right-click the desktop icon or the executable file of the game and choose Properties.
Step 2: Switch to the Compatibility tab and check Run this program as an administrator option.
Tip: You can also check Disable fullscreen optimizations. Many users have resolved the problem by disabling this feature, so you can also have a try.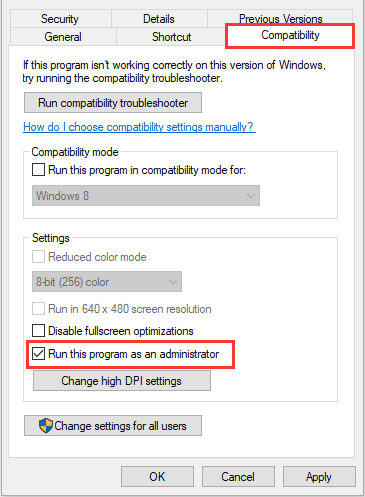 Step 3: Click Apply and OK button to save changes.
Now, try launching Payday 2 again to see if the issue has been resolved. If not, please move on to the next solution.
Fix 2: Change the Resolution of The Game
It has been proven that the improper resolution of the game could also lead to Payday 2 not launching. To fix the problem, you can change the resolution by following the steps below:
Step 1: Press Windows + R to invoke Run window.
Step 2: Input %localappdata% and click OK button to open the Local folder.
Step 3: Open the PAYDAY 2 folder, find the render_settings file, and open the file with Notepad.
Step 4: Locate the resolution settings (such as resolution="1920 1080") and change the value to your display resolution. Save the file and restarting your game.
If you don't know how to check the display resolution of your monitor, you can refer to this guide.
Fix 3: Verify Integrity of Game Files
If you are experiencing Payday 2 crashing on startup or not launching in Steam, it is possible that the game files are not complete. In this case, you can use the built-in feature of Steam to verify the integrity of the game files.
Step 1: Open your Steam client and go to LIBRARY.
Step 2: Right-click your Payday 2 and choose Properties.
Step 3: Under the LOCAL FILES tab, click VERIFY INTEGRITY OF GAME FILES option.
After the verification process finishes, launch the game and check if the problem is fixed.
Fix 4: Reinstall Visual C++ Redistributable
The Microsoft Visual C++ Redistributable is another factor that may trigger Payday 2 not launching issue. If it isn't installed properly or its installation data is corrupted, you are very likely to encounter Payday 2 crashing on startup or not launching issue.
In this case, you need to reinstall Visual C++ Redistributable. To uninstall it from your system, you can follow the following tutorial:
Step 1: Press Windows + I to open Settings.
Step 2: Navigate to Apps > Apps & features.
Step 3: In the right pane, click Microsoft Visual C++, choose Uninstall, and confirm the operation to remove it. Commonly, there are multiple versions of Microsoft Visual C++ installed, and you need to uninstall them all.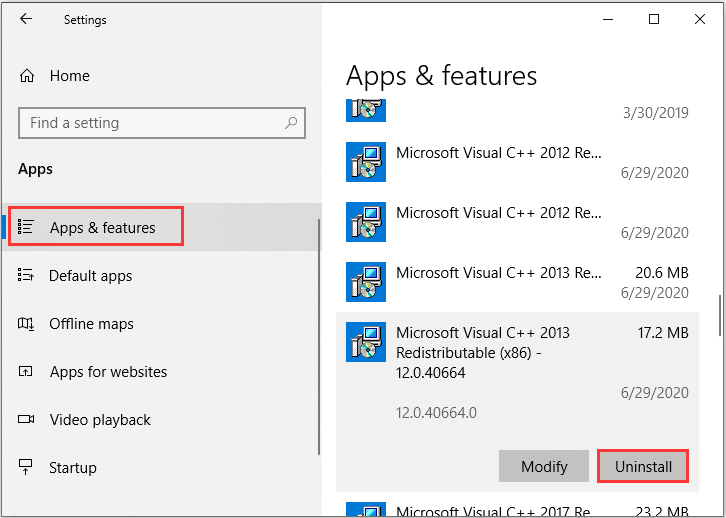 Then, you can visit Microsoft website to download the corresponding versions of Visual C++ Redistributable that you've uninstalled and install them properly according to the given instructions. After installing all the needed packages, you can go to check if Payday 2 not launching issue has been solved.
Tips:
Experience a faster system with MiniTool System Booster – your solution to effortless program uninstallation.
MiniTool System Booster TrialClick to Download100%Clean & Safe
Fix 5: Perform a Clean Boot
Your installed programs might conflict with Payday 2, which could also lead to Payday 2 not launching issue. If you've installed any new applications recently, try disabling them or removing them. If there's no newly installed programs, you can clean boot your computer to figure out the problematic one.
Step 1: Input msconfig in the Run window and press Enter to open System Configuration.
Step 2: Click the Services tab, check Hide all Microsoft services, and click the Disable all button.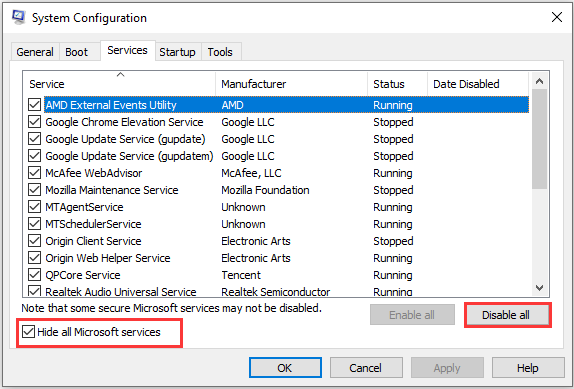 Step 3: Switch to Startup tab and click Open Task Manager. In the new window, disable all the listed startup items.
Step 4: When you go back to the System Configuration window, click Apply and OK button to save the changes you've made.
Restart your computer and launch Payday 2 again. If you can launch the game properly, you can go to re-enable these disabled programs one by one to find the problematic one and keep it disable or uninstall it.
If Payday 2 won't launch still, it indicates that there's no conflicts between your installed programs and the game, and you might need to reinstall the game or contact the developer for further support.
Related article: How to Fix PayDay 2 Mods Not Working?