Have you ever learned about RPT file? Do you know how to open and convert this file? In this post, MiniTool introduces what RPT file is and also shows you how to open and convert RPT file.
What is RPT file? A file with the RPT file extension is most likely some kind of report file. A .rpt file is a report file generated by various applications, such as document preparation programs or system utilities. This file is typically text-based, but may also store the information in binary format.
How to Open and Convert RPT File?
Now, let's answer the second question that how to open and convert RPT file. Opening and converting RPT file depends on the program that is using this file because different applications might use reports with the .RPT suffix.
If you don't use suitable software to open an RPT file on Windows 10, you will get a prompt that 'How do you want to open this file? Windows 10 cannot open this file'.
There are three main cases that RPT files are generated.
Crystal Reports (a business reporting program): Some RPT files are created by this program. There might be data in these reports that originated from a variety of database and is most likely fully sortable and interactive within this software.
AccountEdge Pro (a business accounting management program): Another report file format that utilizes the RPT file extension is AccountEdge Report files made with this program. These files may be related to anything from accounting and payroll to sales and inventory.
Other RPT files might just be plain text files that are supported by a wide variety of reporting applications.
Open RPT File
Since the sources of RPT files are different, you should run different applications to open these files.
To open the RPT file generated by Crystal Reports for free on Windows 10 or macOS, you should utilize the SAP's Crystal Reports Viewer tool.
To open the RPT file created by AccountEdge Pro on Windows 10 or macOS, you can select Report and then Index to Reports. In this window, you can view, create, and edit RPT files. Moreover, you can print this file or export it to different file formats, like PDF or HTML.
Note: If you fail to open RPT files with Crystal Reports or AccountEdge Pro, it is likely that it is still not a text file and won't work with a text editor.
To access the text-based RPT files on Windows 10, you can utilize any text editor, like the Notepad program built-in to Windows. Here I would like to show you how to access these files with Windows Notepad and Excel.
Right-click the RPT file and then select Open with Notepad.
Click the File menu and then choose Save As Save the file as .txt file on the Save As window.
Now, open Excel, go to the Data tab on the Excel window and then choose From Text/CSV under Data Tools section.
Browse to the location of the RPT file where it is saved as .txt file and then click the Import
Select the Load to option to make Import Data table visible.
Select how you want to view the data and then press the OK
Now the RPT file should be loaded in Excel and you can view it.
Convert RPT File
If you are a Windows 10 user (If not, you can click reasons for upgrading to Windows 10), you can convert RPT file into PDF without installing additional software. There are two ways to finish that:
Way 1: You can utilize a text editor like Notepad. Here takes Notepad for example. Once launching Notepad, select Print from the File menu and then select the Microsoft Print to PDF option.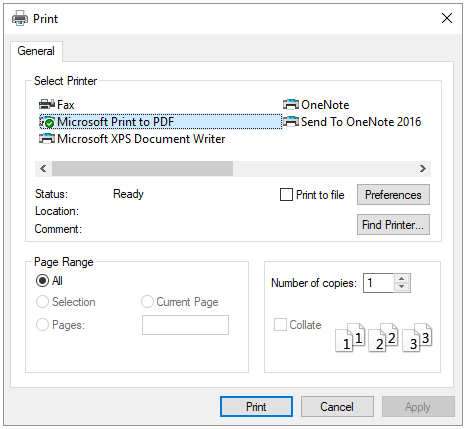 Way 2: Right-click the RPT file in File Explorer, select Print from the drop-down menu and then choose the Microsoft Print to PDF.
Bottom line
This article comes to an end. Hope all the content related to RPT file opening and conversion could be helpful for you. If you have any doubts in regard to RPT file, please leave them in the comment zone.