Netflix nw-2-5 is a connectivity error, which prevents you from accessing the Netflix service. The Netflix code nw-2-5 error can happen to you when you try to stream using devices like smart TV, Play Station, Xbox and Blu-ray Player. Here, MiniTool will tell you how to fix the Netflix error nw-2-5.
Possible Causes of Netflix Error NW-2-5
Netflix is one of the biggest Internet entertainment services across the world, which covers 51 countries. You can watch movies, TV series, documentaries and feature files in any place, 24 hours a day. It is reported that Netflix issues only occur to the specific device in the home not all devices.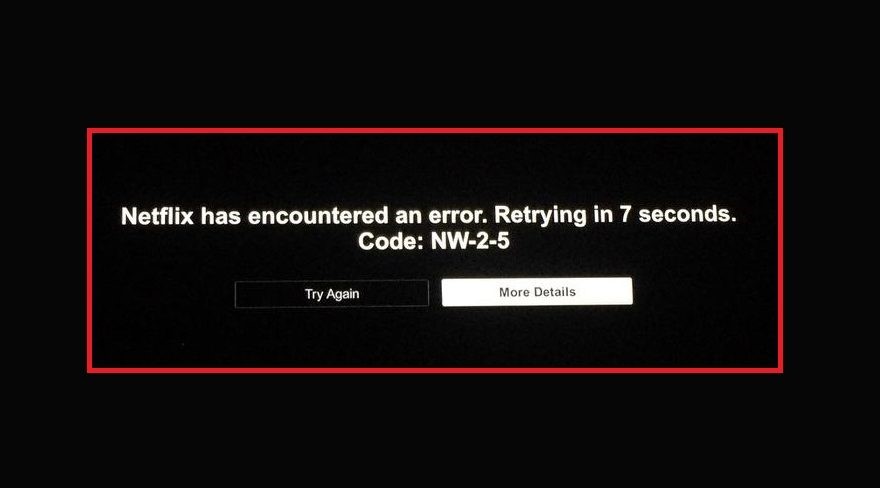 -image from netflix.com
Why does Netflix code nw-2-5 appear? Here are several possible factors that can trigger the error.
Netflix is blocked on public WiFi.
The cellular data or satellite Internet is used.
The Internet speed is slow.
The WiFi connection is poor.
There are some issues with the router.
Case 1: Check Internet Connectivity
When you receive the code nw-2-5, you need to check Internet connectivity first. You have to check something about Internet and then take some corresponding measures. Here are some tips on Netflix error code nw-2-5 for you.
Tip 1: Check whether Netflix is blocked intentionally by using a network administrator account. If you are attempting to stream using public WiFi, it is likely that such network has a limited bandwidth.
Tip 2: If you are using cellular data or satellite Internet, try a different network since they can slow down connections speed. Thus, Netflix nw-2-5 error occurs. To solve it, you ought to switch to cable Internet or DSL.
Tip 3: Test the Internet connection speed on your device with Internet connection/speed-test devices like Fast. Then, you can fix slow Internet speed with certain methods.
Tip 4: Restart the device. This is a common method to fix plenty of connectivity issues.
Tip 5: Restart your home networks. Unplug your router and modem for about 20-30 seconds, and then plug them back and try to connect again. If the error still persists, try other solutions instead.
Case 2: Bypass Your Router
If you are using a wireless router that is connected to the modem, you should connect to it via Ethernet cable. If you can reach Netflix by doing so, it is clear that the router is the cause of the Netflix error nw-2-5. Here's how to do that.
Step 1: Turn off the device that you are using.
Step 2: Plug the device directly into the modem using Ethernet cable.
Step 3: Unplug modem for 30 seconds at least and plug it back.
Step 4: Turn on the device and try to access Netflix again.
Case 3: Solve Error NW-2-5 on PlayStation
If you encounter Netflix nw-2-5 error on PlayStation 3/4 (PS3/4), you should unplug the device from the socket and leave it off for a few minutes. When waiting, you could press the Power button for at least 30 seconds to power down the machine.
If you want to see other commons issues with PS, you can read this: 4 Frequently Encountered PS4 Problems and Corresponding Fixes
If that does not help, you need to ensure that the DNS settings are correct. Here are steps.
Step 1: Go to the Main menu of the PS3/4 and choose Settings.
Step 2: Then, go to Network Settings > Internet Connection Settings and press the OK button.
Step 3: Choose Custom and select your connecting method: wired or wireless.
Steps for wired connection:
Step 1: Choose Auto-Detect for Operation ode.
Step 2: Select Automatic to change the IP address setting.
Step 3: Choose Automatic for the DNS settings.
Step 4: Choose Do not set for DHCP host name.
Step 5: Set MTU to Automatic.
Step 6: Choose Do not use for Proxy server.
Step 7: At last, enable UPnP and select Test the Connection.
Steps for WiFi connections:
Step 1: Choose Enter Manually under WLAN.
Step 2: Go right to see IP address Setting.
Step 3: Your previously set settings will re-appear automatically.
All the methods to fix Netflix code nw-2-5 have been given to you. It's time to make a decision now.