Here are various things you can do to fix slow internet speed on Windows 10. Read this post and have a try! And if you want to speed up Windows 10 or test the speed of your disk, you can use MiniTool Partition Wizard.
In addition to the limitations of the router itself, slow internet speed may happen due to various reasons, which will be explained one by one in this post.
If you feel that your internet speed is too slow, you can try to fix it with the following ways:
Check third party softwareintervention.
Update or reinstall drivers.
DisableWindows Auto-Tuning Level.
Configure the bandwidth allocation using the Group Policy Editor.
Solution 1: Check Third Party Software Intervention
Speed of your internet is influenced by many factors. In addition to the router itself, if you run too much programs at the same time, the internet speed may slow down.
Therefore you can check if any software is running in the background and hogging on your bandwidth to fix slow internet speed.
Task Manager is a good tool to help you.
Step 1: Open Task Manager by right-clicking the taskbar and choose Task Manager from menu.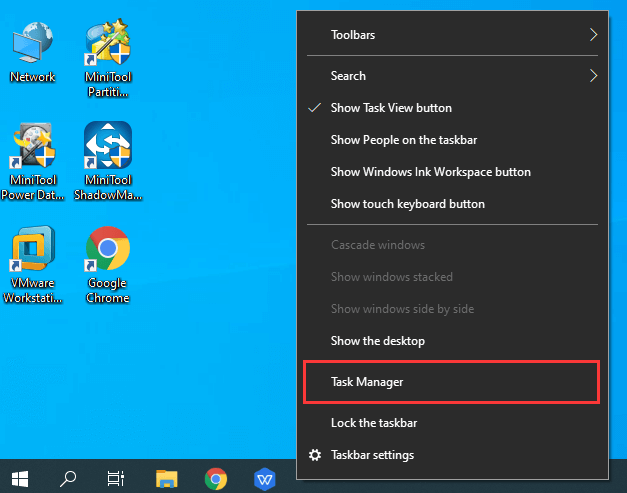 Step 2: Select the process you don't need currently which may be downloading some useless things, and click End task.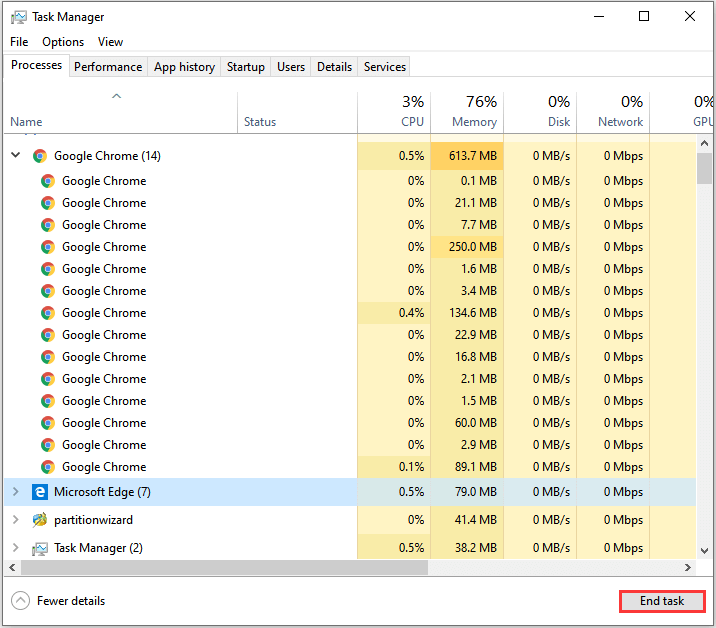 Step 3: close Task Manager, and see if you speed up the internet successfully.
Related article: 100% Disk Usage on Windows 10 Task Manager.
If your internet speed is still slow, you can try the next solution.
Solution 2: Update or Reinstall Drivers
The drivers listed under the section of Network Adapters might also be a cause for this particular issue.
A network adapter is the component of a computer's internal hardware for interfacing or connecting with a network.
If you are trying to fix slow internet speed on Windows 10, you can check drivers of Network Adapters and update or reinstall them.
Step 1: Type the command "devmgmt.msc" in Run window to open the Device Manager.
Tip: You can open the Run window by pressing Win + R key.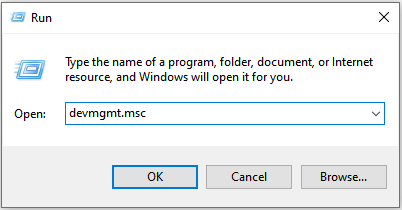 Step 2: Double-click Network Adapters and drivers related to your network will be listed under Network Adapters.
Step 3: Right-click the driver which is working currently, and select Update driver from the drop down menu.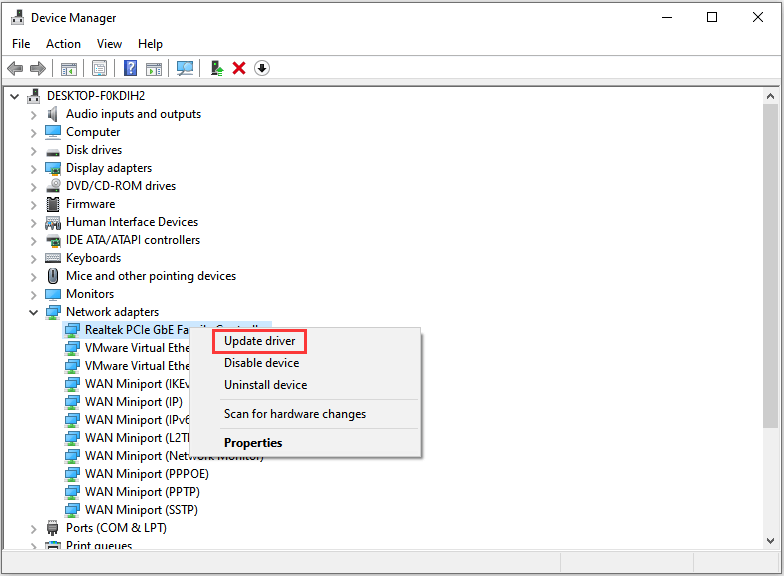 Tip: Each driver under the Network adapters corresponds to a network. You may find many drivers when you have more than one networks. You can check the driver name from Network & Internet settings.
Step 4: A dialog window should appear. Click Search Automatically for Updated Driver Software.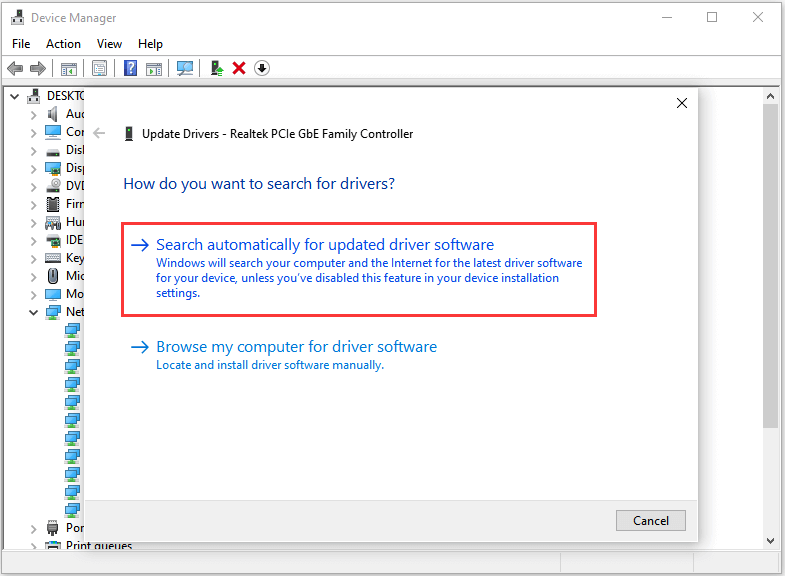 Step 5: Follow instructions on pop-up window and restart computer after you finish updating the driver to apply the changes.
Note: If you need to reinstall the driver, you can choose Uninstall device in step 3, and then click Scan for hardware changes button to search for and reinstall the driver. Then reboot your Windows 10.
Read more: Update Your NVIDIA GPU Display Driver Now to Fix Five Vulnerabilities.
Solution 3: Disable Windows Auto-Tuning Level
Window Auto-Tuning feature is enabled by default in Windows 10 to make data transfer over networks more efficiently. But sometimes, it may lead to mainstream internet slowdown on your computer.
To speed up the internet, you can disable the feature.
Step 1: Press Win + R to open Run window. Then type cmd in the box and press Ctrl + Shift + Enter to run command prompt as administrator.
Step 2: Type the following command and hit Enter to check the status of Auto-Tuning feature on your system.
netsh interface tcp show global
Tip: If you see "normal" written against Receive Window Auto-Tuning Level, it means that the feature is enabled and it is working normally.
Step 3: Input the command to disable Windows Auto-Tuning.
netsh int tcp set global autotuninglevel=disabled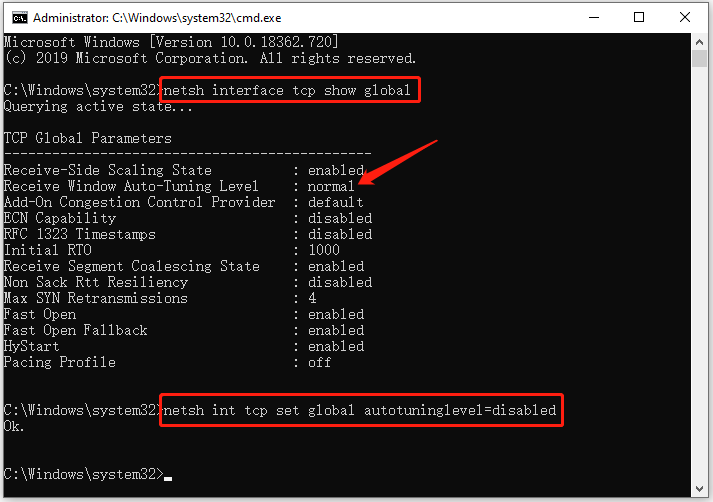 Then you can perform Clean Boot and check your internet speed.
Solution 4: Configure the Bandwidth Allocation
With Group Policy Editor, you can quickly configure the bandwidth allocation and speed up the internet.
Step 1: Type gpedit.msc in Run box and click OK to open Group Policy Editor.
Step 2: Navigate to Administrative Templates > Network > QoS Packet Scheduler.
Step 3: Right-click Limit reservable bandwidth and choose Edit.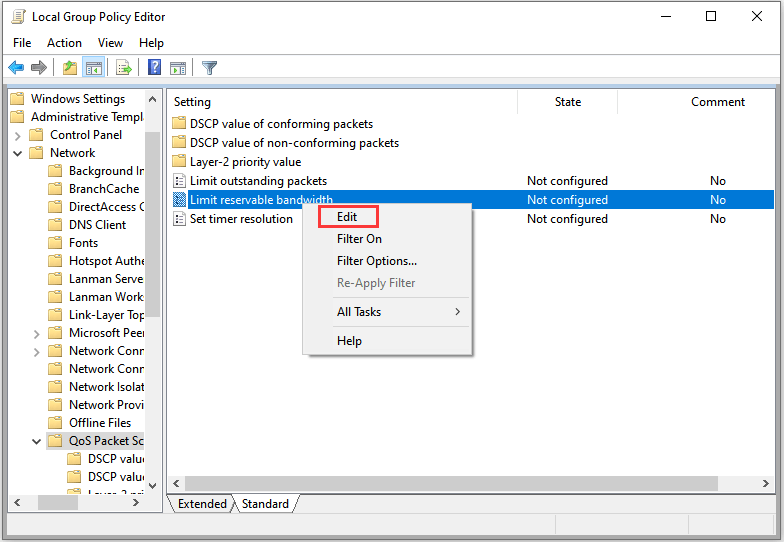 Step 4: Select Enabled from the radio buttons, and set the percentage for Bandwidth limit to 100%.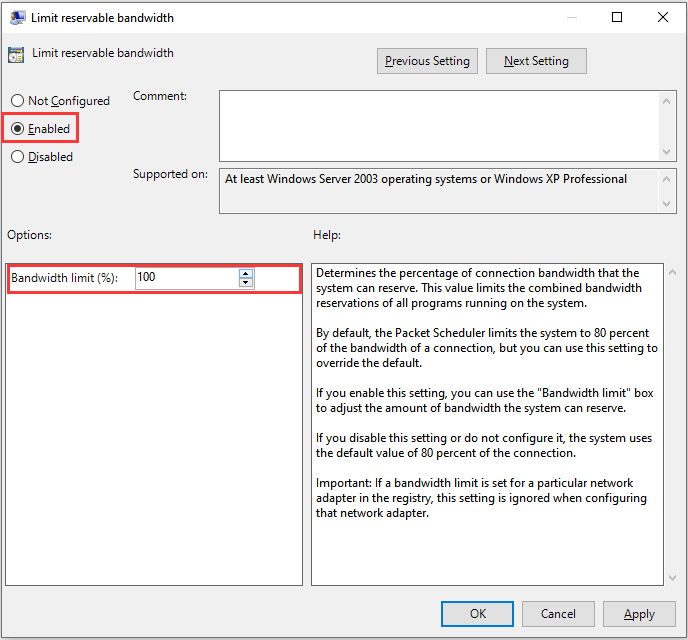 Step 5: Select Apply and click OK.
Now reboot your Windows 10, and you fix slow internet speed easily.