You may have noticed the MusNotifyIcon.exe file on your computer but don't know what it exactly is. Sometimes, you even encounter some MusNotifyIcon.exe errors. MiniTool will talk about MusNotifyIcon.exe including its basic information and fixes for errors.
What Is MusNotifyIcon.exe
The MusNotifyIcon.exe is part of the Microsoft Windows 10 Operating System. Actually, it is a Windows core system file. It is usually located in the C:WindowsSystem32 folder of your PC. It can be found in the Task Manager as well. The file size on Windows XP/7/8/10 is 0 bytes.
MusNotifyIcon.exe, together with musnotification.exe, musnotificationux.exe, musdialoghandlers.dll, and musupdateshandlers.dll are used to display the Windows Updates Status icon in the Taskbar notification area. When new updates are pending for download or install, your device needs to restart to apply important updates.
The MusNotifyIcon.exe file is nor a virus or malware. In most time, it is safe. However, some malware pretends to be MusNotifyIcon.exe. Given to that fact, you are recommended to check the MusNotifyIcon.exe process to see if it is a threat.
Also read: USB Virus Removal and Data Recovery Guide for Windows 7/8/10
Common Errors Related to MusNotifyIcon.exe
Runtime errors are also known as Microsoft Office Access 2010 errors, which appears during the running process. You may also encounter some MusNotifyIcon.exe runtime errors. Here are some common errors associated with MusNotifyIcon.exe.
MusNotifyIcon.exe – bad image.
MusNotifyIcon.exe is not running.
MusNotifyIcon.exe could not be found.
MusNotifyIcon.exe could not be installed.
MusNotifyIcon.exe could not be started.
MusNotifyIcon.exe could not be launched. Class not registered.
Faulting Application Path: MusNotifyIcon.exe.
MusNotifyIcon.exe Application error.
This file is missing or corrupt: MusNotifyIcon.exe.
MusNotifyIcon.exe is not a valid Win32 application.
MusNotifyIcon.exe failed to initialize properly.
Windows failed to start.
MusNotifyIcon.exe has encountered a problem and needs to close. We are sorry for the inconvenience.
Cannot find MusNotifyIcon.exe.
Error starting program: MusNotifyIcon.exe
After looking into these errors, we found that they are usually caused by the following factors.
Issues with the host
The newly installed Windows update
The outdated Windows system32 file
Applications being loaded on an old machine
Too many programs being opened on a PC
You can fix MusNotifyIcon.exe errors through some methods. The most secure way is to reinstall the related application. Downloading the missing file is also helpful. You can also fix MusNotifyIcon.exe runtime errors by restoring computer, performing a Windows update, or reinstalling Microsoft Office Access 2010 if you install it recently.
MusNotifyIcon.exe Disable or Remove Tutorial
If you don't want to run the MusNotifyIcon.exe process on your computer, disable or end it.
Step 1: Right-click on the Windows icon on the desktop and then click the Task Manager option in the pop-up menu.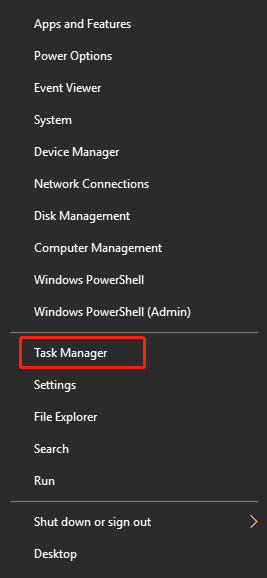 Step 2: In the Task Manager window, scroll down the content until you find the MusNotifyIcon.exe process. Then, right-click on it and click End task.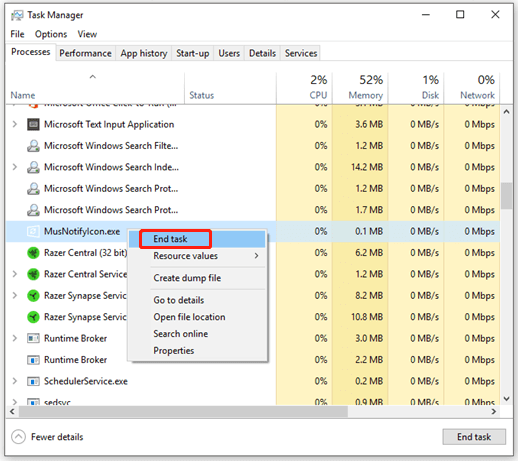 To remove the MusNotifyIcon.exe file from your computer, you can follow the steps below.
Step 1: Open the Run window by pressing Windows and R keys, and then type cmd and press Enter.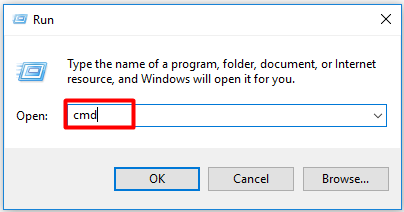 Step 2: Type regedit and hit Enter. This will help you locate the unwanted DLL files on your computer.

Step 3: You need to find the DLL files associated with MusNotifyIcon.exe and unregister them manually. You can do that by clicking the file and choosing Export in case you need it.
Step 4: Click Edit and select Find. Type MusNotifyIcon.exe and wait until it detects all the unwanted files. Then delete them.
Step 5: Now, restart your computer.